Everything You Need to Know About the eCommerce Market in China

By Congli Huang
With the China eCommerce market rising to $1.8 trillion in 2020, many international companies now want to take advantage of this potential revenue stream. Entrepreneurs who want to tap into this massive market must familiarize themselves with the China eCommerce landscape and offer Chinese payment methods. Today, more than 29,000 global companies from 5,800 categories have opened their doors to the Alibaba Group—the largest eCommerce company in China.
With this valuable guide providing everything you need to know, you too can offer your product to the Chinese eCommerce market. Read on to learn what is needed to unlock your full earning potential in this channel.
How to Enter the China eCommerce Market Successfully
Entering the Chinese eCommerce market takes careful planning. The following steps can help ensure a smooth and successful entry for your eCommerce business.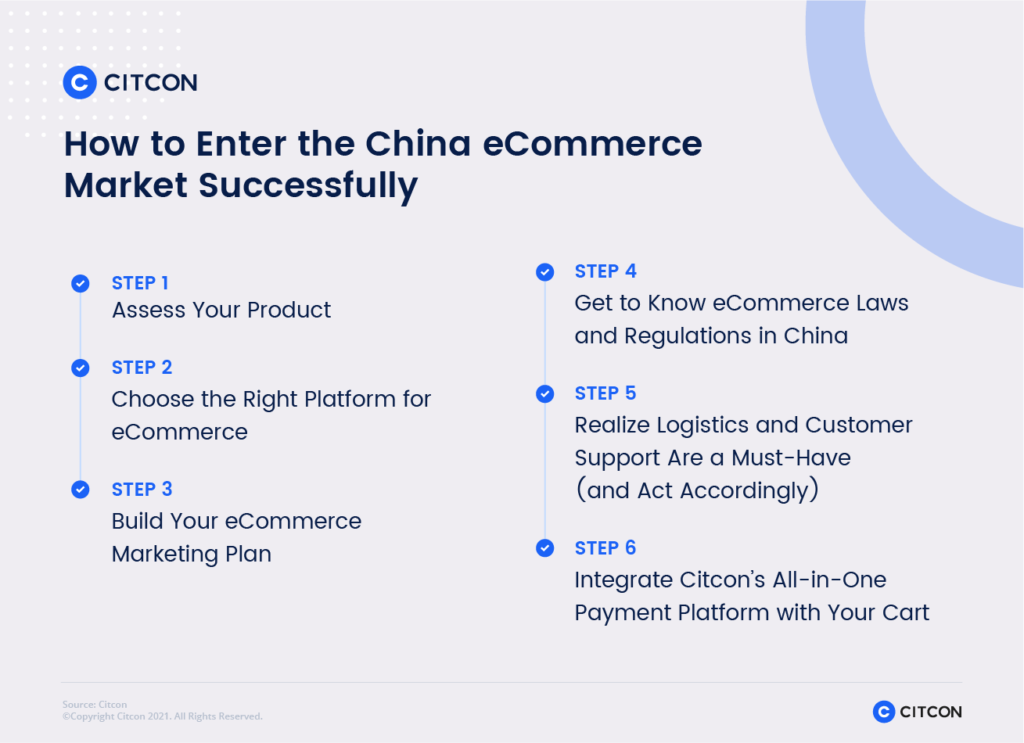 Step 1. Assess Your Product
The first thing you should do before launching your product with any Chinese eCommerce platform is to assess it. Being successful in other markets is not a guarantee that you will make it big in this channel also.
Here are some facts about the Chinese market:
• Chinese consumers enjoy purchasing luxury goods.
• These customers are willing to spend on items that will elevate their social statuses.
• Surveys reveal that the top categories in this market include fashion, baby products, and cosmetics.
Conduct Chinese Market Research
If you want to enter this market, it's crucial to conduct market research. First, determine your target persona. Knowing the location, age, gender, interests, and digital habits of your audience can do wonders for your business. Next, learn about the market and your competitors.
Check out Alibaba, JD.com, and NetEase Kaola for product offerings, trends, and customer reviews. You can also run WeChat research; it's the largest social media platform in China. The buzz around these digital spaces will give you an idea if your product has a potential market in this country.
Step 2. Choose the Right Platform for eCommerce
Like with any market, choosing the right eCommerce platform for your business is crucial for success. Once you determine the product you want to sell and the consumers you want to target, choosing the right eCommerce platform should come effortlessly. Keep in mind that the most crucial factor is to address your target market's needs.
Online Marketplaces
Online marketplaces are eCommerce platforms that connect businesses with consumers. Also known as electronic marketplaces, retailers using these channels manage their transactions. Alibaba, JD.com, and NetEase Kaola are the top three online marketplaces to consider when tapping into the Chinese eCommerce market.
Alibaba
World-renowned businessman Jack Ma founded Alibaba in 1999. Today, it is China's largest eCommerce company and handles more transactions than any other competitor worldwide. Millions of merchants and users use their three top sites—Alibaba.com, Taobao, and Tmall.
• Alibaba.com is one of the largest B2B eCommerce platforms globally.
• Think of Taobao like eBay but with fewer auctions and more set prices.
• Tmall or Taobao Mall focuses on selling branded goods to the growing middle class.
JD.com
Established in 2004, JD.com is China's second-largest eCommerce company. Originally a magneto-optical online shop, it diversified into other product lines like electronics, computers, mobile phones, etc.
JD.com buys its inventory from branded suppliers and operates in-house logistics. It transformed the eCommerce industry in China by being the first brand to offer same-day delivery to its users.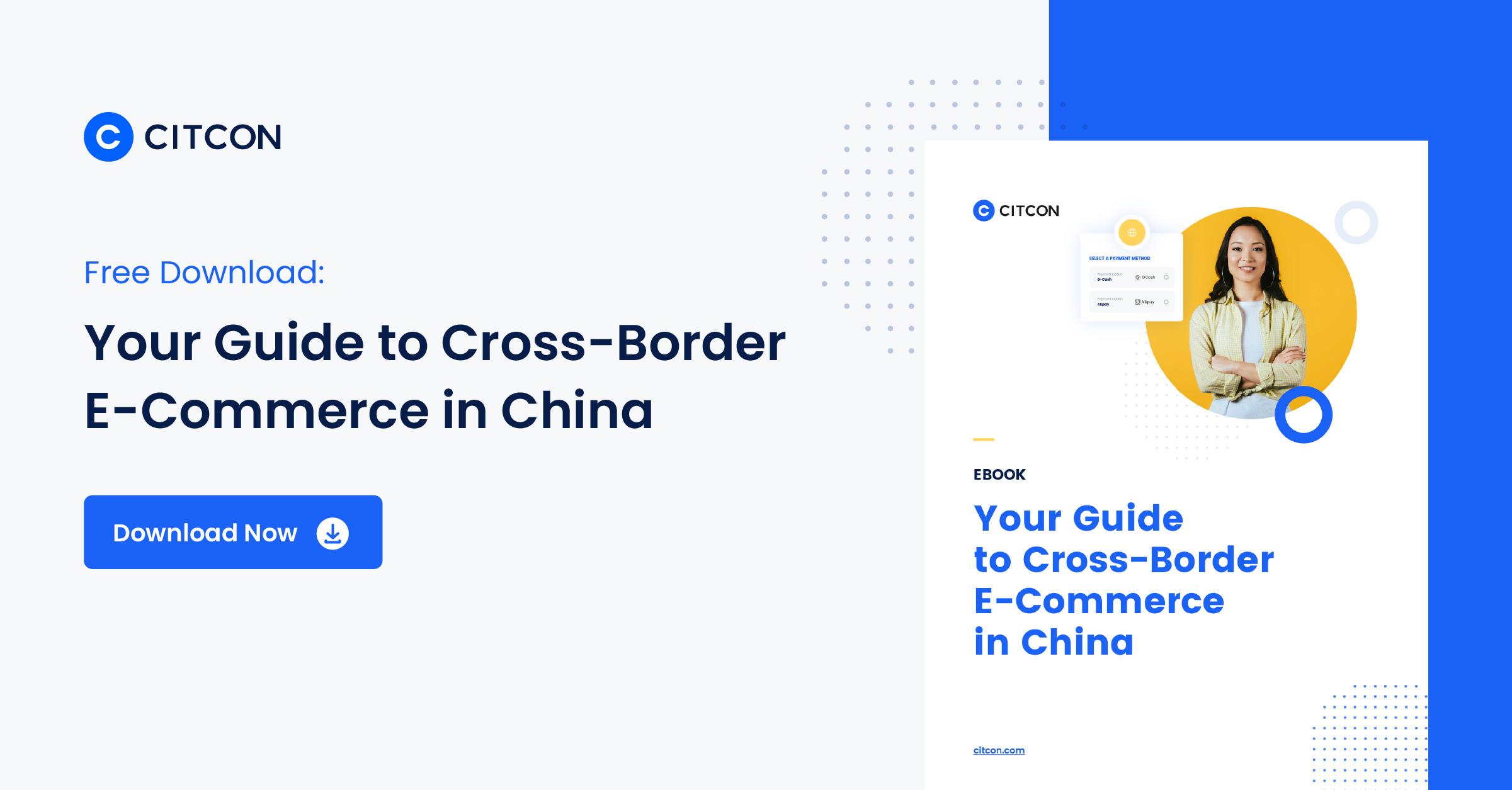 NetEase Kaola
Parent company NetEase named Kaola accordingly to encourage users to stay lazy and comfortable. NetEase Kaola offers fast delivery services and a diverse selection of products, including:
• Healthcare
• Beauty
• Baby and maternal care
True to its better life with less money tagline, it offers affordable genuine imported products. The platform also provides users with valuable information on fashion, lifestyle, fitness, and other related topics.
WeChat Stores
Being China's largest social media site, WeChat offers users a chance to set up stores that act as extensions of official business accounts. Companies can build them like mini-websites within the platform, seamlessly converting leads into paying customers.
WeChat also allows users to share store-related content such as discounts and rewards to boost WeChat Store sales. The company perfectly exemplifies how building your online presence can positively affect your revenue.
Related Read: Factors to Consider When Entering a New Market
Direct-to-Consumer (DTC) Websites
Apart from using online marketplaces or a WeChat store, you can also build a DTC website. Many companies find this route beneficial because they are able to realize lower customer acquisition costs.
For example, REVOLVE, a Millennial-focused fashion retailer, has reported seeing customer repurchase rates of 4x to 5x on its own website. In comparison, on Tmail, most businesses see a customer repurchase rate of just 1.2x.
To remain competitive with the typical two-day order fulfillment offered by online marketplaces like Alibaba, REVOLVE has found that instead of operating a local distribution center, they can offer Chinese customers four-day delivery by flying goods into China. FIS new reports that, according to REVOLVE's vice president of international Kai Li, Chinese shoppers who value authenticity have higher trust in goods coming from abroad: they're seen as more authentic and less likely to be fakes.
To develop a DTC eCommerce website for the Chinese market, a company should apply for Internet Content Provider (ICP) registration, choose a host for its website, adopt a mobile-first strategy, and ensure acceptance of the online payment methods preferred by Chinese consumers.
Apply for Internet Content Provider Registration
Before entering the China eCommerce market, you should apply for ICP registration—a business permit issued by the Chinese Ministry of Industry and Information Technology (MIIT). Websites hosted in Mainland China should secure a license before going live.
• File an ICP: This first step allows a business entity to host a website and share information with its viewers on a Chinese server.
• Obtain a commercial license: After this step, you can deploy your business website on a Chinese content delivery network (CDN).
Choose a Host for Your eCommerce Website
Another crucial factor to your eCommerce success is choosing the ideal host. For example, eCommerce websites hosted in neighboring areas might not perform like those hosted in China. These performance issues may ruin your brand, hinder your growth, and negatively affect your clients' user experience (UX).
Adopt a Mobile-First Strategy
Recent statistics reveal that there are 1.6 billion Chinese mobile users 75% of whom transact with eCommerce platforms using these devices. Given these figures, you need to adopt a mobile-first strategy. Create apps, websites, and content that enhance mobile users' experience (UX) through high-quality images, shorter product descriptions, and attractive keywords.

Ensure You Can Accept Chinese Payment Methods
One of the most heartbreaking business losses to endure is consumers not pushing through with transactions because you don't support their preferred payment methods. Keep in mind that the Chinese eCommerce landscape is quickly turning into a cashless system.
The top Chinese payment methods on the market today are Alipay and WeChat Pay, which account for 94% of all mobile transactions. Before doing business in this market, make sure you offer these payment options.
Related Read: How to Enter the Chinese Market for Retail eCommerce
Step 3. Build Your eCommerce Marketing Plan
Like with any business, the key to your eCommerce success in another market lies in your strategies. Given the 1.6 billion Chinese mobile users and the country's high social media use of 64.6%, it's best to advertise on social media platforms. If you research properly, doing so can be one of the most cost-effective ways to reach your ideal target market.
Advertising on Social Media Platforms

China's social media landscape differs from other countries and doesn't have familiar names like Facebook, Instagram, and YouTube as its top channels. Here are the top social media platforms in China where you might consider advertising:
• WeChat: This social media platform is the most popular in China with over 1.24 billion active monthly users.
• Weibo: Known as China's Twitter counterpart, this platform has 530 million active monthly users.
• Douyin: China's TikTok version boasts 600 million monthly users.
• Little Red Book: This shopping app helps over 100 million users discover hard-to-find health and beauty products.
To complement social advertising, one trendy scene is live streaming, where influencers stream on their channels housed on Chinese online shopping malls. In 2019 approximately 37% of China's online shoppers made livestream purchases.  While it has been driven by Gen-Z and Millennials, middle-aged Chinese and seniors are jumping on the trend. Today, experts estimate livestreaming to be worth $60 billion annually and expect this trend to grow more in the coming years.

Step 4. Get to Know eCommerce Laws and Regulations in China
In 2019, Chinese lawmakers passed a law to protect consumers through stricter merchant regulations. China's eCommerce law also increased the tax-exempt spending on overseas purchases to discourage consumers from purchasing counterfeit products. Learn more about it to determine how it can affect your business.
Step 5. Realize Logistics and Customer Support Are a Must-Have (and Act Accordingly)
Logistics and customer support are two crucial factors that can make or break your eCommerce efforts. With a global movement highlighting UX, it's now more important than ever to make all transactions more convenient for your existing and potential consumers.
Establish China-Based Return Centers
To tap the China eCommerce market, you can develop return centers run by a third party that will oversee returns. Usually, instead of returning your items, these companies can gather returned goods and resell them in bulk at discounted rates. However, if you choose to, you can also have them consolidate returns and ship them back to you.
Establish Policies to Reduce the Risks Associated With Returns
High return risks are a nightmare for any eCommerce business. To minimize the risks associated with returns, you can establish internal and external policies.
Develop a foolproof quality check system to reduce merchant mistakes like wrong sizes, colors, and quantities. Additionally, it is best to create external policies like limiting returns only to products in good condition and observing a time window.
Related Read: How to Collect Payments from International Suppliers
Take Proactive Measures to Minimize the Number of Returns
When it comes to returns, prevention is the best way to go. Here are some measures you can take to minimize your returns.
• Use hi-res photos: Uploading clear pictures will eliminate any misunderstandings on product appearance.
• Provide detailed descriptions: Whatever you plan to sell, describe it to your clientele as best you can. Provide information on sizes, materials, color availability, etc.
• Create a frequently asked question (FAQ) section: Gather the common inquiries your clients have. Doing so will provide potential buyers with crucial information that might prevent returns.
Step 6. Integrate Citcon's All-in-One Payment Platform with Your Cart
When you have all the information you need, it's time to choose the right partner in tapping the China eCommerce market.
With Citcon on your side, you can use an all-in-one payment platform that will integrate seamlessly with your chosen eCommerce cart. Best of all, if you're breaking into a new market, you won't have to pay a setup fee. Request a demo now to unlock a new revenue stream for your business.
Related Read: 5 Best Ways to Receive International Payments