6 Ways to Improve Omnichannel Customer Experience

By Jean Kany
The more advanced technology becomes, the more deeply it is ingrained in our everyday lives. As a result, the distinction between what we do on the internet and what we do in reality has become increasingly blurred.
Marketers, retailers, and customer service representatives will need to adapt as people's habits shift. So rather than thinking about a desktop, mobile, or tablet experience, we should focus on a single, comprehensive approach: an omnichannel experience that consumers can use whenever they choose.
For companies, having several ways to engage with customers has become the standard. Clients who engage with your company over several touchpoints are more inclined to convert and become regular customers.
Creating an omnichannel customer experience by linking all interactions can improve a customer's engagement with your company and boost revenue. In this article, we'll discuss how to improve omnichannel customer experience along with key things to consider when pursuing an omnichannel retail strategy.
What Is an Omnichannel Customer Experience?
An omnichannel customer experience refers to a consumer's ability to engage with your company through many channels as part of a single, fluid experience. Marketing, sales, customer service, and in-store interactions are all linked together so that a customer can quickly go from one platform to another to finish their transaction. The customer's experience should be equally smooth whether they are buying on a smartphone or PC, over a phone call, or in person in a physical store.
What Is an Omnichannel Retail Strategy (and Why Is It Important)?
Omnichannel retail strategy allows firms to create a meaningful consumer experience throughout all channels by reaching out to customers at every point of contact of the buying process — online and off. This comprehensive strategy focuses on ensuring customers have a consistent experience any place they come into contact with your brand.

Google highlights the need to take an omnichannel strategy to retail: The most innovative retailers ensure that their marketing tactics enable customers to convert across all channels. This is because they recognize that in-store and online shoppers are their most valuable customers.
Customers who shop both online and in stores have a lifetime value that's higher by 30% than those who use only a single channel. Current data shows consumers expect this method. According to a study by the Harvard Business Review, 73% of shoppers use various channels during their purchase experience — and a report by McKinsey & Company reveals 56% of consumers intend to continue using buy online, pick up in-store (BOPIS) methods after the pandemic.
It's time to think about how brands can enhance their omnichannel customer experience now that it's the norm.
Related Read: How to Enter the Chinese Market for Retail eCommerce
The 6 Ways to Improve Omnichannel Customer Experience
As new and novel channel technologies emerge in the industry, customer expectations continue to shift. Customers want a reliable, high-quality experience whether they contact support via conventional channels (like phone) or newer channels (like social media). Creating excellent experiences throughout all channels while leveraging the proper knowledge and expertise is the only way to meet these demands. Here are six strategies to improve omnichannel customer experience.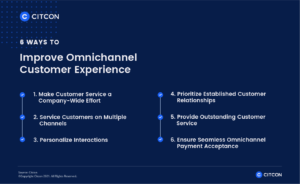 1.  Make Customer Service a Company-Wide Effort
As the variety of channels has increased, so has the number of divisions and stakeholders responsible for delivering the consistent experience that customers expect across all channels. According to a survey conducted by CGS, a professional IT firm, a variety of stakeholders, including the CEO, CFO, and IT leadership, are now actively engaged in customer service. This suggests that organizations that provide excellent omnichannel experiences do not use a centralized control approach. Instead, they've decentralized customer service to make it a company-wide effort.
2.  Service Customers on Multiple Channels
Customer demand has sparked an increase in the usage of omnichannel delivery. According to an Aberdeen Group study, organizations that provided exceptionally excellent omnichannel customer engagement maintained 89% of their clients on average, compared with 32% for businesses that offered mediocre customer interaction. Moreover, according to Watermark Consulting, companies that excel in providing exceptional customer service outperformed the S&P 500 by 22 percent over five years, while those that fall short had a -46% loss. Customer service can be the difference between a company's rise or fall.
The results of the CGS survey also indicate how businesses are reacting to customer needs. Non-voice channels, like social media, keep rising in popularity for customer service, accounting for 16% of all channels used. Email, chat, and social media accounted for 47% of all customer service channels now available. Only 22% of the channels provided by corporations were conventional voice customer service. This demonstrates that providing a superior omnichannel experience is no longer merely an option but rather a requirement for organizations to stay competitive.
Related Read: How to Start Accepting Venmo and PayPal Now
3.  Personalize Interactions to Improve Omnichannel Customer Experience
While digital tools aid in the management of a considerable amount of customer service inquiries, including personalization into the process makes the customer feel as if the company still cares about them as a person. According to Forrester, 71% of customers say that the most critical aspect in delivering excellent service is to value their time. This is an arduous undertaking, especially when clients want it 24 hours a day, seven days a week. Fortunately, adopting omnichannel solutions can help with this.

When it came to determining customer loyalty trends for 2016, IBM discovered that an omnichannel approach allowed a firm to aggregate customer interaction data throughout all channels to create a holistic perspective on every customer. This better understanding enables highly tailored client experiences and offerings, which must be given with the same comprehensive approach across all consumer touchpoints.
Customers have come to anticipate this level of individualization. According to Digital Trends, 73% of shoppers want to conduct business with companies that use individual data to offer more personalized shopping experiences.
Creating a tailored customer experience for your brand should be a priority. If the workload appears too enormous to manage in-house while maintaining focus on business, finding a partner who can provide the same high-quality personalized support is also an option.
4. Prioritize Established Customer Relationships
According to Bain, repeat consumers spend 67% more than new customers. Most businesses have focused their attention on nurturing and maintaining their existing client base because of the higher return from repeat buyers and the expensive customer acquisition cost, and growing pressure from worldwide competition.
Several respondents from the CGS survey confirmed this trend, stating that boosting customer happiness, building loyalty, and enhancing customer retention are top priorities. Firms are embracing a defensive position, prioritizing maintaining existing connections above acquiring new consumers throughout all channels.
Companies can further set themselves apart from their competitors by focusing on developing customer interactions that result in an emotional connection with the brand. Customers that have strong emotional attachments to a brand are more likely to become brand ambassadors and promote your services and products to others. As a result, if carefully managed, these connections can be beneficial.
5. Provide Outstanding Customer Service
BrightLocal reports that 88% of consumers believe internet reviews are as trustworthy as personal endorsements, and 72% will act upon reading glowing feedback. Customer referrals are vital for business growth, and receiving them demands an exceptional brand experience. Unfortunately, only 10% of survey respondents said their organization provided outstanding service, indicating that there is still much opportunity for growth. The average profit for every customer might grow by 25% to 100%, with only a 5% improvement in customer loyalty.
The quality gap is partly driven by the increased sophistication of operating an omnichannel customer care system with multiple factors for the 90% who haven't yet attained exceptional service levels. In a survey conducted by Harvard Business Review, 65% of consumers say that "knowledgeable employees" is one of the aspects of customer service they want to see companies assess. Customers described these employees as capable of addressing their concerns without keeping them on hold or transferring to someone else.
The significance of hiring and maintaining a competent team has grown as the skills and abilities required to efficiently deliver a high quality of service throughout channels have increased.

6. Ensure Seamless Omnichannel Payment Acceptance
Customers want simplicity and a personalized shopping and payment experience when it comes to their buyer's journey. Therefore, accepting payments in the consumer's preferred method is more vital than ever before. We live in an economy driven by consumers, and as customers frequently buy using "on-demand" digital technologies, they expect to be able to pay however and whenever they want.
What Are Omnichannel Payments?
The capacity to collect payments in many methods without creating a disruptive experience — whether a customer pays in-store, on the go, online, by recurring invoice, or some other means — is referred to as omnichannel payment acceptance.
Thus, omnichannel payments allow customers to conduct transactions in whatever ways suit them best. To avoid adding friction to the customer experience, those transactions should be as professional and straightforward as possible.
How to Start Accepting Omnichannel Payments to Improve Omnichannel Customer Experience
One way to start accepting omnichannel payments is by partnering with an all-in-one payments gateway like Citcon. Citcon is a world leader in cross-border mobile payment and commerce solutions, allowing businesses to accept QR-based mobile wallets both in-store and online. With over one billion active users, the most widely used payment methods supported by Citcon are WeChat Pay, Alipay, and China UnionPay.
Related Read: QR Code Payments: What Merchants Need to Know

Citcon's collaboration with China Unicom Global to provide omnichannel cross-border payments for its recently introduced "CUniq" mobile virtual network operation (MVNO) service in the Americas is one example. With this partnership, China Unicom will be able to receive Alipay, WeChat Pay, and Union Pay payments, as well as other major credit cards, from Chinese travelers.
Citcon offers merchants the ability to perform marketing and loyalty initiatives using their partner network in addition to accepting payments. Citcon provides omnichannel commerce growth solutions to organizations in various industries, including retail, e-commerce, hotels, food and beverage, transportation, entertainment, and education.
Learn how Citcon's worldwide payment processing solutions may help you grow your business globally, improve omnichannel customer experience, and acquire a competitive edge.
You can request a demo of our all-in-one platform by signing up now. Our demonstrations are tailored to each potential customer, ensuring that you gain a comprehensive understanding of why firms go worldwide with Citcon's aid and how we can improve your business processes.
Schedule your no-obligation Citcon demonstration today! Call us at +1-888-254-4887 or simply fill out an online demo request form to get started.