How Does Alipay Work for Merchants?
Friday, November 26, 2021
By Congli Huang
The Alibaba Group launched Alipay in 2004 as a way for users to pay for items on their e-commerce site. The service has expanded to being accepted in-store and online by other merchants, becoming the most used mobile wallet in China. In a country where mobile wallets are the preferred payment method, and mobile wallet users reached 852.5 million people at the end of 2020, we can see just how popular Alipay is.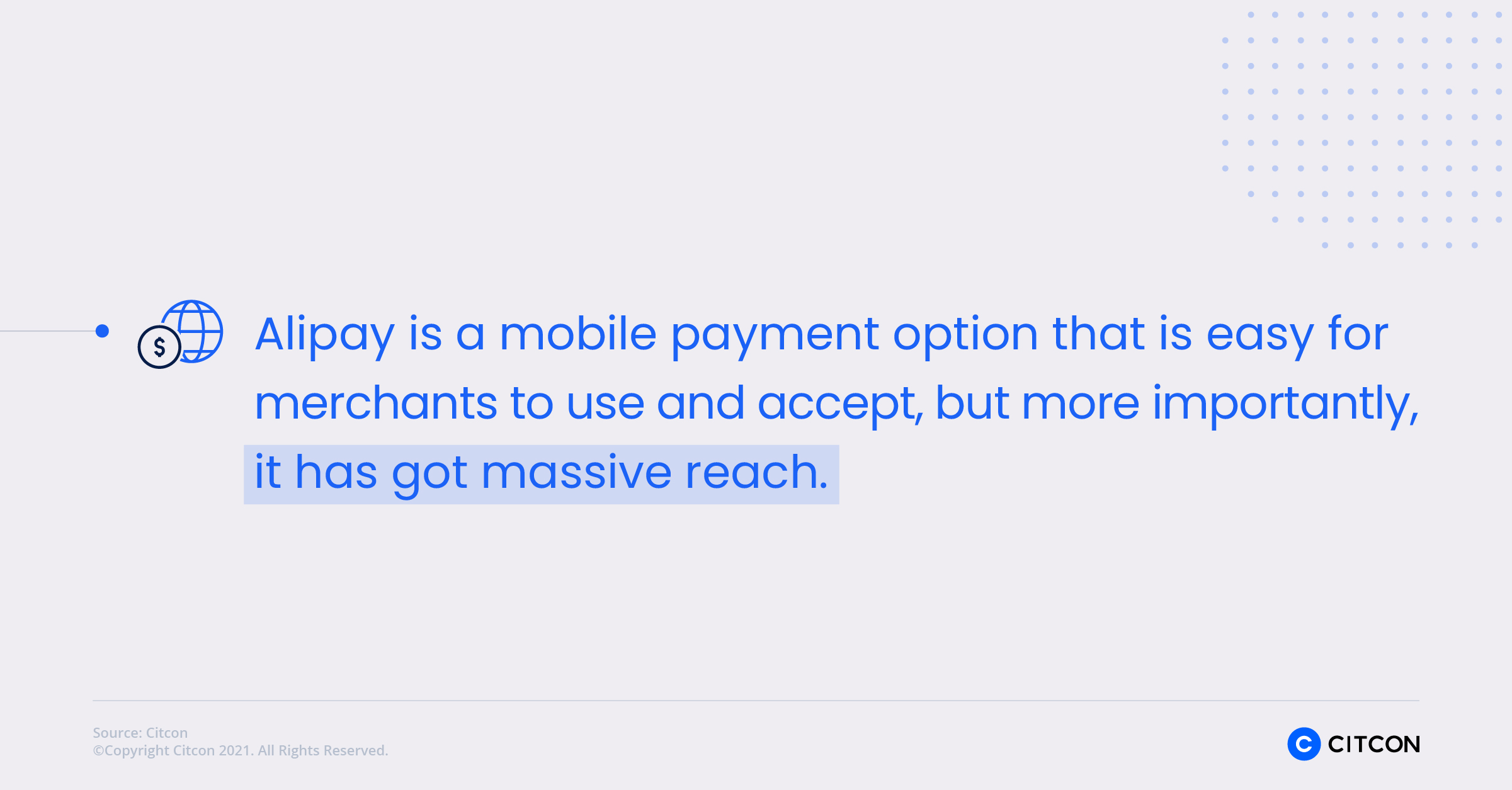 There are plenty of reasons why Alipay is enormously popular in China. It is a low friction mobile payment option that makes it extremely convenient for customers to use. It's also easy for merchants to accept, and more importantly, it has a massive reach. For U.S.-based readers, Alipay could be compared to PayPal or Venmo. Both are frequently used by consumers to send funds to other individuals and to pay for goods and services. All offer similar services, though Alipay has reached over a billion users worldwide, compared to PayPal's 286 million.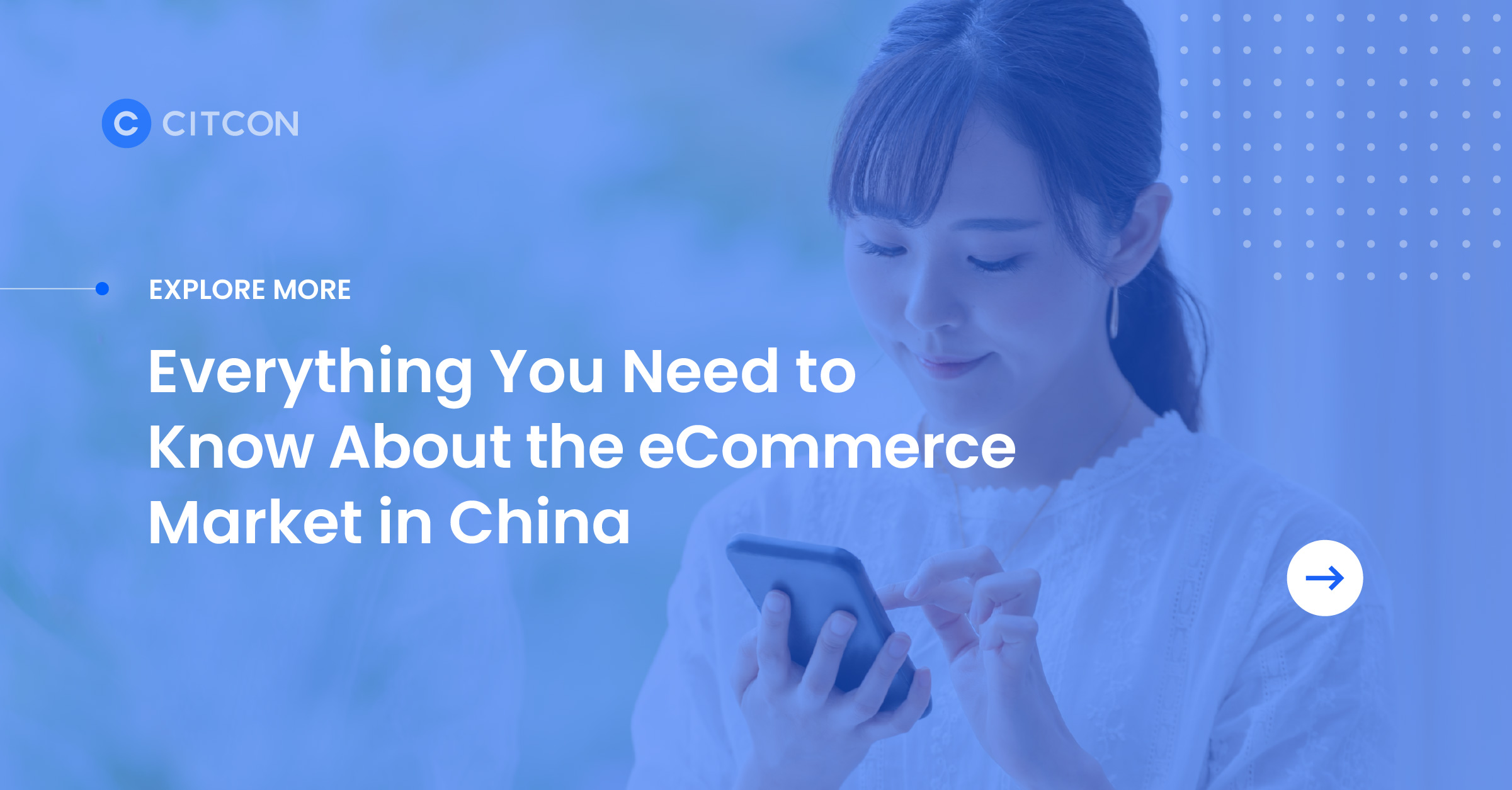 Related Read: Everything You Need to Know About the eCommerce Market in China
If you are expanding your business into China or are wanting to improve customer experience and acceptance rates from your existing Chinese consumers, you should accept Alipay. As the country's preferred payment method, Chinese citizens use Alipay to pay for anything and everything. This includes online purchases, groceries, taxis, takeaway, and anywhere else that accepts the mobile payment option, which translates into Alipay processing millions of transactions per day. 
By accepting Alipay at your store or site, you are creating a familiar and comfortable payment experience. As a result, you can attract new customers, improve sales and acceptance rates, and overall improve your bottom line.
Pros and Cons of Alipay as a Service
Alipay is dominant in Chinese society, with a large chunk of the market share. Chinese consumers are also familiar with other mobile options like Alipay's primary competitor, WeChat Pay. Alipay, WeChat Pay, and other popular mobile wallets make transactions a seamless and convenient process for consumers. But from a merchant's perspective, what are the advantages and disadvantages of using Alipay?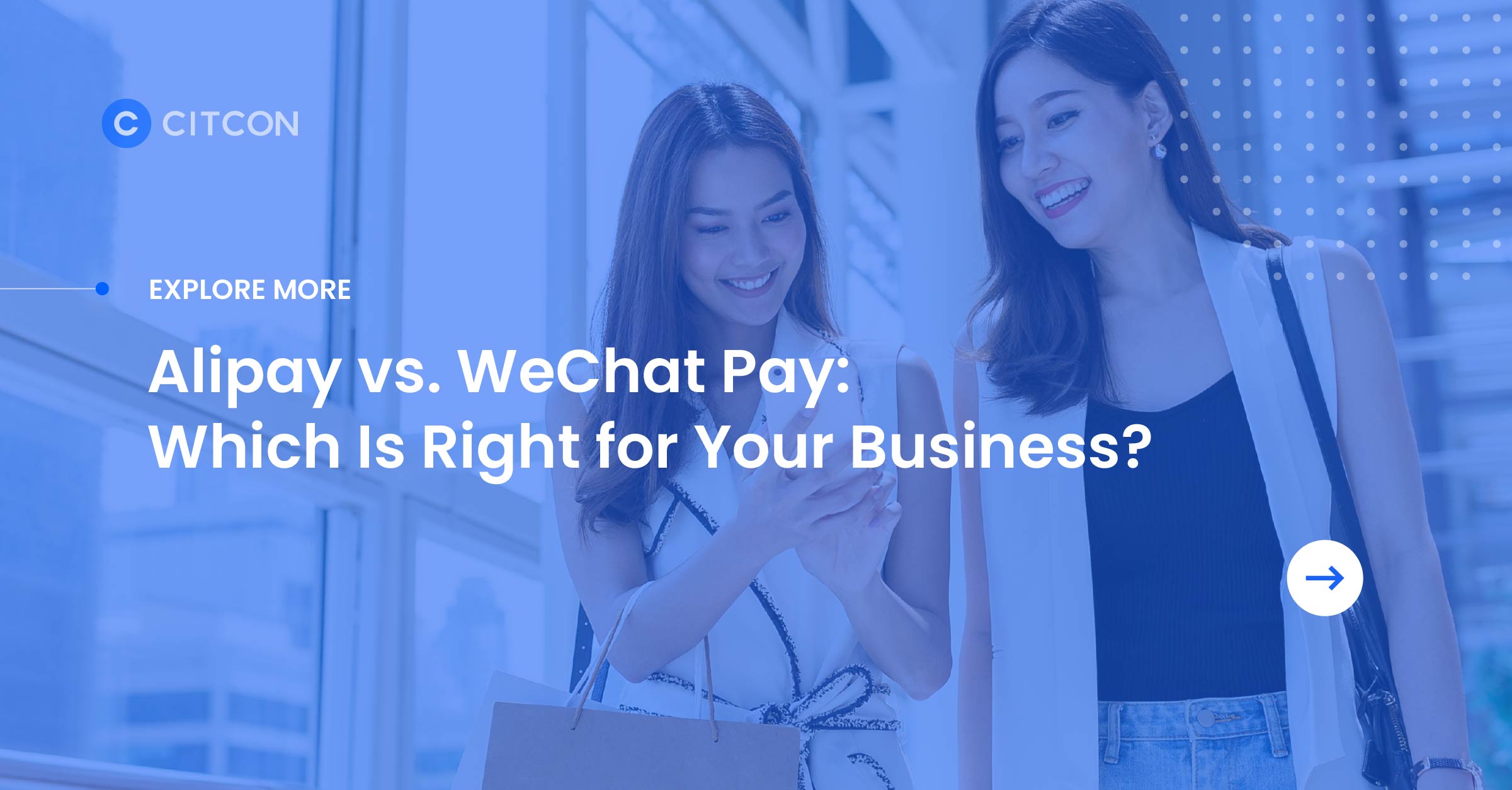 Related Read: Alipay vs. WeChat Pay: Which Is Right for Your Business?
Alipay's advantages include:
• Secure transactions: Alipay uses a variety of features to keep payments secure. This includes data encryption which keeps customers' details private. 
• Fewer chargebacks: Alipay has its own settlement process, outside of the typical chargeback process. Customers may still get refunds, but as a merchant, you would not take a hit on your chargeback rate. 
The benefit of fewer international chargebacks should not be underestimated. A high chargeback rate can seriously damage your business, and may damage your relationship with your bank. 
• Safe and convenient: It's much safer to use a mobile wallet than to risk losing a physical credit card, and many consumers find it convenient and easy to use Alipay for most payments. 
• Better customer experience: Providing preferred payment methods helps merchants attract customers, improve cart abandonment rates, and overall improve the customer experience.
There are a couple disadvantages to using Alipay, of course. As a merchant, you should be aware of the following points:
• AlipayHK vs. Alipay China: Currently, AlipayHK only supports transfers to AlipayHK accounts, not to Alipay China accounts.
• Not FDIC insured: Funds within Alipay are not insured by the FDIC, which means that if the company closes, you cannot recoup those funds. However, as a merchant, you should be transferring funds into your bank account regularly, so this should not have a significant impact on your business.
What Results Can Merchants See From Implementing Alipay
Now that we've covered the popularity and benefits of accepting Alipay, let's take a look at the results a global etailer saw when they started to accept Alipay. 
This global etailer wanted to address their high shopping cart abandonment rates and low card approval rates for first-time Asia-Pacific buyers. The merchant was experiencing 70% shopping cart abandonment rates and 50% card approval rates for this demographic. 
The merchant decided to partner with Citcon to easily gain access to mobile wallets popular across Asia. After providing Alipay, WeChat Pay, UnionPay, G-Cash, Dana, Alipay HK, and Kakao Pay at their check out, the global etailer saw significant improvements in online conversion. The business improved the shopping and checkout process for their Asia-Pacific consumers and boosted top-line growth in three ways:
• Reduced shopping cart abandonment rate by almost 50%
• Increased overall card approval rate to 85%
• Received zero chargeback fraud from wallet-related payments
You can read the full case study here. 
By implementing Alipay and other popular mobile wallets, the etailer has increased its market potential and unlocked international revenue opportunities.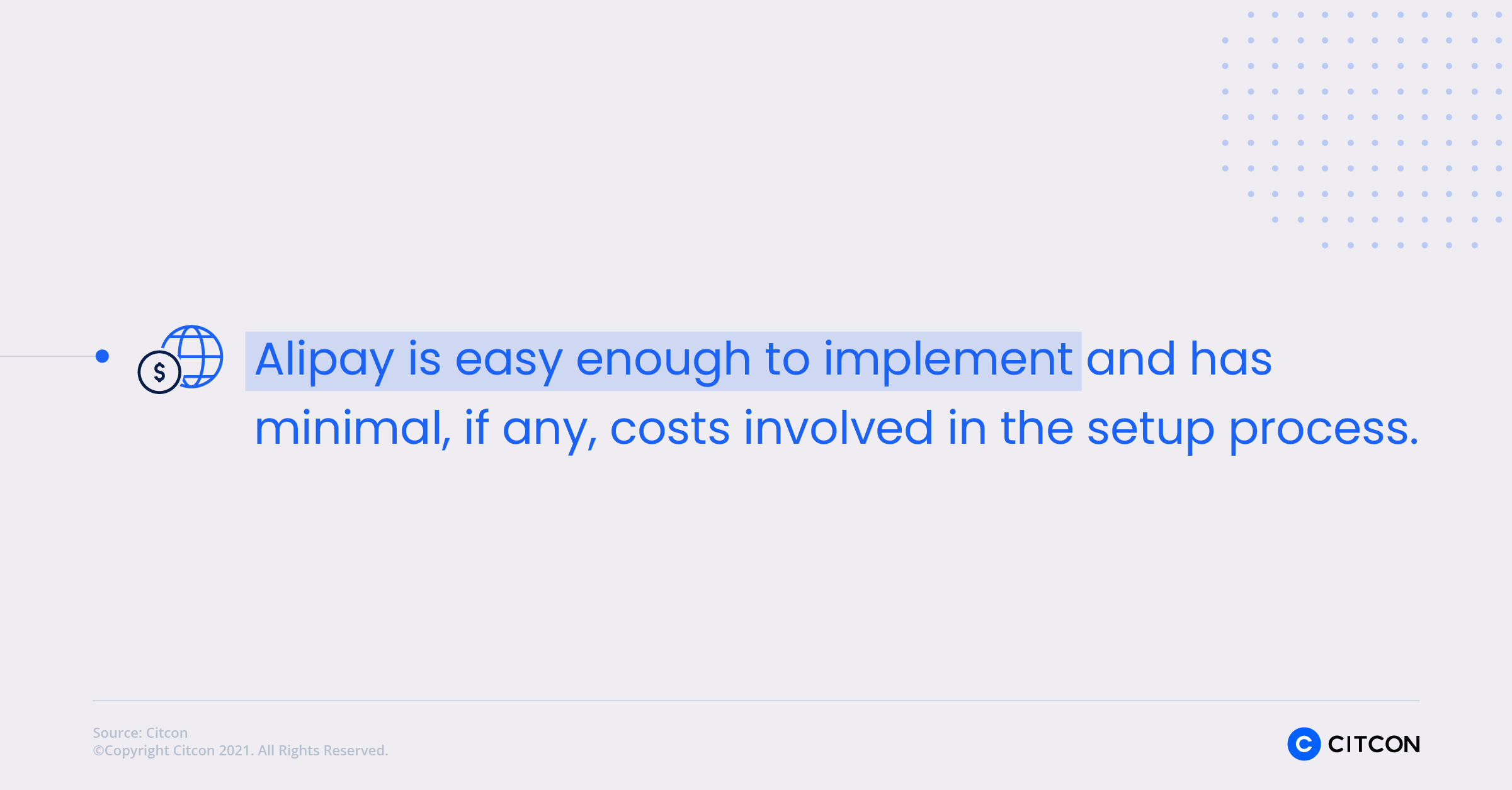 The good news is, Alipay can be easy to implement and has minimal, if any, costs involved in the setup process.
How Can Merchants Start Using Alipay?
For merchants expanding into the Chinese market, incorporating Alipay into your payment options is a no-brainer. Alipay has over 50% of the market share in China. Millions of Chinese citizens, tourists, and cross-border shoppers use it regularly. 
For merchants who've already partnered with a Chinese financial institution and opened a Chinese bank account, all you need to do to start accepting Alipay is: 
• Set up your merchant account: You may need to provide some documentation to get your account set up and verified by Alipay. This could include things like a copy of your business registration number and business ID, along with your personal ID or the personal ID of your legal representatives.
• Post signage or web copy: Once you have your account set up, you'll receive a QR code individuals can scan directly in order to pay for items. Signage indicating your store or website accepts Alipay will let customers know they can easily purchase with you.
• Train: You will want to make sure your staff is familiar with how Alipay works to avoid long transactions, errors, and more. 
However, if you don't have a Chinese bank account, you will have to set things up differently.
Setting Up Alipay Without a Chinese Bank Account
If you don't have a Chinese bank account for your business, you can still accept Alipay on your website and within your stores. You will just need to approach the process differently. One very simple option is to use a global payment gateway provider to offer your customers Alipay along with a host of other payment options. 
Citcon, a global payment gateway provider, was the first fully licensed U.S.-based acquirer of Alipay, WeChat Pay, and China UnionPay. Through a single integration, we can enable merchants to accept Alipay along with 100 other alternative payment methods. Our payment ecosystem makes it easy to accept Alipay without requiring a Chinese bank account. 
Our solution is trusted by 100s of leading brands at 10,000+ merchants worldwide and provides solutions for any device, channel, or business model. To learn more about how Citcon can help your company through the acceptance of Alipay and other global mobile wallets, request a brief, no-obligation demo with a Citcon team member today.