San Francisco's Leading Tourist Destination Partners with Alipay to Deliver a Seamless Payment Experience for Chinese Travelers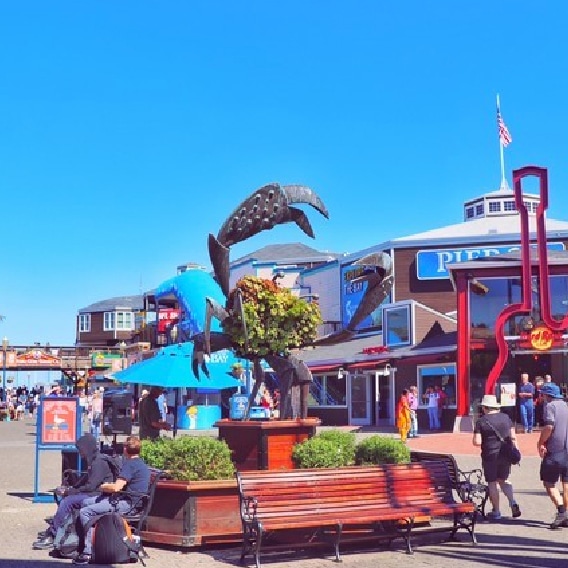 More than 40 Merchants on San Francisco's PIER 39 Now Accept Alipay via CITCON
July 25, 2018 09:00 AM Eastern Daylight Time
NEW YORK–(BUSINESS WIRE)–Alipay, China's leading digital payment platform operated by Ant Financial Services Group, and PIER 39, one of San Francisco's most popular tourist destinations for shopping, dining and entertainment, today announced a partnership to create a seamless payment experience for Chinese travelers. Through the partnership, more than 40 merchants and vendors located on PIER 39, including Blue & Gold Fleet, Bubba Gump Shrimp, Fog Harbor Fish House and the Aquarium of the Bay, will now accept payment via Alipay's mobile wallet through point-of-sale machines activated and implemented by CITCON, a leading cross-border mobile payment and marketing solutions provider that helps connect merchants with Chinese mobile wallet users.
"Chinese consumers visiting San Francisco love to visit PIER 39," said Taylor Safford, President, and CEO of PIER 39. "Through our partnership with Alipay, we can now provide these travelers with a familiar, seamless payment experience, whether they are exploring the aquarium, dining at one of our beautiful waterfront restaurants, or shopping on The PIER."
"Chinese consumers seek out authentic and exciting local experiences while traveling, and San Francisco's PIER 39 is exactly that kind of iconic destination," said Souheil Badran, President, Alipay Americas. "We are thrilled to partner with PIER 39. By enabling them to use Alipay at the register, they are diminishing payment and language barriers, providing these Chinese travelers with the best shopping and touring experience possible."
"We applaud PIER 39's initiative to make the destination 'Alipay friendly' for visitors from China," said Joe D'Alessandro, president, and CEO of the San Francisco Travel Association, the city's destination marketing organization. "China is San Francisco's top overseas market with the highest spending of over $1.4 billion in 2017. By 2020, one in every four visitor dollars spent in San Francisco will come from a Chinese visitor. Alipay is the largest mobile payment platforms in China and a key factor in making it easy for Chinese visitors to spend in San Francisco."
Through Alipay's geolocation-based "Discover" function and push notifications within the app, Chinese travelers can locate merchants at PIER 39, receive promotional information and make purchasing decisions. Beyond an improved payment experience, Alipay offers a sophisticated marketing channel. Through Alipay, PIER 39's merchants will be able to market to Chinese tourists before, during and after their visits, boosting exposure of their businesses among China's rapidly expanding overseas visitors. Alipay is currently offering a promotion through the end of July to consumers shopping at PIER 39's merchants.
"Mobile payments are now an integral part of Chinese consumer culture. Providing a welcoming environment and comfortable checkout experience to Chinese consumers is the key to success in the tourism industry," said Chuck Huang, Founder, and CEO, CITCON. "We are committed to connecting businesses with Chinese consumers, and excited to partner with PIER 39 and Alipay to welcome and better serve Chinese travelers."
About Alipay
Operated by Ant Financial Services Group, Alipay is the world's leading mobile and online payment platform. Launched in 2004, Alipay currently works with over 200 domestic financial institution partners. Over the years, Alipay has evolved from a digital wallet into a lifestyle enabler. Users can hail a taxi, book a hotel, buy movie tickets, pay utility bills, make appointments with doctors, or purchase wealth management products directly from within the app. In addition to online payments, Alipay is expanding to in-store offline payments both inside and outside of China. Over 40 million brick-and-mortar merchants now accept Alipay across China. Alipay's in-store payment service covers over 40 countries and regions across the world and tax reimbursement via Alipay is supported in 29 countries and regions. Alipay works with over 250 overseas financial institutions and payment solution providers to enable cross-border payments for Chinese traveling overseas and overseas customers who purchase products from Chinese e-commerce sites. Alipay currently supports 27 currencies.
About PIER 39
PIER 39 is a 45-acre waterfront complex that is a gathering place for 15 million San Francisco locals and visitors each year. The PIER is a two-level open-air marketplace featuring over 110 restaurants, shops, and attractions, all surrounded by iconic views of the bay and San Francisco landmarks. PIER 39 also includes a 5-acre waterfront park and 300-berth marina, home to the world-famous California sea lions. PIER 39 is a tenant of the Port of San Francisco.
About CITCON
CITCON is a cross-border mobile payment and marketing solution leader, enabling merchants to accept QR-based mobile wallets in-store and online on a global scale. Among the payment options supported by CITCON, Alipay and WeChat Pay are two of the most popular wallets with over one billion active consumers. On top of payments, CITCON also allows merchants to run marketing and loyalty campaigns through our partner network. Trusted by thousands of merchants in North America and Europe, including DFS Group, Caesars Entertainment Group, Kering Group among others, CITCON offers solutions for businesses to drive omnichannel commerce growth in a variety of industries ranging from Retail, e-Commerce, Hotel, Food & Beverage, Transportation, Entertainment to Education. CITCON was Founded in 2015 by Chuck Huang, a serial entrepreneur and payment veteran with over a decade's experience in both US and China, and received $10M venture funding from leading VCs (Zhen Fund, Cybernaut) in Silicon Valley and China. For more information, please visit citcon.com