Mandarin Oriental, Boston Announces The Acceptance of Alipay and WeChat Pay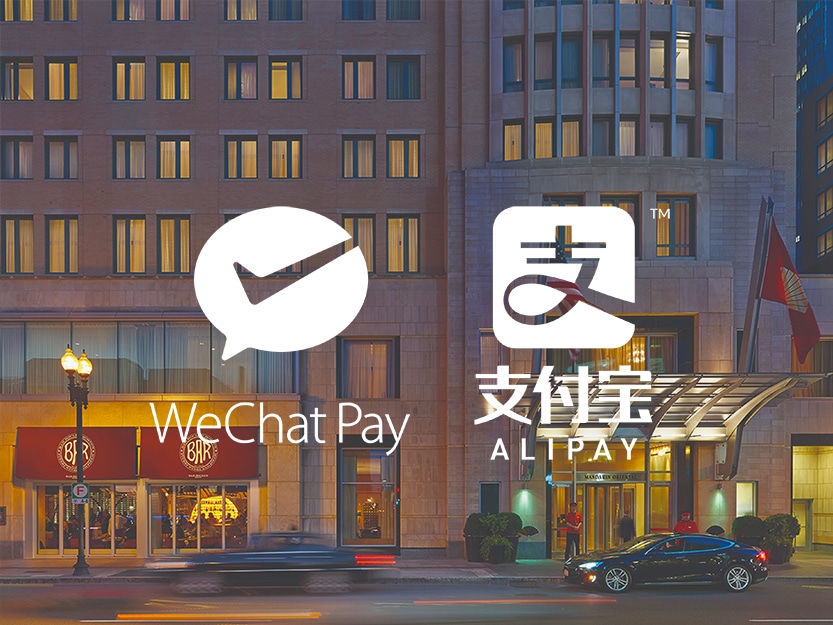 In collaboration with CITCON, the world's leading cross-border mobile payment company, Five-Star Mandarin Oriental, Boston announces the integration and acceptance of Alipay and WeChat Pay, China's most popular and preferred mobile wallet platforms with over one billion active consumers.
Alipay, which is operated by Ant Financial Services Group, is the world's leading digital payment platform, providing in-store payment service in more than 40 countries and regions across the world. WeChat Pay is an international social communication app designed to empower smartphone users in a fun and dynamic way, delivering rich, high-touch content experiences in one seamless, interactive social eco-system. Users are able to make purchases with the simple scan of a QR code.
"Mandarin Oriental, Boston is delighted to be the first Five-Star hotel in Boston to extend Alipay and WeChat Pay to our international clientele," said Philipp Knuepfer, General Manager of Mandarin Oriental, Boston. "As the Chinese consumer is anticipated to remain one of the largest growth drivers in the global luxury market, this addition offers added convenience for our guests, while increasing social engagement and further enhancing our ability to provide the legendary personalized service for which Mandarin Oriental is known."
"Mandarin Oriental has established itself as one of the most elegant and luxurious hotel groups, renowned for its impeccable services inspired by its Asian heritage." said Chuck Huang, Founder and CEO of CITCON, "We are delighted to partner with Mandarin Oriental, Boston to offer the Chinese mobile payment solution that helps it live up to its mission to completely delight and satisfy their guests, which makes Mandarin Oriental the hotel of choice for locals and luxury travelers alike."
Visitations from China to the U.S. are expected to grow at annual rates ranging from seven to ten percent over the medium term. By 2020, China is projected to be the United States' second-largest overseas inbound market according to the U.S. Travel Association. The revenue from Chinese tourists abroad now makes up 21% of all tourism spend according to The United Nations World Tourism Organization (UNWTO). On average, Chinese visitors spend USD 6,900 per trip to the U.S., more than those of any other major inbound market.
About Mandarin Oriental, Boston
An intimately luxurious hotel, Mandarin Oriental, Boston combines classic New England elegance with refined Oriental touches to create one of the most distinctive hospitality experiences in the region. Awarded both Forbes Five-Stars and AAA Five-Diamonds, Mandarin Oriental, Boston features 148 of the city's most spacious guestrooms and suites, exquisite meeting and event facilities and legendary personalized service. Hotel amenities include Massachusetts' only holistic Five-Star awarded spa, a state-of-the-art fitness center and our signature restaurant Bar Boulud, a French-inspired bistro and oyster bar from internationally acclaimed chef Daniel Boulud. A short 15-minute drive from Logan International Airport, Mandarin Oriental, Boston connects guests to the city's finest shopping, cultural venues, and business institutions from its prime location in the heart of Boston's chic Back Bay on Boylston Street.
About Mandarin Oriental Hotel Group
Mandarin Oriental Hotel Group is the award-winning owner and operator of some of the world's most luxurious hotels, resorts and residences. Having grown from its Asian roots into a global brand, the Group now operates 29 hotels and eight residences in 19 countries and territories, with
each property reflecting the Group's oriental heritage and unique sense of place. Mandarin Oriental has a strong pipeline of hotels and residences under development, with the next hotel opening planned in Doha. Mandarin Oriental is a member of the Jardine Matheson Group.
Photographs of Mandarin Oriental are available to download from the Photo Library of our Media section at www.mandarinoriental.com.
Visit Destination MO (http://www.mandarinoriental.com/destination-mo/), the online version of Mandarin Oriental Hotel Group's bespoke publication, MO. News about our award-winning hotels, the best dining experiences, spa treatments, travel retreats and interviews with the Group's
celebrity fans is now just a click away. Further information is also available on our Social Media channels.
About CITCON
CITCON is a cross-border mobile payment and marketing solution leader, enabling merchants to accept QR-based mobile wallets in-store and online on a global scale. Among the payment options supported by CITCON, Alipay and WeChat Pay are two of the most popular wallets with over one billion active consumers. On top of payments, CITCON also allows merchants to run marketing and loyalty campaigns through its partner network. Trusted by thousands of merchants in North America and Europe, CITCON offers solutions for businesses to drive omnichannel commerce growth in a variety of industries ranging from Retail, e-Commerce, Hotel, Food & Beverage, Transportation, Entertainment to Education. CITCON was Founded in 2015 by Chuck Huang, a serial entrepreneur and payment veteran with over a decade's experience in both US and China, and received $10M venture funding from leading VCs (Zhen Fund, Cybernaut) in Silicon Valley and China.