LOC Software Announces Integration to Enable Alipay and WeChat Pay for North American Retailers
Monday, February 19, 2018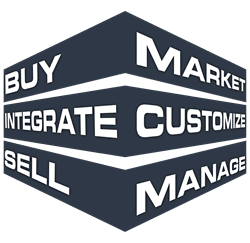 LAVAL, QC, FEBRUARY 19, 2018 — LOC Software, developer of a leading retail management software suite, and CITCON, the leading cross-border mobile payment company, announced the release of their integrated mobile payments options for LOC's SMS point-of-sale system. The solution offers retailers access to Alipay and WeChat Pay's digital wallet services, which account for 90% of the Chinese mobile payment market share with over 1 billion active users.
Alipay, the world's leading digital payment platform, provides in-store payment service in more than 38 countries across the world. WeChat Pay is a fully integrated payment solution within WeChat, the world's most popular mobile social communications service. The cross-border payment options allow Chinese consumers to purchase goods and services overseas in Renminbi and merchants to be settled in local currencies. Adding these payment options gives merchants the opportunity to better serve the Chinese travelers, and tap into an even larger revenue stream from one billion Chinese consumers who are the largest spenders, and the fastest growing traveler segment to North America at over 4 million annual visits.
This new, fully integrated payment option provides SMS point-of-sale merchants easy and convenient access to capture spending of Chinese travelers. Over the last four years, Chinese tourists have accounted for more than 13% of global tourism revenues. The US alone saw tourism revenues of more than $30 billion in 2016, and that number is expected to grow by more than 100 percent in the next two years.
ABC Stores, a Hawaii based company with stores in popular tourist destinations, has deployed the LOC/Citcon payment option to 70+ locations. According to David Awaya, CIO of ABC Stores, "The integration of Alipay and WeChat payments into our point-of-sale system helps us to provide diverse payment options to meet the needs of the Chinese traveler."
Additional installations are underway on both US coasts, and inquiries are also funneling in from several Midwestern based retailers as well.
For more information, contact LOC Software at sales(at)locsoftware(dot)com or visit http://www.locsoftware.com.
About LOC Software
LOC Software delivers solutions designed to make transactions more manageable, more profitable and more frequent by fully integrating retail operations for multi-store environments. Our Store Management Suite (SMS) is a complete set of applications tailored into one seamless interface, satisfying all a retailer's needs, from powerful merchandising and inventory control, fully integrated loyalty, multi-store management and more.
About CITCON
Silicon Valley-based CITCON is the mobile payment solution leader for merchants to accept the fast growing mobile wallets at the global scale. In North America, CITCON is the first and largest authorized merchant acquirer for Alipay and WeChat Pay, two of the most popular mobile wallet providers in the world with over 1 billion active users and over $800 billion mobile payment volume. CITCON provides both in-store, and mobile / web / E-commerce payment solutions for thousands of merchants including renowned brands such as Caesars Entertainment Group, DFS, I-Shoppes, Pacific Gateway, China Unicom, YamiBuy among others, covering a wide variety of business sectors such as Retail, Hotel, Food & Beverage, Transportation, Entertainment Education and E-commerce. CITCON management team consists of payment and technology veterans from VISA, PayPal, eBay, Uber, JD, Western Union. CITCON is backed by top notch Silicon Valley venture capital firms and received strategic investments from two public-traded multi-billion- dollar technology companies in China. For more information, please visit https://citcon.com