CITCON Partners with Pacific Gateway to Bring Alipay to Major U.S. Airports
Thursday, October 26, 2017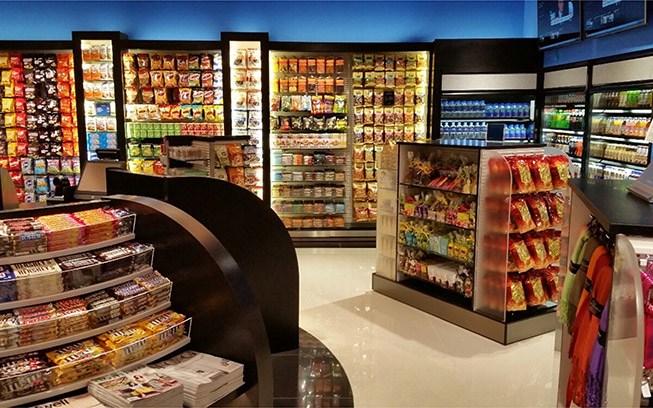 LAS VEGAS, Oct. 26, 2017 — CITCON, the leading cross-border mobile payment company, announced a partnership with Pacific Gateway, a leading airport-based retailer and restaurateur, to launch Alipay at its retail shops in San Francisco International Airport and Mineta San Jose International Airport.
As part of the "Airport of the Future" program advocated by Alipay in an effort to offer convenience to Alipay users, the CITCON payment solution allows renowned Retail and F&B brands including US News & World Report, Where Traveler, See's Candies, Jamba Juice and Peet's Coffee to accept payment from Chinese consumers by scanning a QR code through customers' Alipay app, the most popular mobile payment option with over 520 Million active users.
With Alipay, customers can also find local shopping and dining information about merchants partnered with Alipay, with payment and location-based information to make their visits to a foreign city more comfortable. Merchants that accept Alipay will also be able to participate in various promotions throughout the year leveraging Alipay and CITCON's marketing resources.
The Pacific Gateway culture is founded on the belief that we have to constantly look for ways to improve the travel experience," said Joe Waller, CEO of Pacific Gateway. "Our collaboration with CITCON and Alipay is natural extension of that core precept. It allows us to connect with millions of Chinese visitors and show them how much we respect them and value their business."
Travel Retail offers a shop window and communication platform with highest frequency of customers. More than 200 Million Chinese tourists are expected to travel globally in 2020. United States has been one of the most popular destinations for Chinese travelers, and China is expected to continue ranking No.1 for both tourist number as well as tourist spending in the next five years.
"Airports, as one of the most important travel retail channels, represent one of the biggest growth opportunities among Retail business worldwide," said Chuck Huang, Founder & CEO at CITCON, "Our partnership with Alipay and Pacific Gateway demonstrates our commitment to bring the innovation of mobile payment to the North American markets, making it easy for businesses to connect with millions of Chinese travelers and elevate the cashless payment experience as they enjoy it in China."
"Shopping is a substantial part of the travel experience. Providing the most familiar and convenient payment option for Chinese consumers at their first and last stops when they travel abroad will create a memorable experience for travelers to bring home the best of the destinations," said Wei Jiang, COO & President at CITCON. "This also allows business to further engage with their customers, encourage spending and tap into the Chinese outbound tourism market that accounts for 21% of the world's international tourism spending in 2016 and continues to grow. The performance of the pilot launch well exceeded our expectation, and we are excited about the national roll-out with Pacific Gateway to cover all major U.S. airports in the next few months."
About CITCON
Silicon Valley-based CITCON is the mobile payment solution leader for the fast-growing international travel commerce and retail market. In North America, CITCON is the first and largest authorized merchant acquirer for WeChat Pay and Alipay, two of the most popular mobile wallet providers in the world with over 1 billion active consumers. CITCON provides both in-store, and mobile / web / E-commerce payment solutions for thousands of merchants including renowned brands such as DFS, Pacific Gateway, China Unicom, YamiBuy among others, covering a variety of tourist related sectors, such as Retail, Hotel, Food & Beverage, Transportation, Entertainment and Ecommerce. CITCON was founded by Chuck Huang, a mobile payment veteran with over 10 years' experience in financial services and payment industries in both China and the US. CITCON management team consists of payment and technology veterans from VISA, PayPal, eBay, Uber, JD, Western Union. CITCON is backed by top notch Silicon Valley venture capital firms and received strategic investments from two public-traded multi-billion-dollar technology companies in China. For more information, please visit citon.com
About Pacific Gateway
Pacific Gateway is a rapidly growing company with airport-based retail and culinary operations across the United States. We combine 19 years of experience and a start-up attitude to challenge the goliaths in our industry. Pacific Gateway operates airport locations of well-known national brands like Kiehl's, Swarovski, TUMI, Lolli and Pops, Jo Malone, See's Candies, Ghirardelli Chocolate, Jamba Juice, Menchie's Frozen Yogurt, US News & World Report, Where Traveler, The New Stand, and Peet's Coffee.