7-Eleven Becomes First Convenience Retailer Chain in Canada to Accept Alipay and WeChat Pay
Tuesday, November 20, 2018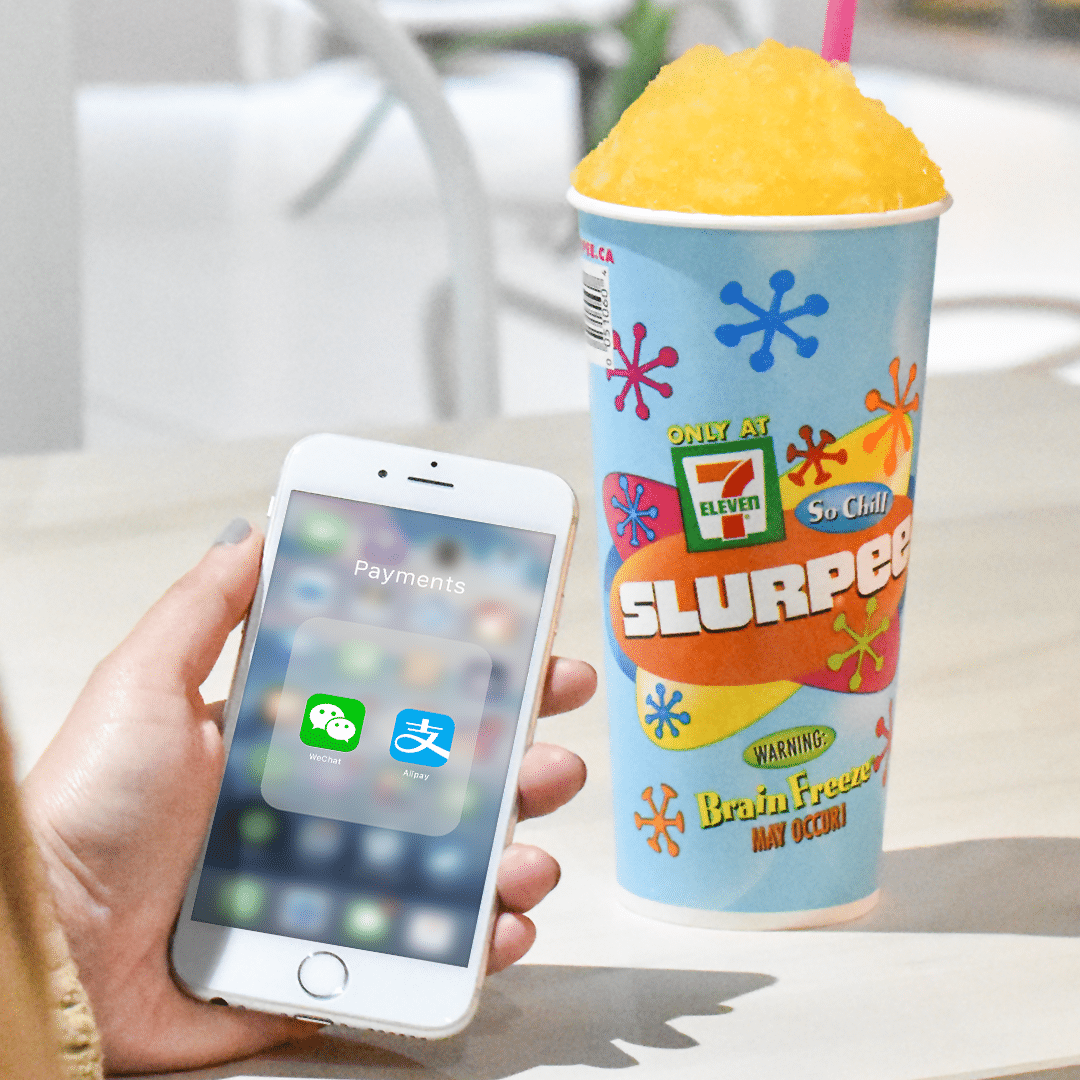 Vancouver, BC – Today, 7-Eleven Inc. announced that participating stores in Canada will now accept Chinese mobile payment systems Alipay and WeChat Pay. The world's largest convenience retailer is collaborating with cross-border mobile payment company and market leader CITCON. Alipay and WeChat Pay will now be available at 35 select locations in Vancouver and Toronto, with plans for expansion in the next few months.
"Digital Payments are on the rise and consumers across the world are embracing them for convenience. 7-Eleven is redefining convenience for our customers across the globe which includes providing mobile payment solutions," said Gurmeet Singh, Chief Digital Officer & Chief Information Officer of 7-Eleven. "With 67,000 stores worldwide, Alipay and WeChat Pay are just one of many solutions that we provide our global consumers so they can enjoy a frictionless experience in our stores. 7-Eleven is the first convenience retailer to provide Alipay and WeChat Pay mobile payment solutions in Canada, and we continue to drive digital transformation with the latest in consumer-facing mobile technology."
Wei Jiang, President, and COO of CITCON, explains, "Consumers today are increasingly relying on mobile to meet their needs. The explosion of mobile usage and QR-based mobile solutions offer opportunities for retailers to provide an engaging and new retail experience. We are thrilled to collaborate with 7-Eleven in a joint effort to redefine convenience in Canada."
In an increasingly digital world, 7-Eleven continues to push for solutions that elevate their customers' experience. For Chinese consumers, mobile payments are the norm—cash and even bank cards are a thing of the past. By implementing Alipay and WeChat Pay, China's leading mobile payment platforms, 7-Eleven is providing residents and tourists with an easy and familiar way to complete transactions abroad and setting a new standard for Canadian retailers.
"7-Eleven is no stranger to firsts," said Doug Rosencrans, VP and General Manager of 7-Eleven Canada. "7-Eleven has always sought out innovative ways to provide customers with convenience how they like it, and when they like it. Alipay and WeChat Pay are just another way we are enhancing the customer experience."
Mobile is shaping the future of convenience, and 7-Eleven is working to stay ahead of the curve by focusing their services around mobile pay apps and other innovative convenience solutions. Facilitating transactions through mobile technology will provide an enhanced convenience experience for 7-Eleven Canada's customers.
"Alipay looks forward to supporting 7-Eleven in providing a seamless experience for Chinese consumers as they visit North America and offering further convenience in the food and beverage space along their routes so they can travel with ease. We are extremely excited to be part of this activation and look forward to collaborating with 7-Eleven and Citcon," said Yulei Wang, General Manager, Alipay North America.
About 7-Eleven, Inc.
7-Eleven, Inc. is the premier name and largest chain in the convenience retailing industry. Based in Dallas, Texas, 7-Eleven operates, franchises and/or licenses more than 67,000 7-Eleven stores in 17 countries, including 11,800 in North America. Find out more about 7-Eleven Canada at www.7-Eleven.ca.
About CITCON
CITCON is a cross-border mobile payment and marketing solution leader, enabling merchants to accept QR-based mobile wallets in-store and online on a global scale. Among the payment options supported by CITCON, Alipay and WeChat Pay are two of the most popular wallets with over one billion active consumers. On top of payments, CITCON also allows merchants to run marketing and loyalty campaigns through their partner network. Find out more about CITCON at citcon.com
About Alipay
Operated by Ant Financial Services Group, Alipay is the world's leading mobile and online payment platform. Launched in 2004, Alipay has evolved from a digital wallet to a lifestyle enabler. In addition to online payments, Alipay is expanding to in-store offline payments both inside and outside of China. Alipay's in-store payment service covers over 40 countries and regions across the world and supports 27 currencies currently. Alipay works with over 250 overseas financial institutions and payment solution providers to enable cross-border payments for Chinese traveling overseas and overseas customers who purchase products from Chinese e-commerce sites. Connect with Alipay on Twitter.
For more information:
Danika Thibault
danika@boojemedia.com
250.314.7891
Citcon Media Contact
Evelyn Yang
Evelyn.yang@citcon.com
888-254-4887
Alipay Media Contact:
Sophia Cote
Sophia.cote@fhhighroad.com
778-903-7494
If you have any question, give us a message. We will get back to you soon!