CITCON Launches the First Community in the United States to Accept Alipay and WeChat Pay
Monday, November 20, 2017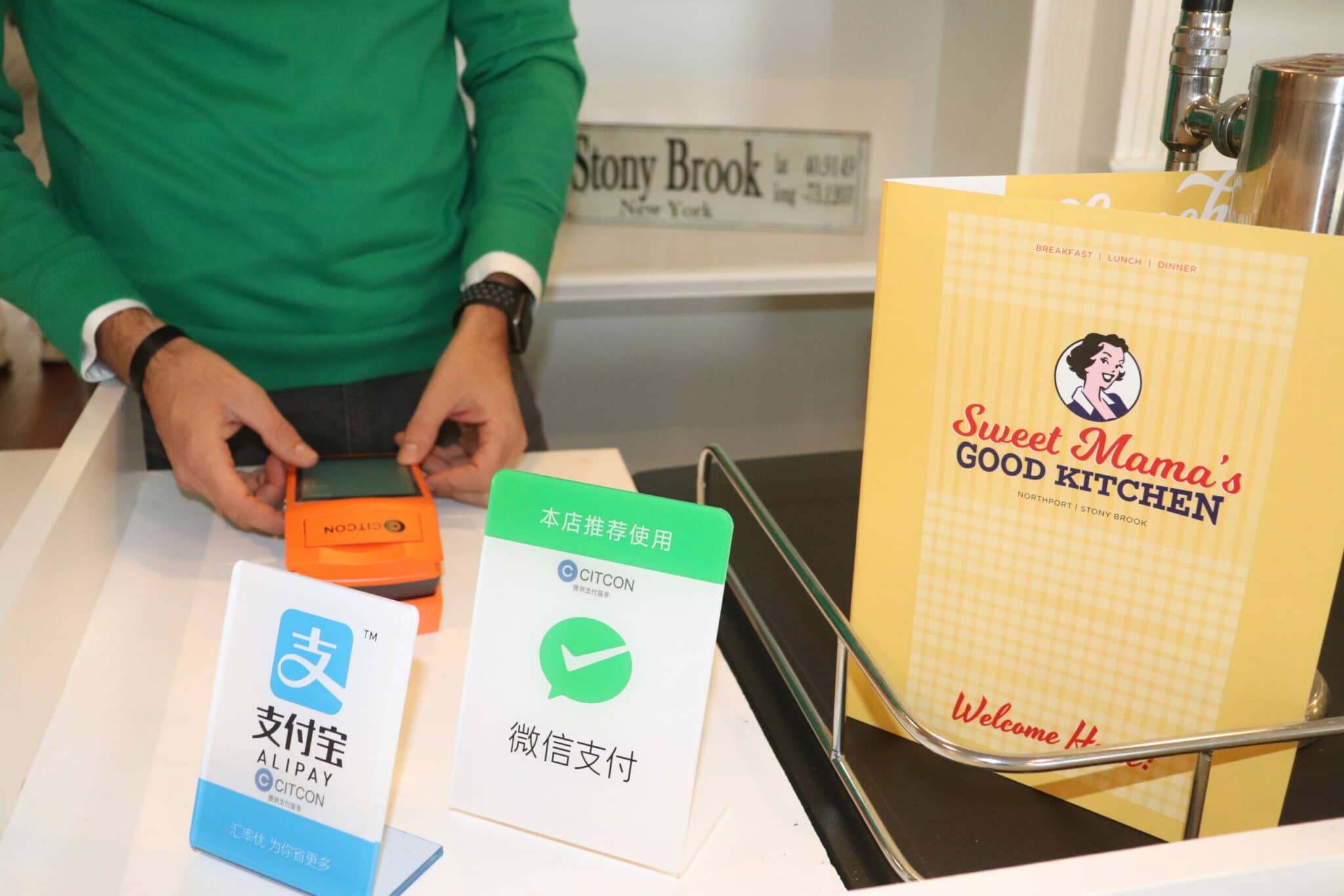 SANTA CLARA, Calif., Nov. 20, 2017 — CITCON, the leading cross-border mobile payment company, announced the partnership with Stony Brook Village Center, making its mark as the first community in the country to accept Alipay and WeChat Pay with over one billion active users.
Stony Brook Hamlet is located in New York, on the North Shore of Long Island, just 60 miles from Manhattan. Stony Brook Village Center, created in 1941, is considered the first planned business community in the United States. The majority of establishments in this quaint, historic village, as well as its environs, have partnered with CITCON to accept Alipay and WeChat via CITCON's smart mobile point-of-sale (mPOS), easy-to-integrate API and software products to provide the most preferred payment options for Chinese consumers.
Alipay, the world's largest mobile and online payment platform, provides in-store payment service in more than 30 countries across the world; and WeChat Pay, a fully integrated payment solution within WeChat, the world's most popular mobile social communications service with 980 million active users, envisions and innovates new ways for people to connect, communicate and share.
China is the largest market for U.S. travel and tourism goods and services and astronomical growth is anticipated in the next few years. Six million Chinese tourists are expected to visit the U.S. by the year 2020.
"We are thrilled to partner with Stony Brook Village and make it the first community in the U.S. to accept Alipay and WeChat Pay." said Chuck Huang, Founder and CEO of CITCON. "The Chinese consumer is evolving and characterized by a strong mobile-first purchase pattern. Mobile payment is the future of commerce. Accepting the most preferred payment options for Chinese travelers makes it easy for businesses to provide a delightful experience and engage with millions of Chinese consumers."
CITCON's payment solutions enable cross-border payments for Chinese consumers to purchase goods and services overseas in Chinese Yuan and for merchants to be settled in local currencies. Adding these payment options allows merchants to gain the opportunity to better service the Chinese traveler, and tap into an even larger revenue stream from one billion Chinese consumers who are the largest spenders, and the fastest growing traveler segment to North America.
WMHO has spearheaded this effort with ALON Marketing Group, to bring together 30 organizations including restaurants, hotels, retail services, attractions and transportation to offer these services. This will accommodate Asian Long Island residents and Stony Brook University faculty and students. The Asian population, as it stands today, is 16% in a one mile radius of the Stony Brook Village Center. Gloria Rocchio, President of The Ward Melville Heritage Organization says, "Stony Brook is an international community. Partnering with CITCON to accept Alipay and WeChat Pay provides the Asian resident and visitor with a familiar way of payment and makes the area Asian-friendly."
About CITCON
Silicon Valley-based CITCON is the mobile payment solution leader for merchants to accept the fast-growing mobile wallets at the global scale. In North America, CITCON is the first and largest authorized merchant acquirer for WeChat Pay and Alipay, two of the most popular mobile wallet providers in the world with over 1 billion active users and over $800 billion mobile payment volume. CITCON provides both in-store, and mobile / web / E-commerce payment solutions for thousands of merchants including renowned brands such as DFS, Pacific Gateway, China Unicom, YamiBuy among others, covering a wide variety of business sectors such as Retail, Hotel, Food & Beverage, Transportation, Entertainment Education and E-commerce. CITCON was founded by Chuck Huang, a mobile payment veteran with over 10 years' experience in financial services and payment industries in both China and the US. CITCON management team consists of payment and technology veterans from VISA, PayPal, eBay, Uber, JD, Western Union. CITCON is backed by top notch Silicon Valley venture capital firms and received strategic investments from two public-traded multi-billion-dollar technology companies in China. For more information, please visit citcon.com
About THE WARD MELVILLE HERITAGE ORGANIZATION
The Ward Melville Heritage Organization (WMHO), founded in 1939, is a privately funded not-for-profit corporation. The Stony Brook Village Center, known to be the first planned business community created in the United States, is located at Main Street on Stony Brook Harbor. WMHO and the Stony Brook Village Center is the creation of philanthropist Ward Melville. Its many unique features include a sweeping village green and crescent shaped design. In its early years the American Institute of Architects hosted an annual conference in Stony Brook to study his creation. The mechanical eagle on the Post Office pediment flaps its wings every hour on the hour from 8:00 AM to 8:00 PM daily as it has done for over 75 years welcoming thousands of visitors to its specialty shops, restaurants, attractions and hotels. Ward Melville donated the land that Stony Brook University stands on today. WMHO owns and maintains numerous historic structures and environmentally sensitive areas in Stony Brook, New York. Thousands visit each year to participate in community arts and cultural enrichment events offered by WMHO such as outdoor festivals, wetlands cruises, musical theatre performances, Chinese New Year celebrations and Customer Appreciation Day festivities. WMHO also owns and oversees various historic properties in Stony Brook, Setauket and Head of the Harbor, New York that are on the New York State and National Register of Historic Places. They are available by appoint for tours and special programs. Visit www.stonybrookvillage.com.