CITCON brings WeChat Pay Cashless Day to North America
Wednesday, August 2, 2017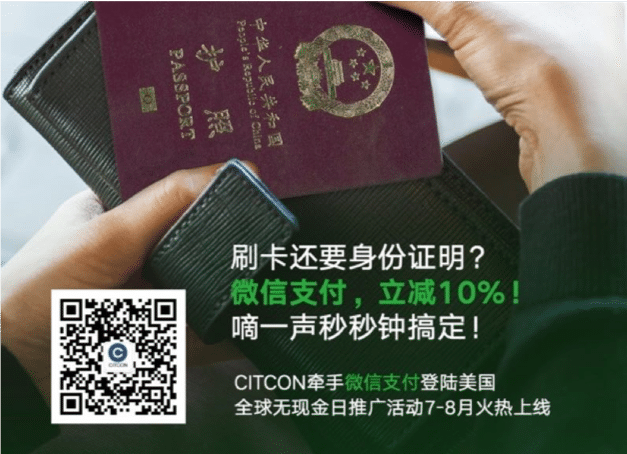 Santa Clara, United States – Citcon, an integrated mobile payment and marketing platform to connect global merchants with Chinese travelers, is supporting WeChat Pay on its promotion campaign in North America this summer.
As the only authorized payment service provider of WeChat Pay in North America, Citcon was founded to connect global merchants with millions of Chinese customers. During this campaign, every consumer who uses WeChat Pay in Citcon's
cooperating stores will enjoy a 10% discount.
The cashless day is originated in China for low-carbon and an environment-friendly goal by WeChat, a leading social communication device in China which has 600 million financial accounts and more than 600 million transactions every day.
In China, millions of Chinese shops, restaurants, transportations are supporting WeChat Pay. You can live without any cash and purchase whatever you want.

"Mobile payment is the new frontier of commerce, and China is leading the trend." Chuck Huang, Founder & CEO of Citcon said. Citcon's easy-to- use and cross-border mobile payment solution is no doubt cutting the edge in the field.
In 2020, five million Chinese travelers are expected to spend $80 billion in the United States. The mass WeChat users and the most Chinese outbound tourists for the last four consecutive years promises a bright future for mobile payment in North America.
The cashless event will be launched in North America this summer. Citcon is providing all the consumers with varies merchants from multiple industries such as restaurants, hotels and tourist sites etc., which ensures all the consumers with the same low-carbon, environment-friendly and convenient life style even on their visit to North America.