10 Questions to Ask a Global Payment Gateway Provider

By Jamie Elgie
You've seen the signs, and you know it's time to switch payment gateway providers. Updating payment options for your customers can help increase conversion rate, and attract new customers who use alternative forms of payment such as a digital wallet or app. 
Since March 2020, the way many companies do business has changed, and eCommerce is more popular than ever. The 2020 McKinsey Global Payments Report, released in October 2020, highlights the impact of COVID-19 on the eCommerce industry. Changes have occurred rapidly as businesses adapt to their customers' new and ever-changing demands.
Related Read: 5 Reasons Contactless Payments Will Outlast the Global Pandemic

Perhaps these changes have led you to consider expanding into new markets, but you're not sure how. Credit and debit cards are not ubiquitous globally. In fact, fewer than five percent of Chinese and Indian payment transactions use credit cards. With the right payment gateway provider, you can easily service the remaining 95 percent. This will help expand your customer base and keep current customers satisfied with a variety of payment options.
Related Read: Factors to Consider When Entering a New Market
What to Consider When Switching Payment Gateway Providers
There are many things to consider, and you should approach choosing a payment gateway provider cautiously. You want to do the math and see which provider will be most cost-effective, and which one has the best user experience for your customers. Check the technology, and see how responsive the provider's customer support team is. You want to choose the best overall provider, to ensure stability and customer happiness.
10 Questions to Ask When Evaluating a Global Payment Gateway
Selecting a new global payment gateway can be a daunting task, but if you prepare adequately, you can approach it intelligently and make the best decision for your business. The 10 questions below can be used as a checklist to guide you in making your provider selection.
1. What payment methods does your payment gateway support?
First, you'll want to gather information on the current payment methods the majority of your customers are using. You don't want to add a new payment gateway provider that doesn't support your current customers. Ensure the provider offers enough variety and coverage in the countries and currencies where you expect to do the most business.  
Related Read: 5 Payment Gateway Trends to Watch
Citcon is ideally poised to help businesses accept global payments in retail stores, direct consumer businesses and B2B transactions.
2. What integration options are available?
When you're choosing what payment option to go with, consider how easily it will integrate with your current processes. The new payment options will need to be provided at checkout, for example. Can your current integration system support it, or will you have to switch integration providers to support your new global payment gateway provider? Also, are you mainly selling online, from a fixed physical location like a storefront, or on the go? 
If you sell mainly at fairs, markets, farmer's markets, and other impermanent shops, a mobile point-of-sale system (POS) is probably the best way to go. If you have a brick and mortar store, a countertop model may work better for you.There are many combinations of integration, global payment gateway, and POS terminals that can work for your business, it just takes planning. Keep apprised of what you will need so you can launch new options seamlessly.
Citcon's all-in-one global gateway visually displays the vast array of online wallet payment options for customers, providing logos so they can easily choose how to pay. With Citcon, you can rapidly increase the number of options for global eCommerce payment processing for your customers via easy plug-ins to widely used systems.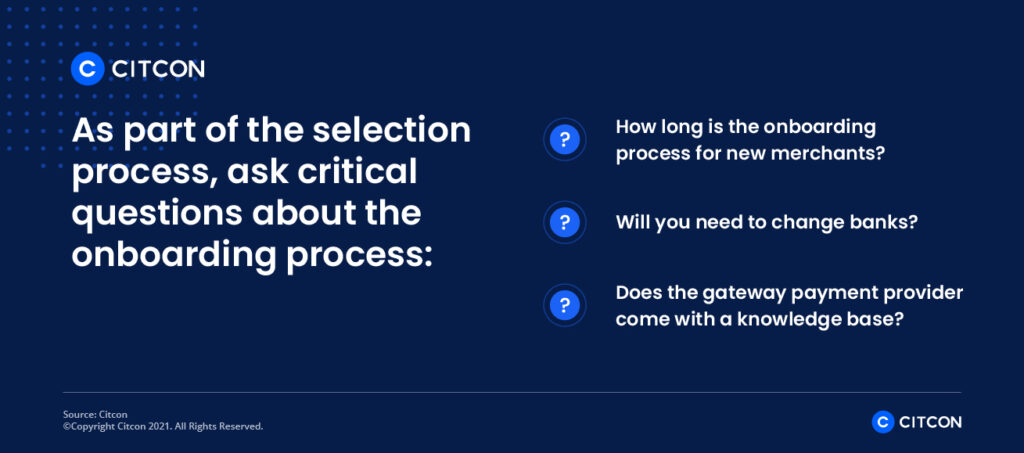 3. What can a merchant expect during the onboarding process?
As part of your selection process, you should ask critical questions about the onboarding process. This is key, so you can understand how long your system might be down while upgrades are taking place. You can also plan ahead by communicating with your own customers about upcoming changes, to avoid frustration from potential buyers. 
You should ask: 
• How long is the onboarding process for new merchants? Find out how long it will take from installation to deployment for your new system to be totally ready for use. 
• Will you need to change banks? Most businesses have relationships with one or in some cases multiple banks. Switching could cause further delays if you are integrating a new global payment gateway system. Any potential provider should be able to tell you if their product will be able to integrate with your current banking systems.
• Does the gateway payment provider come with a knowledge base? A knowledge base of answers to common questions can be a huge benefit for your customer service team and your customers. A knowledge base that allows customers to search for common issues and solve them on their own can save tons of time and help your customers learn your new system quickly. 
You may also want to ask other new customers about their onboarding process, if you have connections to any other businesses who have recently implemented the global payment gateway provider you're considering. If the provider does not have case studies, ask for references.
Citcon has proven success integrating with both popular retail POS systems and eCommerce payment options. With a simple update, Citcon is able to open access to a wide variety of payment options immediately.
4. How reliable is your payment gateway?
Choosing the best possible system requires a lot of research. You'll want to dig into the service-level agreement practices and reliability of any client you consider. Find out how they address interruptions and problems with their product, and what happens when something breaks? Since the providers will give you a rosy outlook, you may also want to research external customer reviews for the product to get a more complete idea of what to expect.

One of the primary reasons why companies go global is to increase their market share. Without a reliable payment gateway, this will prove difficult. Citcon is a reliable option, with a transaction approval rate above 98%.
5. How secure is your payment gateway?
Security is hugely important when it comes to selecting a payment gateway. A security breach could result in bad publicity, upset customers, lost operating time, and lost profits. Additionally, there will be a great deal of employee time spent on fixing and managing the problem, as well as soothing customers. 
To avoid these pitfalls, choose a company you can trust. Make sure the systems provided are compliant with the Payment Card Industry Data Security Standard (PCI DSS), because if you are not up-to-date, this will create problems down the road. These standards include a great deal of data protection, including encryption, which scrambles numerical information for security reasons, and tokenization. Tokenization converts the data attached to a user's card with a unique token value, which can be used for future purchases. This token prevents the user's actual data from being revealed.
Ask your potential provider about PCI compliance before signing any agreements for service. Citcon is a PCI-compliant payment processor.
6. What are your payment processing fees?
Cost is a major factor when it comes to choosing your global payment gateway. Make sure you understand the entirety of the fee structure before agreeing to a contract. Often, there are conditions attached to the competitive fees providers offer. There may be a traffic requirement, or a minimum amount of transactions required per month. Ask about all fees, and ensure you read through all relevant portions of the contract pertaining to fees. This will help you avoid hidden fees and surprise expenses.
If you are selling to global customers, you will also want to ensure there are no additional costs for currency exchanges or for processing certain kinds of currency. These charges can add up, and eat into new profits you might gain by choosing a global payment gateway provider. You'll be able to access new markets and possibly enter more countries, but research to make sure the cost is not too high.
Related Read: What Does It Cost to Accept Mobile Payments?

Citcon enables cross-border transactions without exorbitant fees, allowing global companies to expand without eating into profits.
7. What countries and currencies does your payment gateway support?
Most global payment gateway providers do not offer truly "global" coverage in terms of countries and currencies. This is why it's important to think both short and long-term when choosing a new provider. You will want to ensure the provider can not only support your current customer base and the various currencies they use, but also expand into new countries. If you know where you want to expand, it should not be too difficult to find a partner who can support you in these new regions.
A good partner will also offer expertise in this area, too. If you know you want to expand into new countries, find a partner you can grow with. This pertains not only to new countries, but increased volume as well. As you grow, so will the number of transactions your business completes per day. You will want to ensure that any global payment gateway provider you choose can not only handle your current business, but also any increases, without going up too much in cost. Find out what discounts are available for high-volume customers, and how you can expect pricing to change as you grow. 
8. How do you improve the customer payment experience?
One thing you don't want is for service to get worse following a change in providers. Choose your new global payment gateway provider with an eye toward making the purchase process even better for customers. Poor service can lead to customers stepping out of line, or abandoning items in their online cart and never finishing the order at all.
Instead of causing friction at the point of purchase, work to make it as smooth as possible. This can be done by choosing a provider that has a secure, easy-to-use process that's not cumbersome. Customers want their purchase to take as few steps as possible, and integrating security and gateway options into the order form can make everything go more smoothly. Here is what you should be sure your new provider can do: 
• Provides secure checkout without numerous hoops to go through and security checks to complete
• Allows customers to easily choose how to pay and in what currency. 
• Let customers checkout securely as a guest, as making an account can cause customers to abandon their purchase. 
• Ensure the platform is secure and available on mobile and desktop options
• Allow for billing information to be securely saved for repeat purchases or recurring billing options

Citcon features fraud detection in real-time, along with enhanced security via tokenization. There are just two methods that help highlight how global mobile payments create frictionless in-store sales. This more streamlined checkout process also makes checkout faster, increasing customer satisfaction.
9. How do you reduce fraud?
Fraud is a constant threat for eCommerce merchants who perform the bulk of their business online. Even a small breach can be lucrative for a thief, and devastating for a business. Your ideal global payment gateway partner should be prepared to battle these issues with you, and for you. 
Ask any potential provider what tools they use to identify and prevent fraud. Find out if they have their own tools, or recommend others. You will also want to check to see how their recommendations change depending on the size of the company. A larger company has more customers and thus more opportunities for security breaches than a smaller one, and your provider should know how to handle each situation.
You can also determine how they will guide you and provide support during any potential breach. Fraud and security breaches can cause service lags and shutdowns, so it's important they are able to address them quickly and effectively. Fraud prevention services are a hugely valuable attribute that should not be overlooked.
Citcon makes it easy to spot fraud and resolve any potential security breaches, giving merchants peace of mind about their sales.

10. How much customer support do you provide to merchants?
When you're choosing a global payment provider, it's not just a one-and-done interaction. You'll be working continuously with the provider to give your customers an ideal purchase experience. Ask how the partner will be providing ongoing support to you.
A great partner will have a dedicated account manager who can field direct questions from you, as well as provide a decent knowledge base so customers can find answers on their own. Consider your own business and your company's service promise to your customers, and find a global payment gateway provider who can match your level of service. If you provide 24/7 customer support, for example, you may want to partner with a payment provider who does too. This way, any and all issues can always be resolved quickly.
Citcon's global customer support center is available 24/7 to assist anyone using Citcon's global payment gateway.

If you're considering a new global payment gateway provider, Citcon can help. Citcon connects businesses with the millions of consumers who use mobile wallet payment solutions across the globe. They can help you tap into this exciting new market opportunity, and improve customer experience too. Request a demo of Citcon's all-in-one payments gateway to learn more.