Retail CASE STUDY
How iShoppes Attracts More In-Store Customers by Adding Payments with Citcon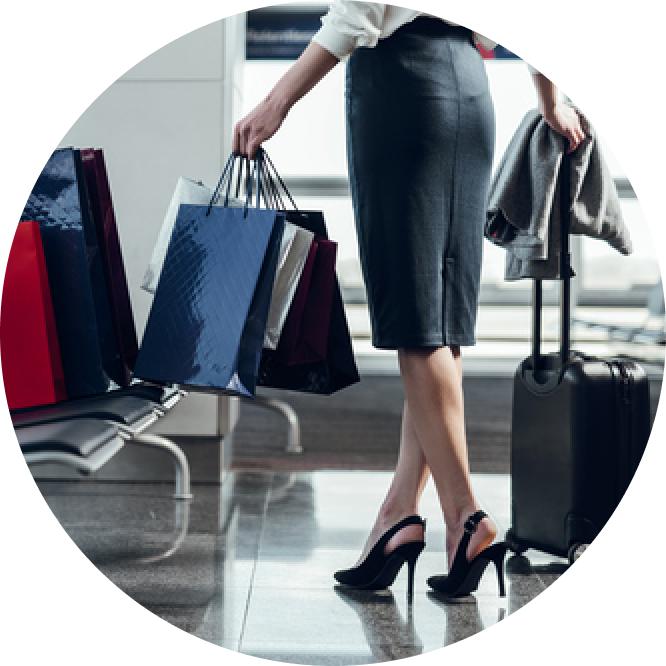 With dozens of duty-free and specialty retail stores in major U.S. airports, International Shoppes (iShoppes) serves travelers from all over the world. The global nature of airports brings iShoppes a steady stream of potential customers, but these shoppers are also transitory.
That means iShoppes typically has one shot to capture these customers. If transactions fail, or if travelers skip stores entirely due to payment method incompatibility, the retailer generally can't serve those same customers later.
To solve this issue, iShoppes started working with Citcon to easily accept more payment types. Over the past few years, as iShoppes' business has evolved, particularly due to the pandemic, Citcon has been there to help the retailer adapt.
Playing to Customers' Preferences
Pre-pandemic, iShoppes had a steady stream of customers from China. Despite being able to process Chinese credit card transactions, iShoppes lacked the ability to accept Alipay and WeChat Pay, which are often the preferred payment methods of Chinese nationals.
"At that point in time, we were not really educated on those forms of payment," says Matthew Greenbaum, Vice President-Business Development at iShoppes. "Citcon really quickly brought us up to speed as to the sales potential that was there."
After introducing iShoppes to the opportunity to accept these payment methods in the fall of 2017, Citcon promised a fast, seamless integration. Citcon even assured the retailer they would launch in time for the holiday shopping season.
"We all kind of laughed about that internally. We thought that was impossible," says Greenbaum.
As iShoppes had experienced in the past, these types of payment integrations tend to be bumpy IT rides, and a quick turnaround is often unlikely. But Citcon stayed true to its word.
Within weeks, and without any downtime, iShoppes was able to get Citcon scanners up and running to allow Alipay and WeChat Pay users to pay via QR codes.
"We were really happy to be proven wrong," says Greenbaum. "The Citcon team moved incredibly quickly, the implementation was very simple, and they provided training for our sales staff to be confident processing these payments. Citcon knocked our socks off right off the bat."
Quantifying the incremental sales that result from accepting Alipay and WeChat Pay isn't always straightforward; it's hard to say which of these transactions might have still been made via legacy payment methods. But in the pre-Covid era, these digital payment methods accounted for a double-digit percentage of iShoppes' transaction volume, while delighting both customers and staff.
"Anecdotally, I got good feedback from our salespeople that customers were really happy to see that we were accepting those forms of payment," says Greenbaum.
Plus, being able to accept these payments sometimes saved the day, considering that international card transactions don't always get approved.
"I heard a number of stories whereby customers that were making large purchases tried to make those transactions on a credit or debit card, but they didn't go through," says Greenbaum. "So, we were very lucky to be able to process those transactions through Citcon with no issues."
Adapting to Change
Due to Covid-related travel restrictions and customer behavior changes, iShoppes has had to quickly pivot. Whereas Chinese nationals previously made up a significant portion of iShoppes' customer base, U.S. travelers now make up a bigger percentage of their customer base.
So, the retailer has had to figure out the best ways to serve these customers, which includes making it as easy as possible to complete transactions. Concurrently, iShoppes is trying to stay on-trend amidst difficult economic conditions.
Here too, expanding the merchant's payment capabilities via Citcon is helping.
While mobile payments aren't as popular with U.S. customers, plenty of shoppers do use digital wallets such as Apple Pay, PayPal, and Venmo. That will likely grow over time as U.S. shoppers grow more comfortable and familiar with retailers accepting these payment methods in-store.
So, Citcon is helping iShoppes stay on the cutting edge by accepting payment methods like PayPal and Venmo. The Citcon team even stepped up to smooth over some implementation issues when iShoppes initially tried to coordinate directly with PayPal.
Through Citcon, iShoppes also recently started accepting Flexa so travelers can pay using crypto.
"The more ways that we can facilitate customers transacting in our stores, we totally welcome it," says Greenbaum. "We've yet to see what the potential is for these new wallets, but it helps even just from a marketing standpoint."
The partnership with Citcon has gone so well over the years, with such seamless integrations, that iShoppes continues to welcome new suggestions from the Citcon team about what payments to accept next. Soon, iShoppes will likely expand to accept Klarna for "Buy Now, Pay Later" transactions, as well as more international wallets to attract travelers from areas like Japan and Korea.
"We keep saying yes to what Citcon recommends, because they haven't given us a reason to say no," says Greenbaum.
Not only does that help cast a wider net to attract shoppers, but it also helps iShoppes in terms of building stakeholder relationships, like with airport authorities.
"Adding these new wallets, and whatever else is coming down the pipeline, give us credibility and make us a little bit more interesting," adds Greenbaum. "We're always trying to differentiate ourselves from other duty-free operators."
With Citcon's help, iShoppes is standing out as a retailer while providing a smooth transaction experience for everyone ranging from customers to sales staff to IT and finance teams.