Retail CASE STUDY
International Shoppes Adopts Mobile Payments & Delights Their Chinese Consumers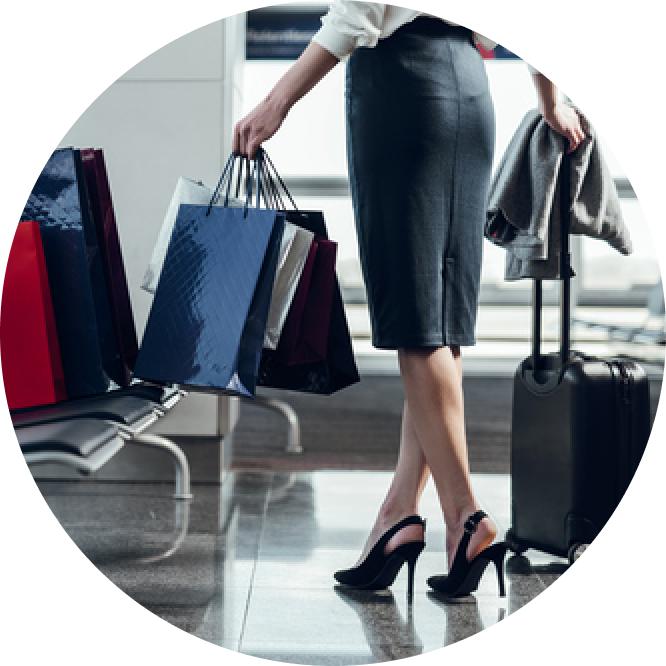 The Details
International Shoppes is a duty free and specialty retailer that has operated airport retail and duty free facilities for more than 65 years. The company is all about delivering the best service and product assortment to the traveling public. In addition to their duty free outlets, the company operates a number of stand-alone branded shops including Hermes, Salvatore Ferragamo, Bvlgari, Estee Lauder, Kiehl's, MAC, Mont Blanc, Hugo Boss, Michael Kors, and more.
They have operations located in New York's JFK International Airport, Boston's Logan International Airport, Washington DC's Dulles International Airport, Baltimore Washington International Airport, Rhode Island's T.F. Green International Airport, and Connecticut's Bradley International Airport.
Their company philosophy is to make sure each customer leaves happier than they were before they entered their shop.
According to a new report published by Allied Market Research, titled, "Travel Retail Market by Product and Channel: Global Opportunity Analysis and Industry Forecast, 2017-2023," the global travel retail market size was valued at $69.5 billion in 2016, and is projected to reach $125.1 billion by 2023, growing at a CAGR of 8.9% from 2017 to 2023. Perfumes & cosmetics segment in the global travel retail market possesses a strong customer base.
By 2020, approximately 6 million Chinese travelers will visit the United States and spend $60 billion.
Chinese tourists have a demonstrated preference for duty-free shopping to the extent that it's by far the most popular type of retailer among global Chinese travelers. As a result, duty-free shopping has seen a renaissance along side the boom in Chinese outbound travel in the last decade.
Recognizing the Problem
Prior to meeting with Citcon, iShoppes had an increasing revenue pool from Chinese customers. This matched the trends in Chinese overseas travel and shopping that most businesses were seeing.
iShoppes wanted to provide these customers the best experience possible, just like they do with every other customer. They became aware that payments from many Chinese travelers were largely covered by credit or debit cards issued in China, and transactions were not always completed due to various reasons including differing EMV standards, credit limits, acceptance issues among others, leading to unexpected transaction disputes and creating an inconvenience for iShoppes' Chinese consumers.
"Before working with Citcon, we had a number of Chinese-based credit card transactions that were cancelled or didn't go through and it got our attention. There's nothing worse than having to tell a customer we can't complete their purchase." said Matthew Greenbaum, Vice President of International Shoppes.
When the Citcon team met with iShoppes, they explained the dramatic user behavioral change in China, and the tremendous growth and popularity of Alipay and WeChat Pay over the last couple of years. This was new information for the iShoppes team, and they were eager to take advantage of it.
"Speaking generally, we were not really aware of the importance of Alipay and WeChat Pay. Citcon contacted us and educated us about how quickly these platforms were growing and how important it was to have them in our outlets. Having another way for customers to process higher value transactions like they do through Alipay and WeChat Pay, that was a big deal for us." said Greenbaum.
Being the most popular mobile payment platforms for over 1 billion active users, Alipay and WeChat Pay are a natural fit for any retailer that does business with Chinese consumers.
While Americans are used to pulling out their credit card to complete a purchase, Chinese consumers almost always shop through Alipay and WeChat Pay. This mode of purchasing is ubiquitous throughout mainland China. In fact, last year the amount of transactions in China completed by mobile devices was in the trillions.
Realizing the Revenue Opportunity
iShoppes stores are in the perfect location to provide Chinese tourists with goods from premier brands. These tourists are expected to spend $453 billion overseas in the next 5 years, and on average they spend 2 times higher than their Korean and Japanese counterparts. 
Overwhelmingly Chinese tourists prefer using their mobile wallets when they shop. In a survey titled Outbound Chinese and Consumption Trends conducted by Nielsen, if given the opportunity, 90%+ of Chinese tourists would use their Alipay or WeChat Pay account during international trips, and 73% said they would spend more with mobile payments as it's familiar, convenient and secure. 
Without the ability to accept mobile payments – and nothing suggesting otherwise to Chinese shoppers – iShoppes was missing out on potential revenue from this valuable consumer base. 
"We try with everything we do to make the customer experience better. In regards to Chinese consumers, they've been a huge focus for us because they've been driving a significant portion of our purchases. They are some of the biggest spenders that we have, and it's really important we understand what these customers want and what their expectations are." said Greenbaum.
Incorporating the Solution
iShoppes benefited greatly from their initial meeting with Citcon. The Citcon team analyzed their needs and recommended the most suitable solution to meet the demand of iShoppes. 
Within a very tight timeline, the Citcon team was able to help iShoppes get the mobile payment solution ready at their stores before the holiday season. The Citcon team also developed a very well-organized and informative training session for iShoppes' team to help them get up and running fast and confidently. In a relatively short amount of time, iShoppes was accepting Alipay and WeChat Pay from their Chinese shoppers. 
"We were sold when Citcon said they could get us up and running before the holidays. They got us fully online in time – unbelievably they moved that quickly." said Greenbaum. 
The results were amazing. Almost immediately, stories from staff began coming in to headquarters about how Chinese customers were thrilled with iShoppes' adoption of their favorite payment method. 
With the standalone mobile payment devices, iShoppes is able to process transactions within seconds and reduce payment friction. They are also able to view all transactions on the device or through the merchant dashboard, and process refunds conveniently. 
Early indicators suggest that iShoppes is increasing their total transactions from Chinese tourists, and living up to their company philosophy of leaving these customers happier than they were before they arrived at their stores. 
"Once we put the equipment in, it was really amazing to see – basically overnight – the revenue we were generating and the way customers were reacting to it." Greenbaum added. 
With their Citcon partnership, iShoppes has now positioned itself far ahead of the competition in the battle to attract & keep this lucrative customer demographic.
7 Benefits of Accepting Mobile Payments 
Increased Reach and Better Engagement –

Citcon, together with Alipay and WeChat Pay, offer abundant marketing resources and support for merchants to increase reach and enhance engagement. Whether it's a Red Envelope campaign, a Cashback Reward, WeChat Official Account / Mini Program, or the Alipay Discover Platform that connects with millions of Chinese consumers who rely on it to discover and locate nearby merchants, the powerful tools are here to help businesses succeed. 

Reduced Cost and Increased Revenue –

Cross-border payment rate can be complex. Merchants might have been quoted a low processing rate to get them to sign up—but that rate isn't necessarily the actual rate. Citcon worked with iShoppes team to optimize rates with reduced costs and increased revenue. 

Far Less Declined Transactions –

Credit card alerts and fraud monitoring are great for consumers, but oftentimes large overseas purchases are unnecessarily flagged. iShoppes noticed a significant drop in declined transactions from Chinese consumers once they started accepting Alipay and WeChat Pay. 

Faster Checkouts –

The mobile payment experience is seamless. For Chinese consumers, this means a faster checkout and no longer having to fish around their wallets or purses for credit cards they rarely use. 

Happier Customers – 

iShoppes staff is consistently reporting how delighted their Chinese customers are. This type of sentiment goes a long way toward building brand loyalty. 

No Complicated Currency Exchange Calculations –

When Chinese consumers use their Alipay or WeChat Pay account to make purchases, they're guaranteed the best exchange rate and the price is translated into their native currency so they know exactly how much will be deducted from their mobile wallet. 

Enhanced Security –

Most travelers would rather not have to carry large sums of cash while overseas. When stores like iShoppes accept mobile payment, Chinese consumers can feel safe knowing they're able to securely purchase the products they want. 
The Critical Element for Retailers to Succeed with Chinese Consumers
A critical element for many retailers to succeed with Chinese consumers is impulse purchasing—something that airport retailers have perfected for decades. In fact, a shopping environment conducive to impulse purchasing may be the only thing that can impress Chinese tourists considering that a significant proportion of purchases are planned long before the trip, and often with the explicit purpose of finding the best possible deal. The one thing retailers can do to encourage more Chinese purchasing is to facilitate transactions, namely by implementing Alipay and WeChat Pay. 
Not only have these services become the preferred payment options for Chinese consumers, but they're also the most reliable payment option in the retail environment. Customers won't have to worry about what currencies are accepted, and whether the exchange rate is competitive or not. The common concerns and areas of hesitance are eliminated. 
Enjoy all the benefits that mobile payment can bring to your company and keep Chinese customers away from the competition. To get started on your new mobile payment integration, contact Citcon today.
Take Your Business to the Next Level
Learn how you can take full advantage of Citcon's solution to accelerate your expansion globally to reach and engage with one billion Chinese consumers. Or discuss with our payments experts the best strategies for your business. Call 1-888-254-4887 or email info@citcon.com today.

About Citcon
Citcon is a cross-border mobile payment and marketing solution leader, enabling merchants to accept QR-based mobile wallets in-store and online on a global scale. Among the payment options supported by Citcon, Alipay and WeChat Pay are two of the most popular wallets with over one billion active consumers. On top of payments, Citcon also allows merchants to run marketing and loyalty campaigns through our partner network. Trusted by thousands of merchants in North America and Europe, including DFS Group, Caesars Entertainment Group, Kering Group, Mall of America, Pier39, Yamibuy.com among others, Citcon offers solutions for businesses to drive omnichannel commerce growth in a variety of industries ranging from Retail, e-Commerce, Hotel, Food & Beverage, Transportation, Entertainment to Education. 
The Results
Thrilled Customers
Chinese customers were thrilled with ishoppes' adoption of their favorite payment method.
Revenue Generated
"...It was really amazing to see – basically overnight – the revenue we were generating and the way customers were reacting to it." - VP of International Shoppes
Competitive Advantage
iShoppes has now positioned itself to attract & keep this lucrative customer demographic.