Your Guide to Cross-Border E-Commerce in China
Thursday, November 4, 2021

China has experienced a significant surge in online shopping over the past several years. Tech giants such as Alibaba Group, Tencent and JD dominate a rapidly growing e-commerce ecosystem. What's more, Chinese consumers are mobile savvy, so much so that even older generations are comfortable with mobile commerce. The rapid development of this industry—combined with a large and growing digital consumer base—has fueled tremendous growth both domestically and abroad via cross-border e-commerce. The rise of e-commerce has given Chinese consumers an unprecedented platform for convenient shopping, where they can enjoy better prices, higher quality products, and an unlimited selection. 
At the same time, a record number of Chinese are going abroad to work, study, and travel, gaining exposure to international brands and products that they don't have access to in China. These shoppers rely on cross-border e-commerce to purchase international products that are either not available domestically or are too expensive in China. As they become more comfortable with shopping online, consumers are looking for sites that offer a diverse range of international products. 
Consumer and food safety is another key driver of Chinese online shopping. To avoid the risk of buying fake beauty products, contaminated milk powder, or counterfeit pharmaceuticals, Chinese consumers have increasingly turned to international shopping. They are also catching on to the fact that U.S. retailers offer higher quality products at lower prices. With rising Chinese consumer awareness comes the desire for higher quality across all industries and product types, from clothing, to cars, to cosmetics.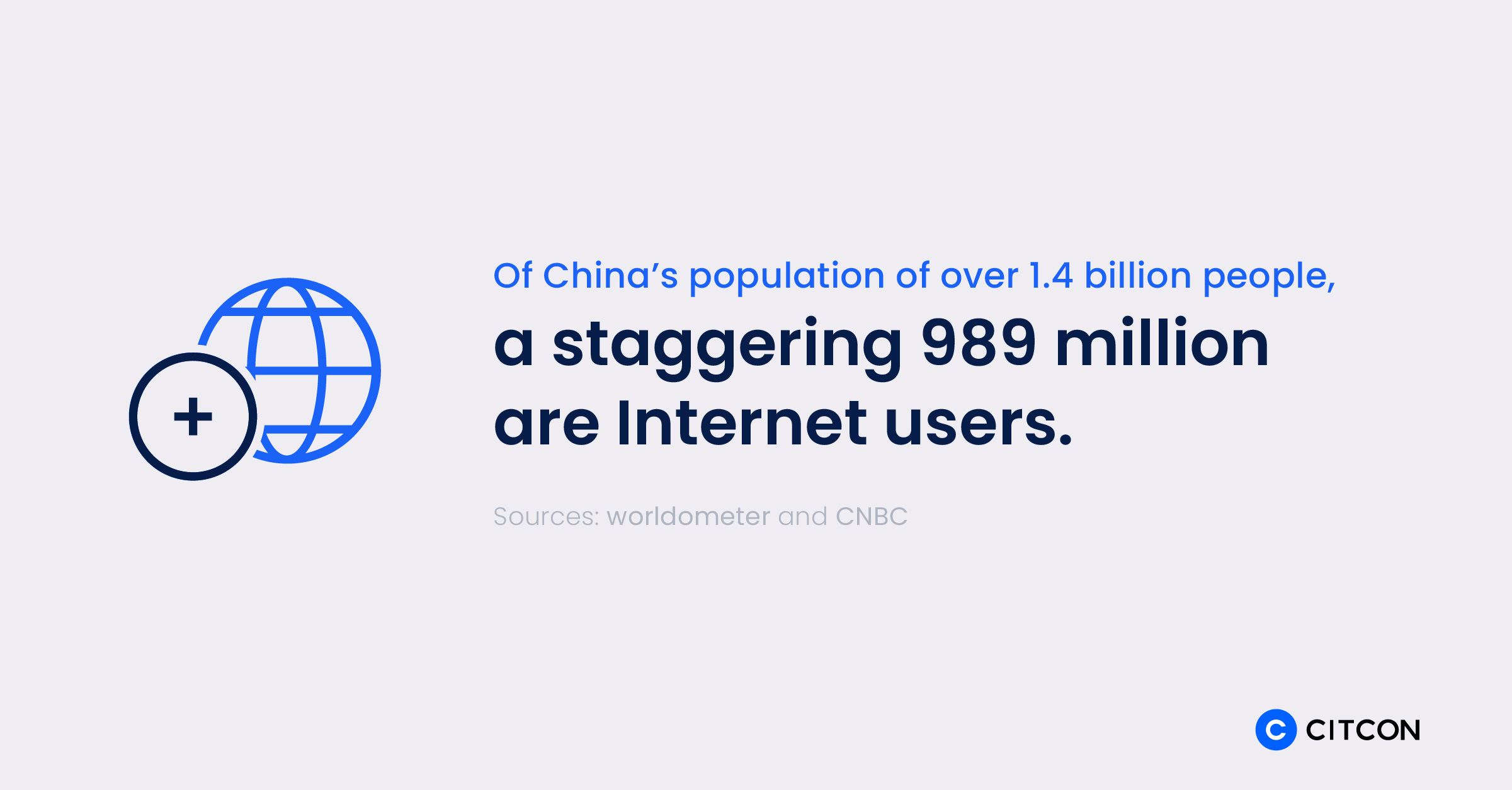 For retail brands analyzing the growing e-commerce market in China, there are wide-ranging and significant data points that jump out. At over 1.4 billion people, China is the most populous country on the globe. A staggering 989 million of its population are Internet users, and in the first four months of 2021 alone, China's online retail sales were up 27.6% year over year. According to World Economic Forum, e-commerce revenue in China is expected to grow to more than $2.5 trillion U.S. dollars by 2025. Given these statistics, brands are now actively developing their e-commerce strategies for the Chinese market.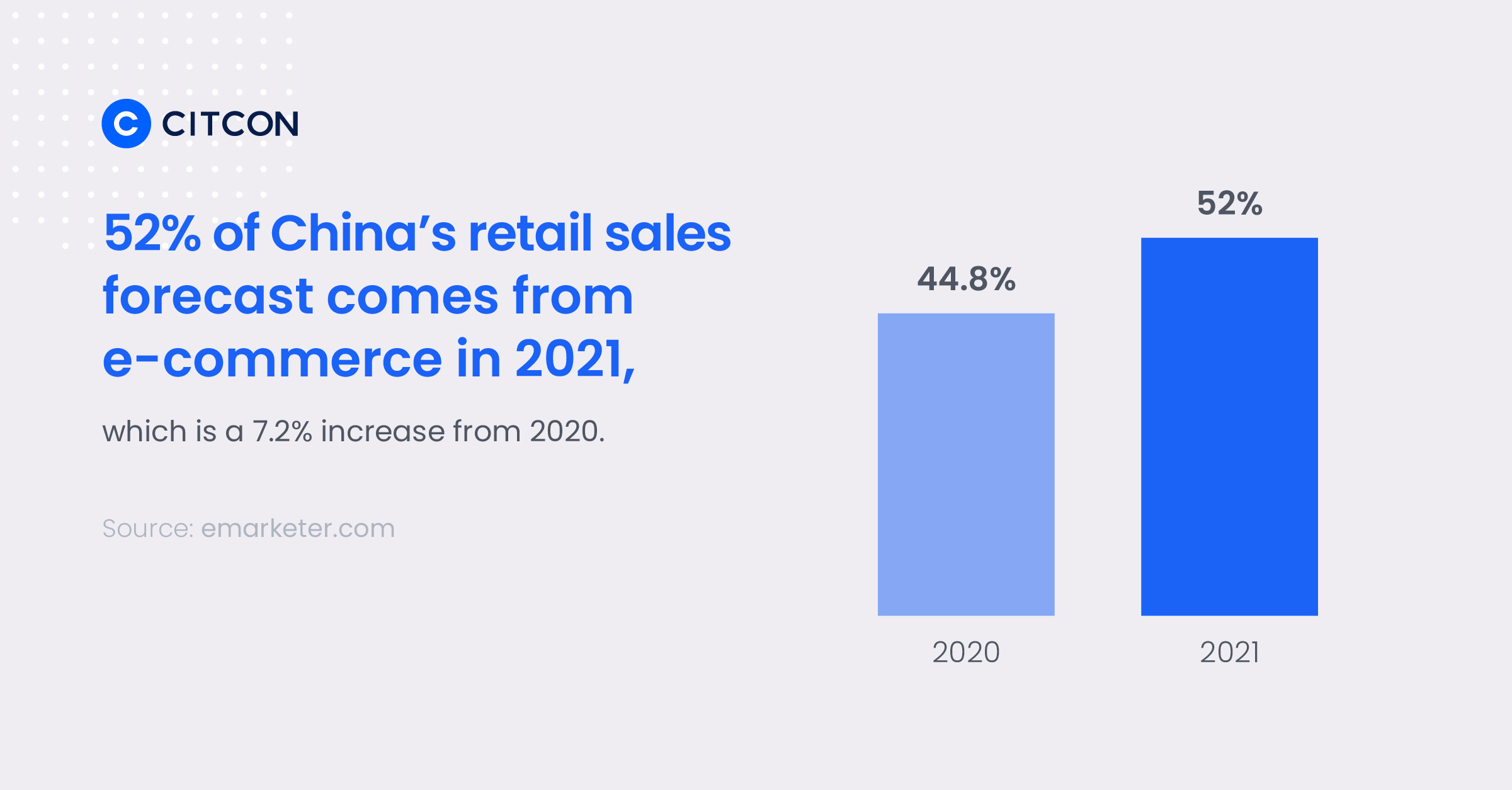 With 52% of China's retail sales forecast to come from e-commerce in 2021, up from 44.8% in 2020, how do you start an e-commerce business in China? In this step-by-step guide, you will learn how to enter the Chinese market and get your e-commerce business off to a successful start.
Step 1: Make Sure the Chinese Market Is Ready for Your Product
There are two main scenarios when opening an e-commerce business in China: either you already have an established e-commerce business in the Western market and want to expand to China, or you want to launch a brand new e-commerce business specifically for the Chinese market.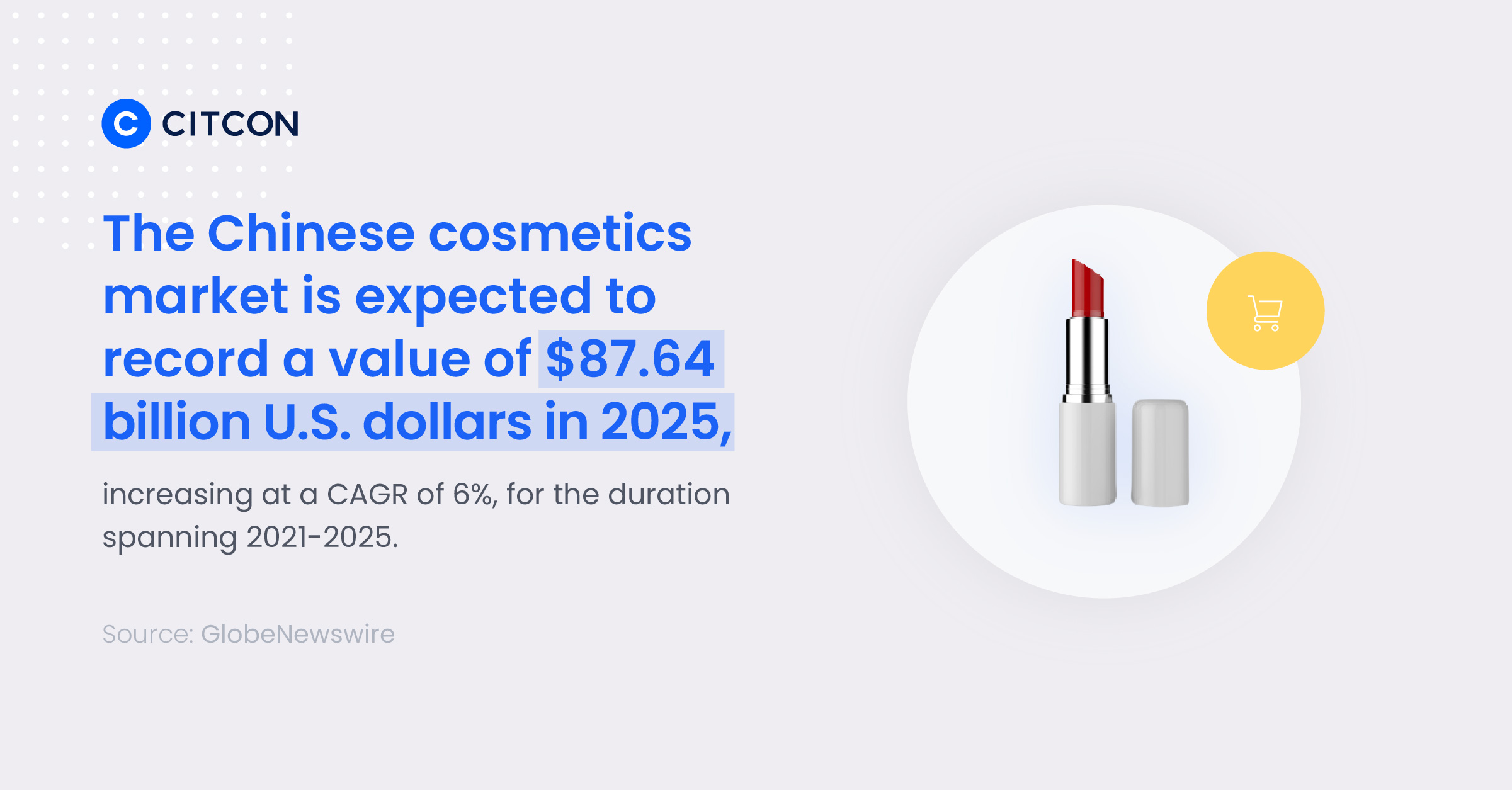 First, determine if your product is the right fit for the Chinese market. Chinese consumers like to buy premium quality imports—from luxury and fashion, to beauty and skincare, mom and baby goods, electronic products, and healthcare and nutrition. In fact, beauty and skincare account for a large percentage of e-commerce sales in China. The Chinese cosmetics market is expected to record a value of $87.64 billion U.S. dollars in 2025, increasing at a CAGR of 6%, for the duration spanning 2021-2025. More than half of all Chinese live in relatively well-to-do households (annual disposable incomes of 140,000 renminbi to 300,000 renminbi) where they have ample funds for perks like regular meals out, beauty products, flat-screen TVs, and holiday travel. A retailer that wants to enter the Chinese market needs to assess the customer demand for its product or service and understand Chinese consumer preferences, online behavior, and shopping values. 
Second, perform thorough market research to determine your typical customer profile (age, gender, family status, annual income), market size, and competitors. Leverage tools that will render valuable information, including Alibaba, Tmall, and JD.com. Spend time on these platforms to understand what your competitors are offering and read customer reviews. This will provide you with valuable information on how to differentiate your offerings. WeChat is the most popular social media platform in China; leverage it to identify popular trends. The platform will tell you what people are interested in and whether they are talking about your product. WeChat is a good indicator of how popular your product or brand is in China. The "WeChat Index" tool tells you how popular a keyword is based on search trends.
Step 2: Choose the Right Sales Platform
In China, brands can choose from a range of sales channels to merchandise their goods and products.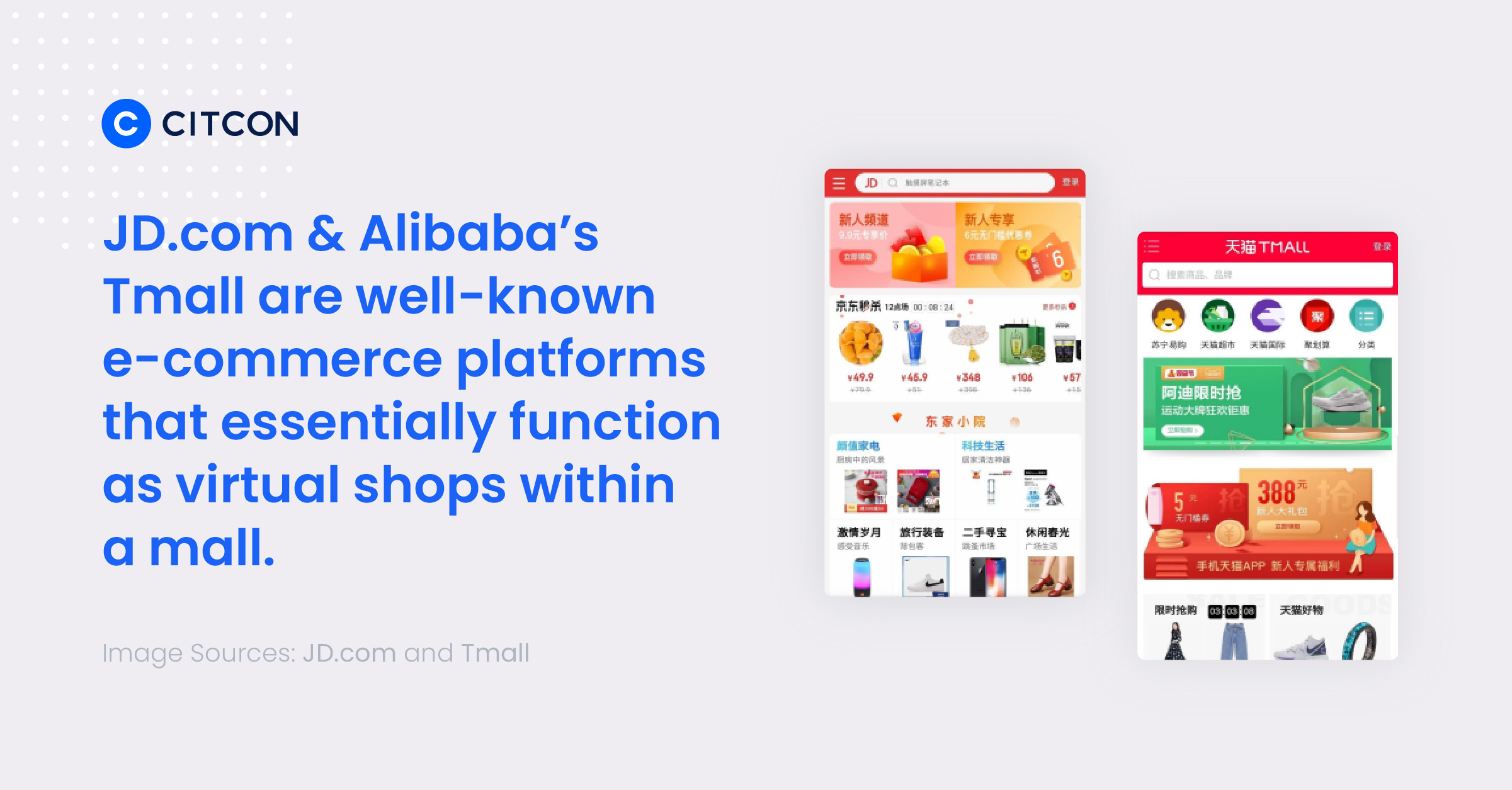 Online marketplaces are large and well-known e-commerce platforms that essentially function as virtual shops within a mall. Some of the largest platforms include JD.com and Alibaba's Tmall. Marketplaces are great for businesses, as they come with the right payment methods built in. But brands that prefer greater control over their inventory and business may choose directly operated online stores. 
Stand-alone e-commerce is a web shop privately owned by a specific brand that merchandises its own products. International brands can directly merchandise foreign goods to China using their own system, without the need to pay for additional hosting fees. You can choose an e-commerce platform like Magento, which is an open source platform that offers professional solutions for e-commerce and can be customized to your brand. Magento ensures your e-commerce runs seamlessly while improving the communication between your sales teams and back-office functions.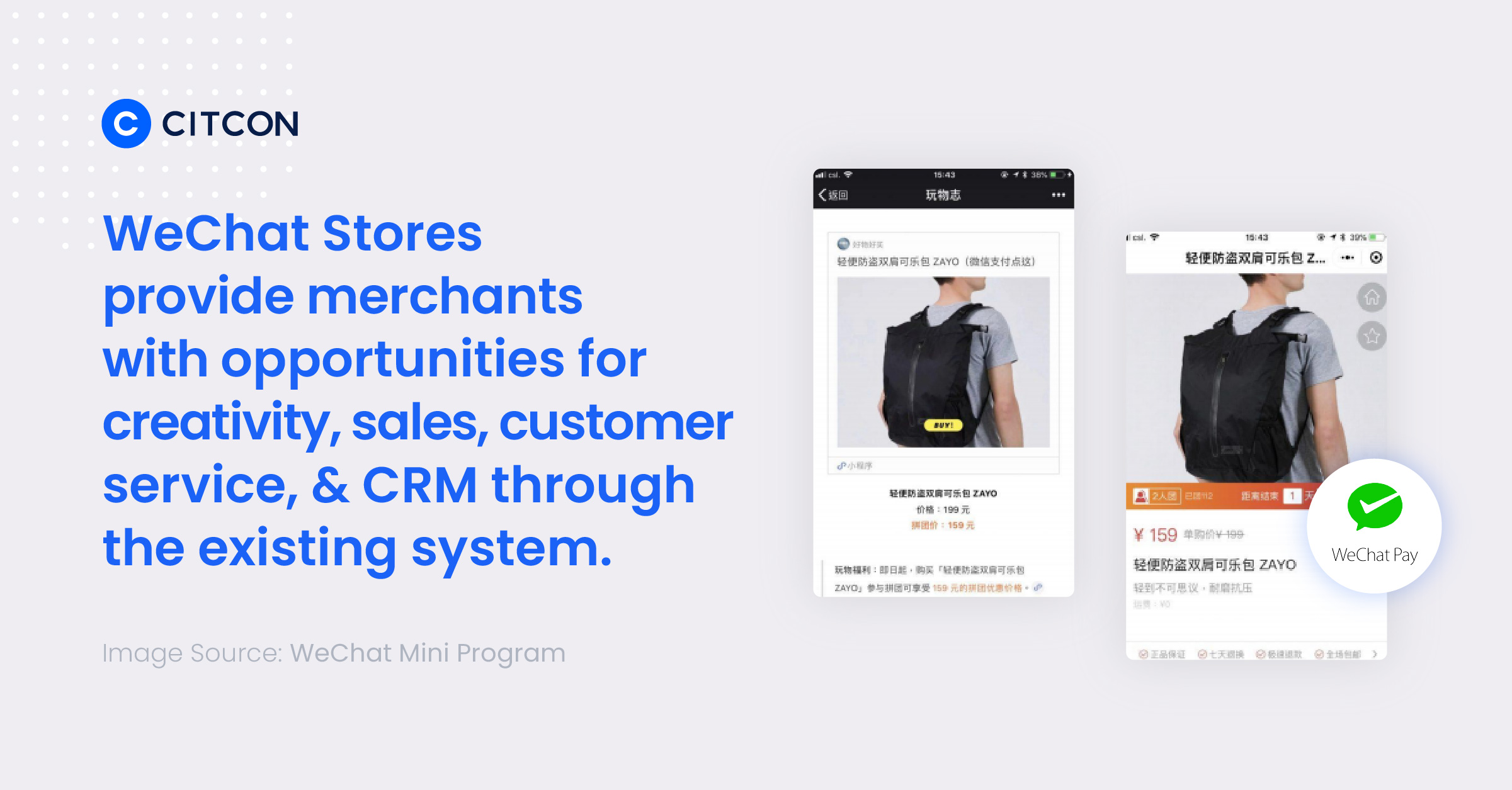 Social networking site WeChat also has e-commerce capability. WeChat Pay is one of the most frequently used payment methods in China. Vendors are also given access to merchandise in WeChat's in-app store, which is open to foreign businesses. Additionally, WeChat Stores provide merchants with opportunities for creativity, sales, customer service, and CRM (customer relationship management) through the existing system. Merchants can operate their WeChat store independently, but it is highly recommended to partner with a third-party service provider for assistance with registration, design, and daily operations. 
Regardless of which e-commerce platform you choose, it is important to customize your site with Chinese consumers in mind. Consider working with a local web agency to make your e-commerce website more engaging to the Chinese audience. Chinese web agency support may just drive new traffic to your site.
Spotlight – Marketplace Giants in China
Alibaba
World-renowned businessman Jack Ma founded Alibaba in 1999. Today, it is China's largest e-commerce company and handles more transactions than any other competitor worldwide. Millions of merchants and users use their three top sites—Alibaba.com, Taobao, and Tmall.
• Alibaba.com is one of the largest B2B e-commerce platforms globally.
• Think of Taobao like eBay but with fewer auctions and more set prices.
• Tmall or Taobao Mall focuses on selling branded goods to the growing middle class.
JD.com
Established in 2004, JD.com is China's second-largest e-commerce company. Originally a magneto-optical online shop, it diversified into other product lines like electronics, computers, mobile phones, etc.
JD.com buys its inventory from branded suppliers and operates in-house logistics. It transformed the e-commerce industry in China by being the first brand to offer same-day delivery to its users.
NetEase Kaola
Parent company NetEase named Kaola accordingly to encourage users to stay lazy and comfortable. NetEase Kaola offers fast delivery services and a diverse selection of products, including:
• Healthcare
• Beauty
• Baby and maternal care
True to its better life with less money tagline, it offers affordable genuine imported products. The platform also provides users with valuable information on fashion, lifestyle, fitness, and other related topics.
Step 3: Decide Where to Host Your E-Commerce Site
If you decide to establish your own online presence, where you host your e-commerce site is a critical decision. E-commerce sites hosted in neighboring regions like Hong Kong may not see the same performance as websites hosted inside China. For example, issues arise when internationally hosted websites have live-streaming or an exceptionally high volume of visitors. Performance barriers associated with hosting location may impact user experience, affect revenue, and inhibit the growth of your business.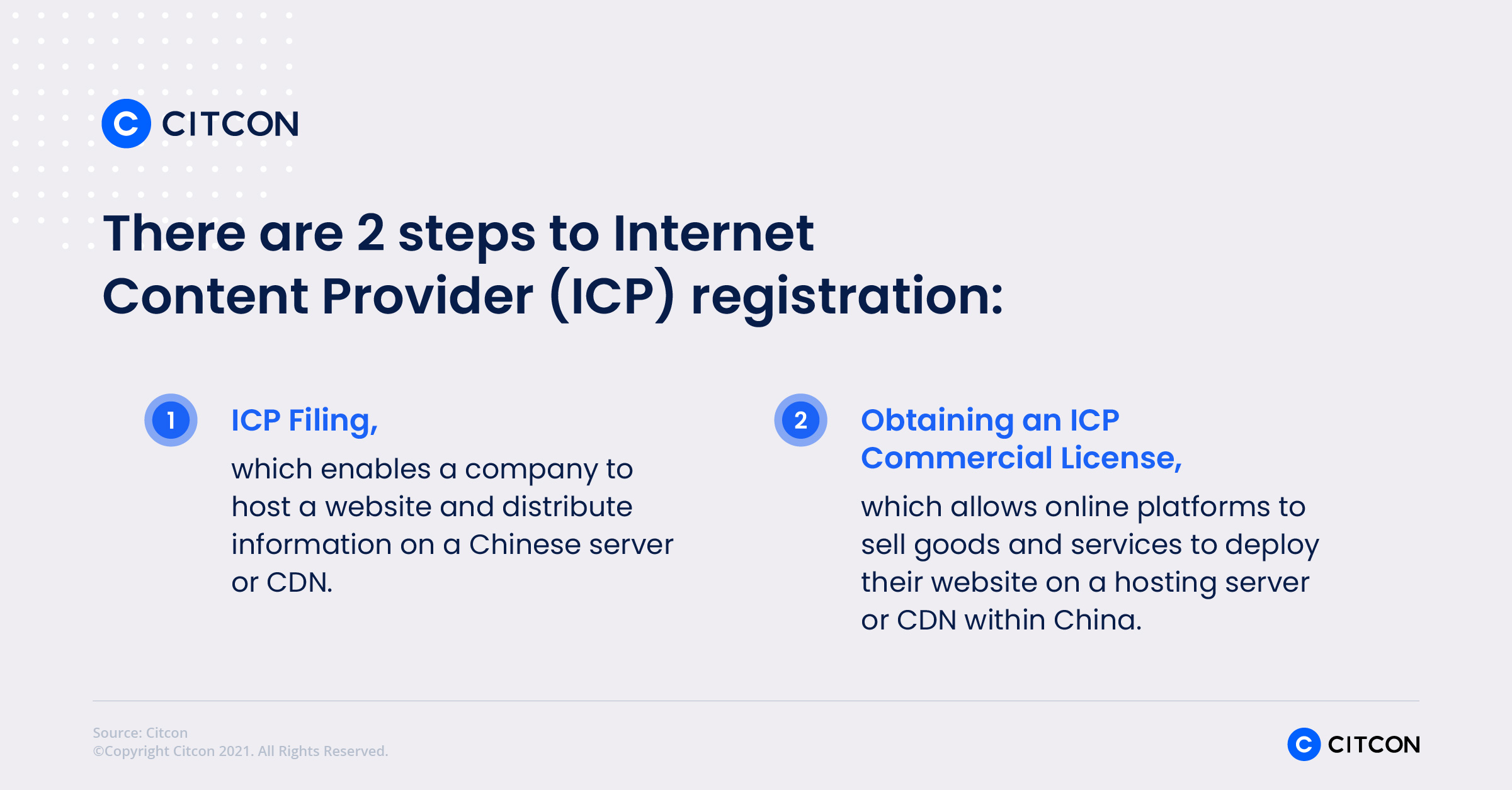 Before establishing an e-commerce site in China, all businesses must apply for Internet Content Provider (ICP) registration. ICP registration is administered by the Chinese Ministry of Industry and Information Technology (MIIT). All sites hosted in mainland China must obtain ICP registration before going live. There are two steps to ICP registration. The first step is ICP Filing, which is the first level of ICP registration. This enables a company to host a website and distribute information on a Chinese server or CDN. The second step is obtaining an ICP Commercial License, which allows online platforms that sell goods and services to deploy their website on a hosting server or CDN within China. For example, a retailer with an ICP Commercial License can market and sell via an online payment gateway such as Alipay or WeChat Pay. 
Businesses that have received an ICP Filing and a Commercial ICP License are also required to register with the MIIT.
Step 4: Adopt a Mobile-First Strategy
According to recent statistics, there are 1.6 billion Chinese mobile users, 75% of whom transact with e-commerce platforms via mobile devices. With these statistics in mind, it's not just about having a mobile-optimized website anymore. It's about designing a clean mobile-first site, building a mobile app, and personalizing the experience. Prioritize your mobile site for a personalized user experience. Tap into the mobile app arena to create loyal customers and drive them further down your sales funnel. Additionally, use shorter product titles and descriptions, common eye-catching keywords, and fast-loading images with clearly visible features and benefits.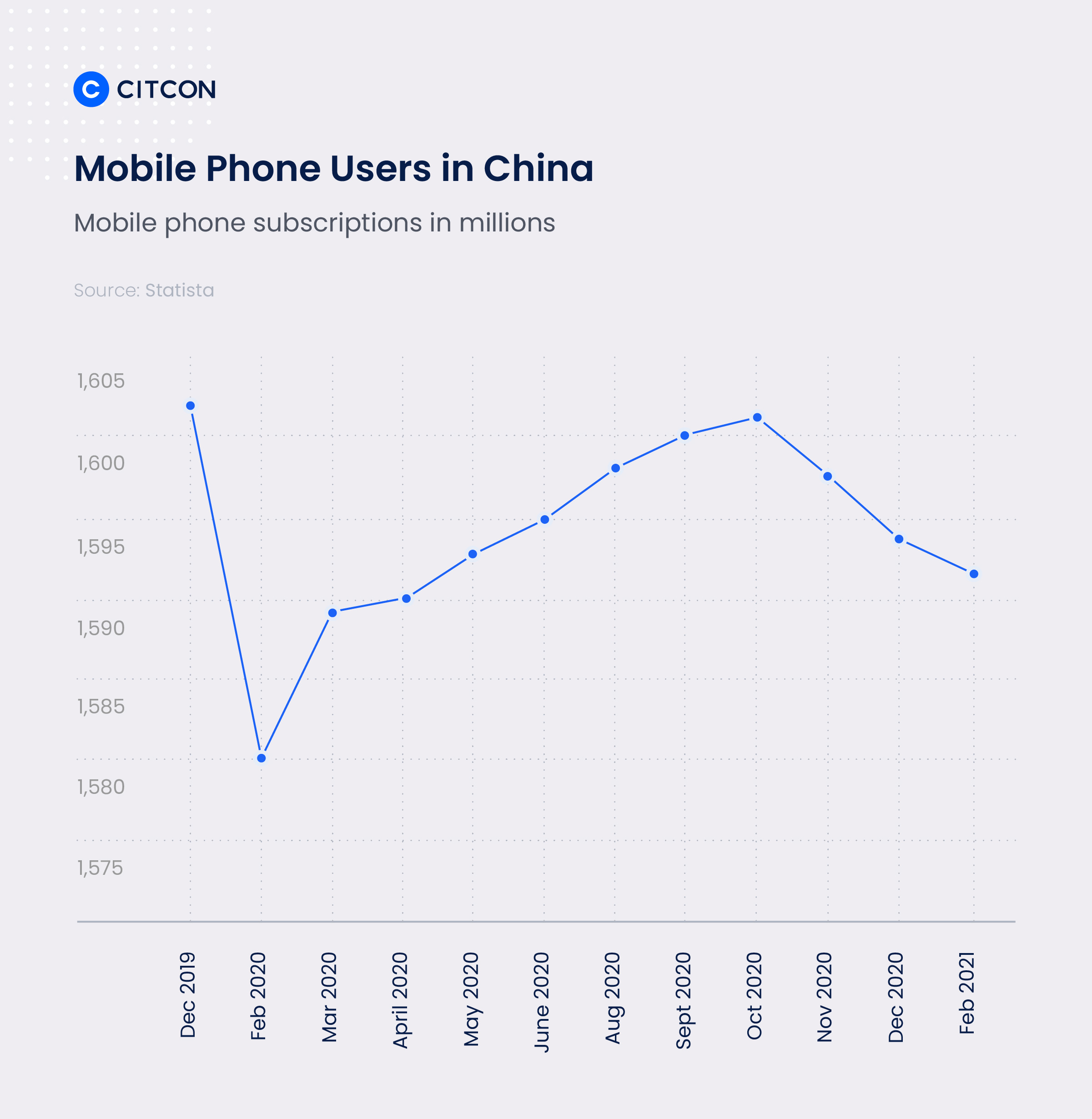 Step 5: Provide the Right Payment Methods
Optimize the checkout process for your international customers. Retailers often lose international sales at checkout because they don't support multiple currencies. Keep in mind that China is quickly becoming a cashless society. The top Chinese payment methods on the market today are Alipay and WeChat Pay, which account for 94% of all mobile transactions. Before doing business in this market, make sure you offer these payment options.
Unlike the U.S. market where consumers have been hesitant to abandon their credit and debit cards, Chinese consumers are adopting cashless and e-commerce methods at a faster rate than the rest of the world. China's e-commerce market is driven by its mobile-first consumer behavior. Chinese consumers appreciate the convenience and ease of payment that come with mobile wallets. They have been fast adopters of online retail, financial and on-demand services as compared to the U.S., where consumers are concerned about mobile security and merchants have not completely accepted mobile wallets.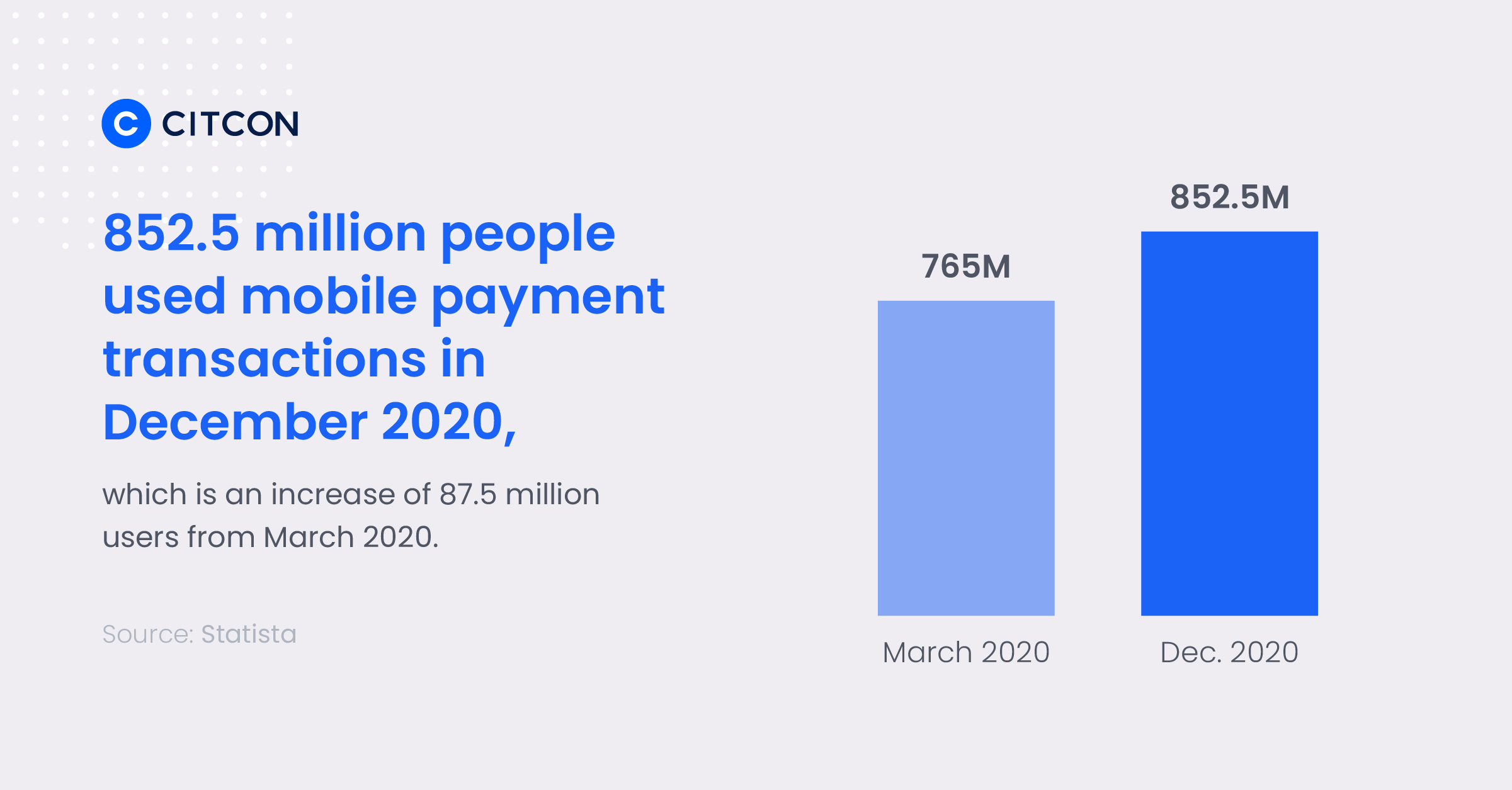 As of December 2020, around 852.5 million people used mobile payment transactions in China, up from around 765 million users in March 2020. For a sense of the scale of China's mobile payment usage, 852.5 million is more than 2 ½ times bigger than the entire population of the U.S.
China's Digital Infrastructure Supports Mobile Payments 
China is now the largest e-commerce market in the world. It even out-ranks the United States, which is in second place. The U.S. ecommerce market size in 2021 is forecast at $843.15 billion—less than a third of that of China's. This is quite a remarkable feat for China, considering that it only surpassed the US as the world's largest ecommerce market less than a decade ago.
The Chinese government is playing an active role in building a world-class infrastructure to support digitization as an investor, developer, and consumer.
Led by the popular mobile apps, Alipay and WeChat Pay, Chinese consumers go straight from cash to smartphones, skipping the use of credit and debit cards. Run by two of the world's most valuable companies, Alibaba Group and Tencent Holdings respectively, money in China flows through a digital system that combines social media, commerce, and banking. 
In contrast, the United States depends on banks for most non-cash payments, and all are tied to consumer bank accounts. With multiple firms involved in the process, from banks to credit card companies to payment processors, the cost of transactions goes up with their handling and processing fees. Wallets and payments systems like PayPal, Apple Pay, and Google Pay are also connected to this system, but neither commands the market that AliPay and WeChat Pay do in China. As a result, U.S. merchants lose substantial amounts of money to these fees on purchases made with cards or mobile payments in the U.S.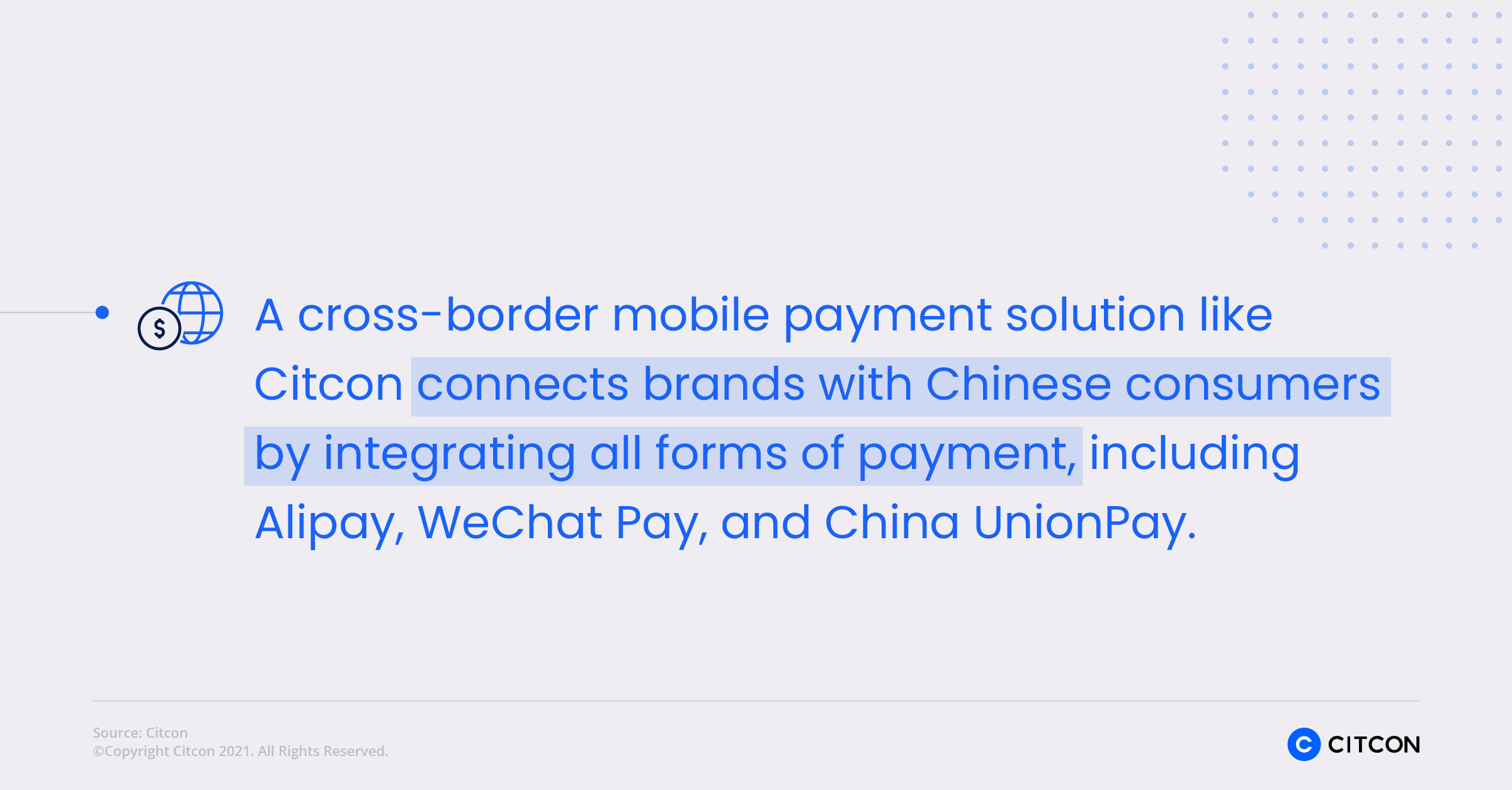 For your e-commerce site, integrate a mobile payment platform that Chinese consumers are familiar with. Setting up their preferred payment options is a simple way to encourage sales. A cross-border mobile payment solution like Citcon connects brands with Chinese consumers by integrating all forms of payment, including Alipay, WeChat Pay, and China UnionPay, the three dominant payment methods for over one billion Chinese consumers. They will appreciate not having to retype their payment and personal information or deal with a complicated checkout experience. With Citcon, customers can use Alipay, UnionPay, and WeChat Pay by simply scanning a QR code with one click. There is no need for bank transfers, no tedious checkout fields, no inputting of billing or shipping information—all resulting in significantly reduced cart abandonment. Approval rates using Alipay and WeChat Pay are also almost double those of credit cards. Transaction fees are 40% lower than international credit cards and are completed within seconds, with no chargebacks. Lastly, the language and currency exchange barriers that exist with a typical cross-border online shopping experience are removed when the consumer can check out with Alipay, UnionPay, or WeChat Pay. 
Step 6: Learn How to Market in China 
When you're serious about expanding globally, localization is vital. Think about how to integrate your brand to grow in another country. The Chinese digital marketing landscape is vast, and few non-Chinese brands have the experience to properly execute successful campaigns. Find a team of knowledgeable marketers who know China's digital landscape.
The logic of digital marketing and user acquisition may be similar to the U.S., but Chinese tools and platforms are distinctly unique. Notably, China uses Baidu instead of Google, Weibo instead of Twitter, WeChat instead of Facebook or Instagram. ByteDance recently launched new platforms, including the very popular Little Red Book—a combination of Instagram and Pinterest—and Douyin, the Chinese version of TikTok. 
WeChat Pay and Alipay offer unique marketing opportunities, like WeChat Mini Programs or the Alipay ad network. You can use customized loyalty programs, targeted content, and unique messaging to engage or upsell Chinese consumers. With WeChat, you can entice potential customers with videos and pictures, similar to Facebook ads. WeChat Mini Programs, which are essentially apps within the WeChat browser, have grown in popularity, specifically among e-commerce brands. WeChat Mini Programs launched in early 2017, and in 2020, the number of daily active users exceeded 400 million.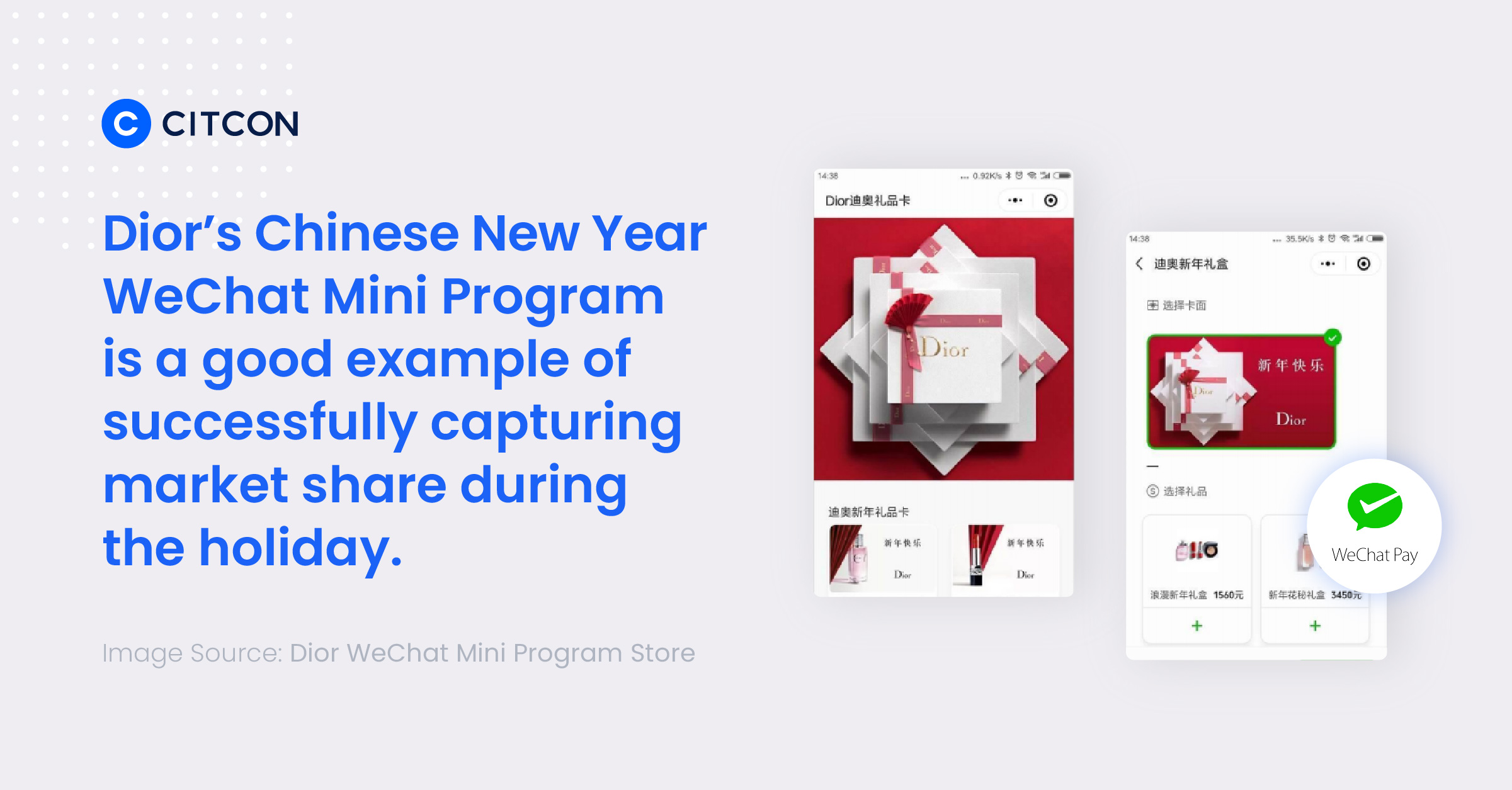 Here is an example of Dior's Chinese New Year marketing campaign using a WeChat Mini Program. The campaign encouraged customers to send Chinese New Year-themed virtual gift cards to their friends and family to celebrate the holiday. This was an effective way to relieve consumer stress about finding the perfect gift. At the same time, Dior was able to successfully capture its market share during the holiday.
While many marketing options allow for geo-targeting, Alipay and WeChat Pay have the largest overall user bases of any online platform, and they're already connected to users' preferred methods of payment. The number of shoppers on these two platforms alone is astounding, and their target marketing capabilities can help you put the right messages in front of the right consumers at the right time. 
Consider a collaboration with Key Opinion Leaders (KOLs) who wield an incredible amount of influence on the purchasing behavior of Chinese consumers. China's KOLs are celebrities in their own right, especially among the younger millennials and Gen Zs. 
Key Opinion Consumers (KOCs) are also on the rise. They share to their private groups of friends and contacts (also called private domain traffic). Tapping into a group of KOCs in a tiered, targeted way can activate an entire legion of brand loyalists. Large FMCGs (fast-moving consumer goods) label anyone with under 100,000 fans a KOC, certainly not an insignificant reach.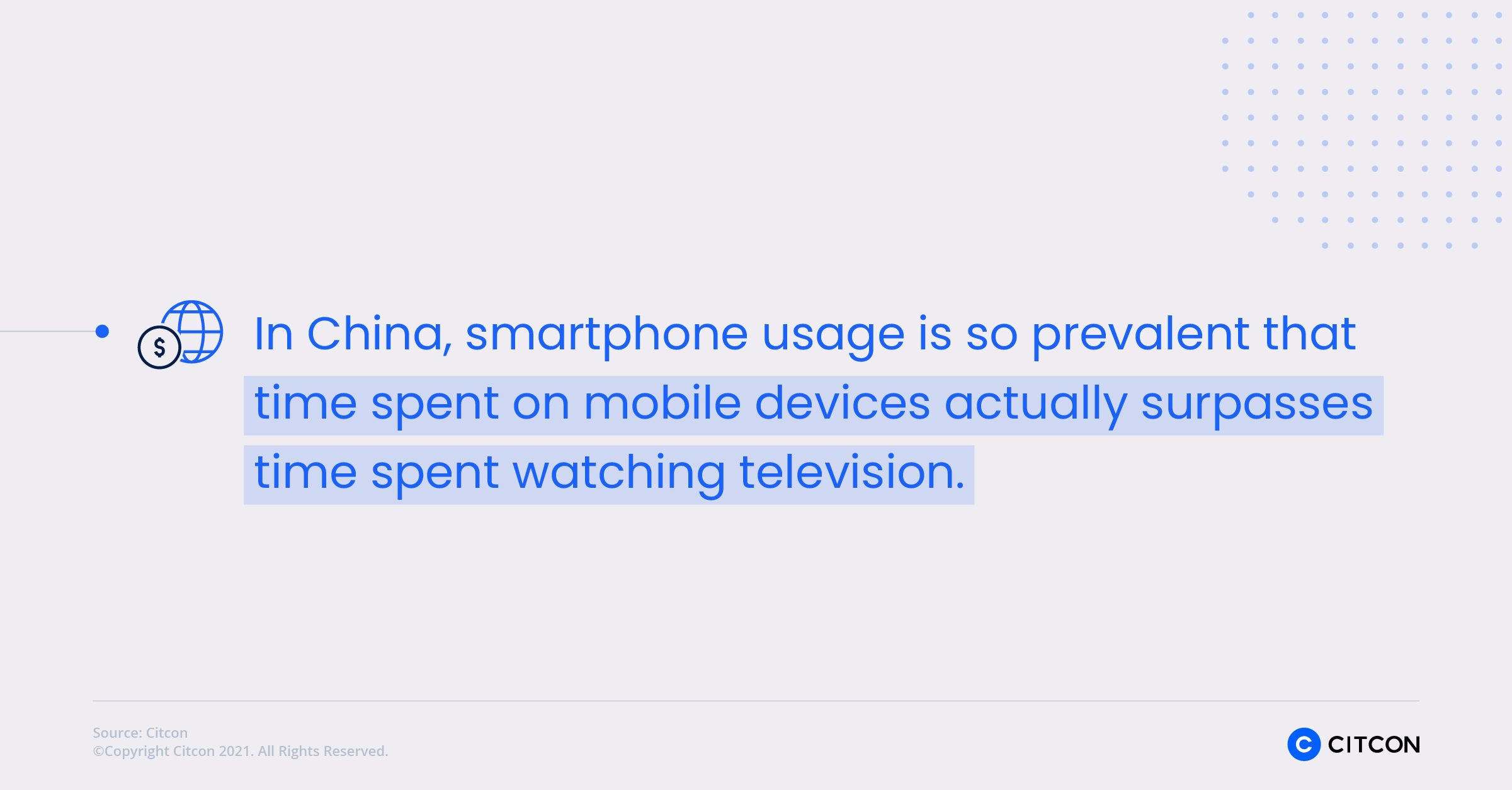 Remember that, in China, smartphone usage is so prevalent that time spent on mobile devices actually surpasses time spent watching television. Create high-converting ad campaigns across all major mobile apps to ensure that you have the greatest reach and can compete for shoppers that align with your target demographics. 
Spotlight: Social Media Platforms in China
WeChat
With over 1 billion active monthly users, WeChat is the largest social media platform in China—which is why businesses looking to get started with social media marketing in China begin with WeChat. Developed by Tencent, WeChat is used by Chinese consumers to make airline and restaurant reservations, manage investments, shop, pay bills, hail taxis, transfer money, create social media posts (called WeChat Moments), and more. 
What's more, WeChat allows companies and celebrities to create official accounts to generate content for promotional purposes. Businesses can even implement CRM (Customer Relationship Management) functionality on their official WeChat accounts, allowing them to track and manage the contacts directly on the platform. Businesses can even set up an e-commerce store and integrate it with a WeChat official account to display products or services and process payments. WeChat also enables businesses to create customized loyalty programs, targeted content, and unique messaging to engage or upsell Chinese consumers with the aforementioned WeChat Mini Programs.
Weibo
Launched by Sina Corporation in 2009, Sino Weibo is one of the largest social media platforms in China. Known as China's "Twitter," Weibo has reached a total of 530 monthly active users. Over the past 10 years, Weibo has transformed from a microblogging site to a comprehensive social media platform. Posts include photos, images, emoticons, music, video clips and text with a 140-character limit. Weibo also has threaded comments and a chat function. Weibo allows anyone — including a general user, to sell products on the platform. Weibo has formed partnerships with several e-commerce platforms allowing merchants to link their certificated online shops on the platform. Businesses can also take advantage of the special features on Weibo to implement online promotional campaigns. It is a very cost-effective platform that can help you cast a wide reach on a smaller budget. 
QQ
QQ is an instant messaging app developed by Tencent. Just like WeChat, it offers users multiple services like games, music, shopping, micro-blogging, movies, group chat, and voice chat. While QQ is often used for corporate communications among white collar workers, the user base is younger than other platforms. As of the end of 2020, QQ had 655 million users, making this platform another giant market for advertisers and another popular platform for social media marketing in China. Businesses can open an organization account, which is known as a QZone. Tencent also offers paid marketing programs. For a fee, Tencent will create unique marketing content for publishing across the various areas of QQ. 
Douyin (TikTok)
Owned by Bytedance, video app Douyin (known in the international market as TikTok) has experienced a rapid rise since its 2016 initial release. Designed to allow users to create and share short videos, Douyin added 106 million users in 2020, as overall social network usage in China reached 97.3% of internet users. Douyin has become particularly popular among younger users, who use the platform to create and share short memes. Douyin features a feed promoting videos from users all over the world, offering a mix of creative content. Douyin periodically launches new features from social commerce to snapchat–like conversations. 
Since 2018, Douyin has offered in-app social commerce. Chinese users with a minimum of ten videos are allowed to start selling on the app, linking products from China's most popular e-commerce websites such as JD.com, Tmall, and Taobao to their Douyin store. For brands looking to engage a younger audience, Douyin is a major platform. 
Little Red Book
Little Red Book is a billion-dollar startup and one of the top Chinese social media apps. Founded in 2014, it has grown to become China's foremost fashion and luxury goods platform. Consumers use Little Red Book to exchange opinions on merchandise bought overseas; discover new luxury, fashion, and cosmetics brands;, and swap shopping and style tips. Little Red Book focuses on a blend of user-generated content, word-of-mouth advertising, and online community building. Users can post product photos with reviews and tips for fellow users to read, comment, and save to their boards— like Pinterest. Little Red Book users can engage by liking content—similar to Facebook's "like" feature; collecting content—saving it under a bookmark for future reference; and commenting on the content—interacting with the post and the user. 
Little Red Book focuses heavily on building trust and reliability between the platform and consumers, rewarding users for giving advice to followers. By posting regularly, users can quickly attract significant followings, perhaps even become an influencer. With 150 million registered users and 30 million monthly active users, Little Red Book has captured the attention of Chinese and foreign investors.
Step 7: Familiarize Yourself with Customs and E-Commerce Laws in China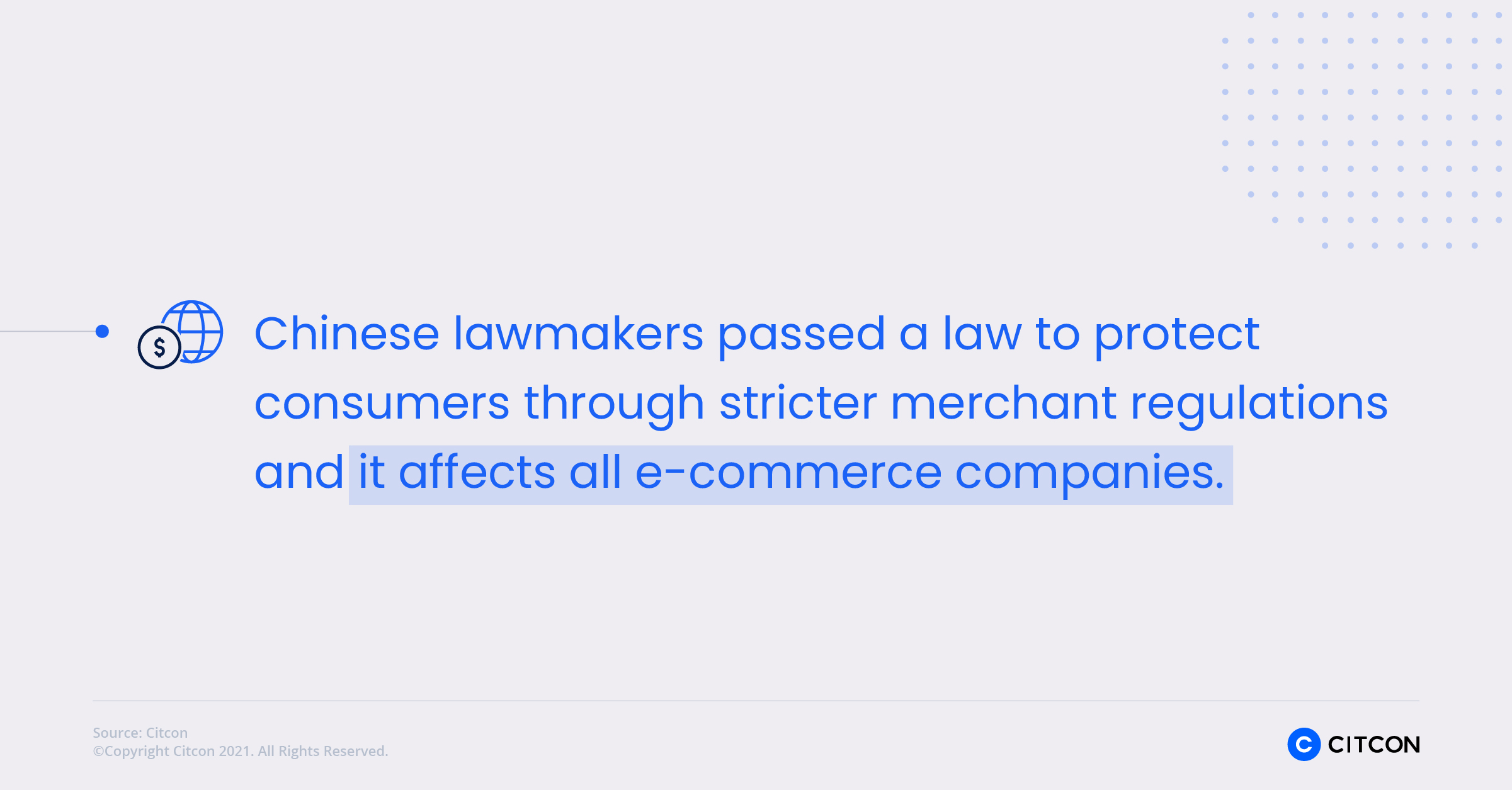 In 2019, Chinese lawmakers passed a law to protect consumers through stricter merchant regulations. China's eCommerce law also increased the tax-exempt spending on overseas purchases to discourage consumers from purchasing counterfeit products—a big boost for cross-border luxury brands. The driving issues behind the legislation are safety and counterfeit products. The crackdown on counterfeit goods will steer more luxury goods shoppers to the right cross-border merchants. The new law affects all e-commerce companies—companies that have stand-alone online stores and those who use a third-party platform to sell products online. 
Understanding the full scope of the regulations is important. It is always a good idea to ask for specialized support, which will ensure a smooth set up for your e-commerce operation, expedited handling of mandatory documents, and give you the peace of mind that you are complying with local regulations. 
In order to pass customs clearance, it's crucial to prepare all the necessary documents for the shipment including a commercial invoice, packing list, insurance and freight information. Customs clearance in China involves the following procedures, which are completed on your behalf by a logistics company:
• Customs registration
• Commodity inspection (inclusive of animal and plant inspection and quarantine)
• Customs declaration
• Documents submission
• Examination
• Payment of taxes and other fees
• Release
• Foreign exchange control
Customs clearance status can be checked on the China customs website. To check the status, provide a declaration number and verification code.
Step 8: Help Consumers with Their Logistics Concerns
Most merchants leverage the help of third-party logistics providers to ship their products to China. Logistics providers manage the customs clearance and tax payment process. The three main logistics models in China are: direct global shipping, domestic shipping only, and shipping from a Chinese location. Each offers tradeoffs between price and speed of delivery. Several large e-commerce players have chosen to build their own internal logistics networks in China to ensure delivery quality and avoid logistics bottlenecks associated with third-party logistics centers and delivery. These networks often provide faster delivery and improved customer experience.
Next, customers expect tracking information for their purchases. Some may not mind a longer delivery time, as long as they know where their package is and when they can expect to receive it. Logistics providers can also help with tracking. Potential benefits include fewer complaints from customers regarding delivery time and a lower risk of items lost in transit. 
Lastly, customers want a clear and easy return process. Customer-friendly return policies address a major barrier for cross-border shopping. Options to make the process more cost-effective include:
• Establish China-based return centers. They can be operated by a third party that will be in charge of processing the returns and reselling them. Returned goods purchased online do not go back to the retailers that originally sold them. They are collected at centralized return centers run by logistics companies and resold in bulk at deep discounts to liquidators and small businesses. Alternatively, the returned goods can be consolidated at the return centers for bulk shipment back to the merchant. 
• Establish policies to reduce the risks associated with returns. Limit returns to goods that are in new and unopened condition, establish a fixed time window for returns, or reimburse customers in store credit rather than cash. 
• Take proactive measures to minimize the number of returns. Provide enough product information so that customers know exactly what they are purchasing.
Cross-border e-commerce players have technology to thank for solving a majority of their challenges. Software as a Service (SaaS) products offer services that take care of all the pain points, enabling sellers to conduct cross-border trade and serve their customers. They provide sellers with quick integration to online marketplaces and third-party logistics players; local and cross-border warehousing; last-mile delivery and returns management; best-in-class service level agreements (SLAs); full visibility and data analytics; pricing management; and international payment methods. With the help of these innovative solutions, online merchants of all sizes can sell across borders and fulfill orders seamlessly.
Spotlight: Logistics Options
International Express Couriers
International express couriers, often referred to as integrators, include companies such as UPS, DHL, FedEx, and TNT. These companies usually provide an end-to-end logistics solution, which covers all the cross-border logistics issues. Their delivery services are usually very convenient and relatively fast. However, they are often the most expensive solution. For final delivery in China, integrators tend to use their own logistics systems. Collaboration with domestic express companies will take place only if their own network cannot reach the final destination. 
The below figure shows a typical logistics process flow that is used in a cross-border transaction, based on service guides published by integrators such as UPS and China Post. In this example, the integrator executes the entire logistics process, including domestic shipment from the retailer's warehouse to a U.S. airport; air shipment to a China airport; customs clearance in China (including collection of the required information from the Chinese customer); and shipment in China to the end customer.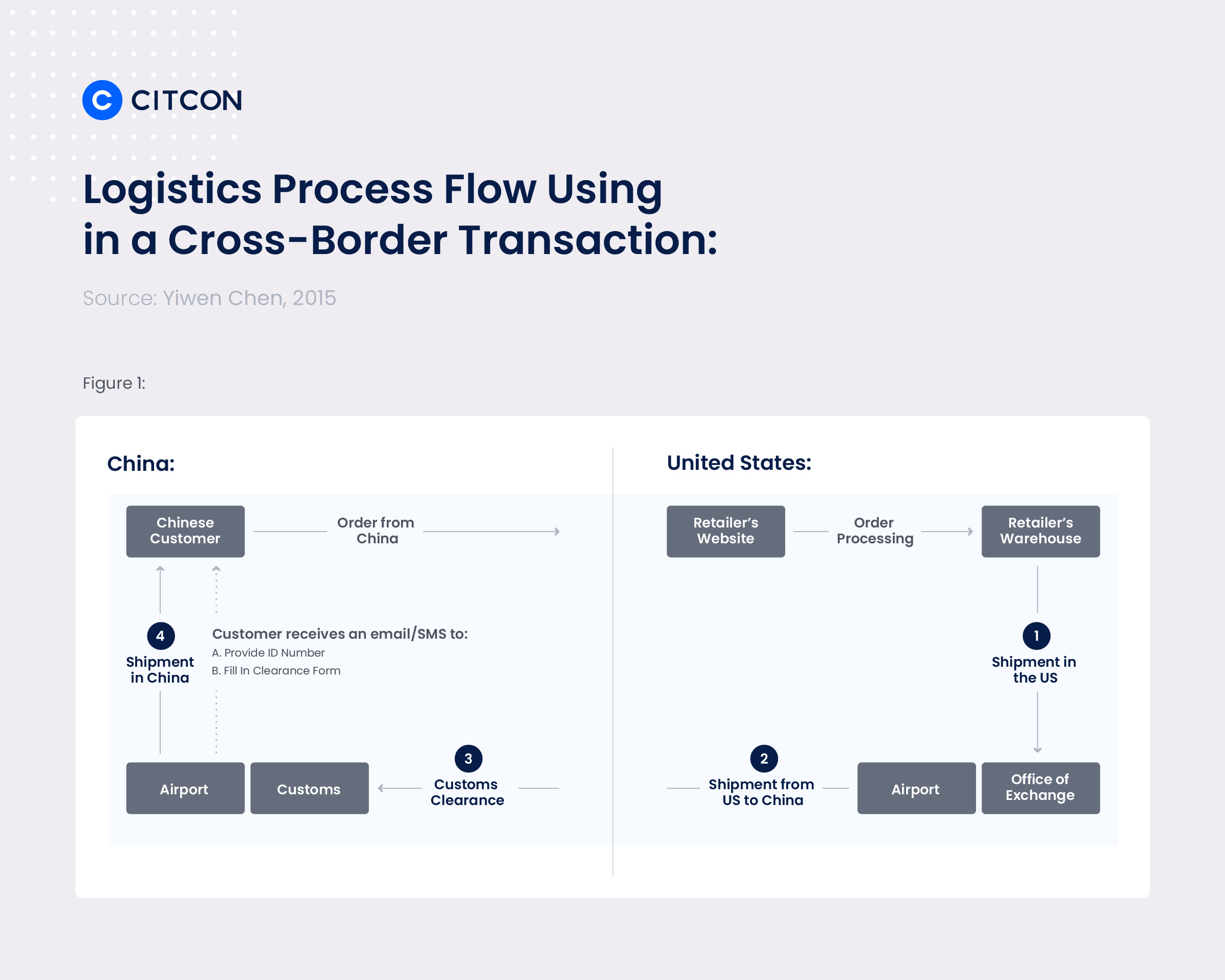 Postal Service Providers
Members of the Universal Postal Union (UPU), including the United States Postal Service (USPS) and China Post are considered postal service providers. Because of the UPU, cross-border packages delivered by USPS to China can go through a quick and inexpensive postal clearance in China Customs, in a process that does not require any information regarding the final recipient of the package. After customs clearance, China Post or China Post EMS take care of delivery to the end customer. Oftentimes, smaller merchants will be more likely to use these UPU international delivery services. 
The below figure shows a typical logistics process flow of postal service providers for a U.S. to China transaction. The logistics in the yellow area, including shipment within the United States and all the way to the China airport, are executed by USPS. Customs clearance and shipment in China, in the gray area, are executed by China Post.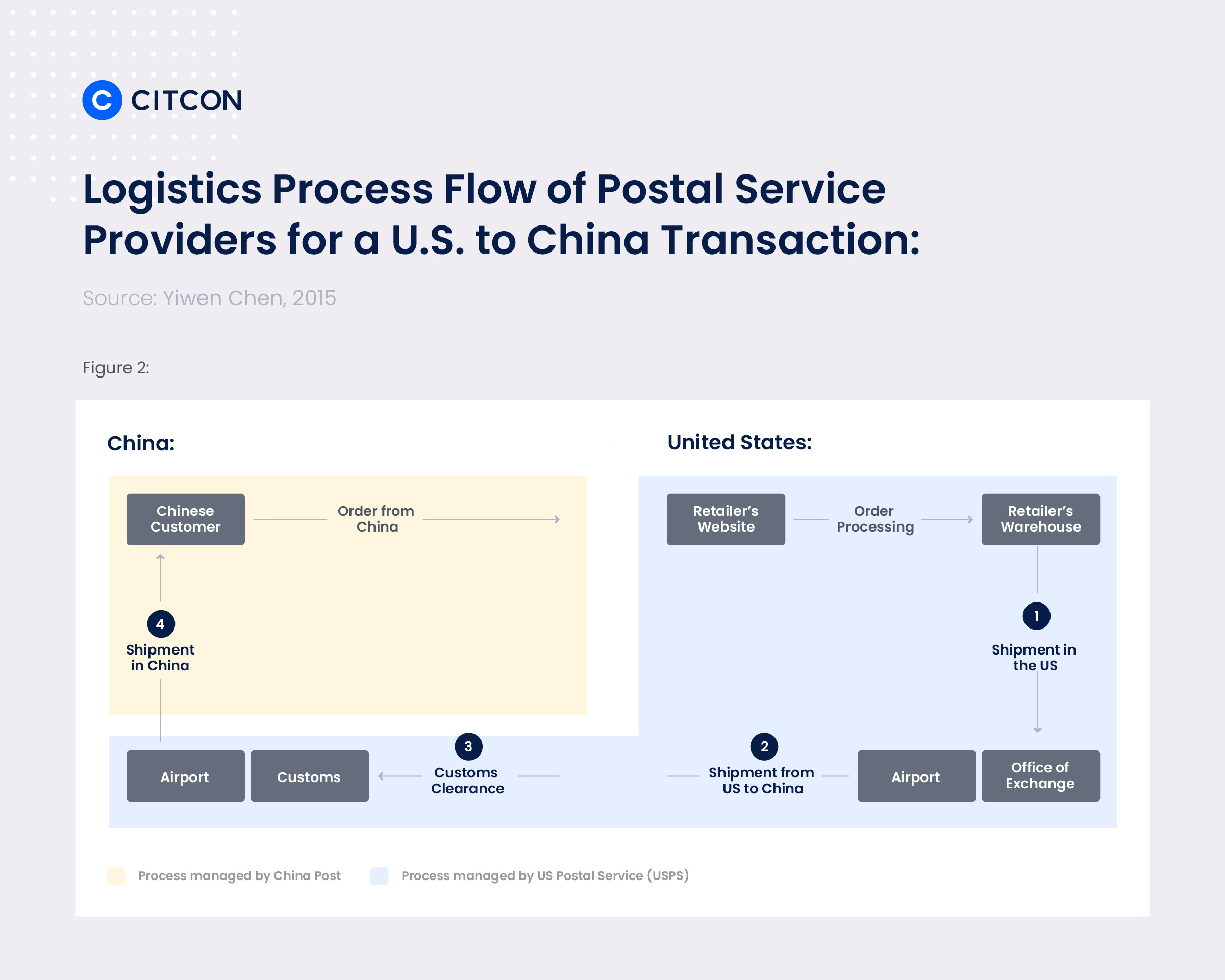 Shipping Agents (Consolidators and Freight Forwarders)
Shipping agents provide parcel consolidation and forwarding services, and usually aim for a larger shipment size compared to integrators and postal service providers. The large shipment size drives transportation costs down, but also slows the process down due to the need to aggregate shipments from multiple customers. Most shipping agents do not ship goods themselves, but instead work with integrators and postal service providers. 
The below figure shows a typical logistics flow involving a shipping agent who coordinates the delivery of goods from a U.S. merchant to a Chinese customer. The merchant is in charge of the shipment (by USPS, UPS, or a similar firm) to a U.S. based warehouse of the shipping agent. From the merchant's point of view, order processing is identical to processing domestic orders for U.S. customers. The shipping agent is in charge of coordinating the remaining logistics process (the gray area). To lower costs, shipping agents usually use China Post/EMS or domestic express companies such as Shentong Express and S.F. Express for the domestic distribution in China.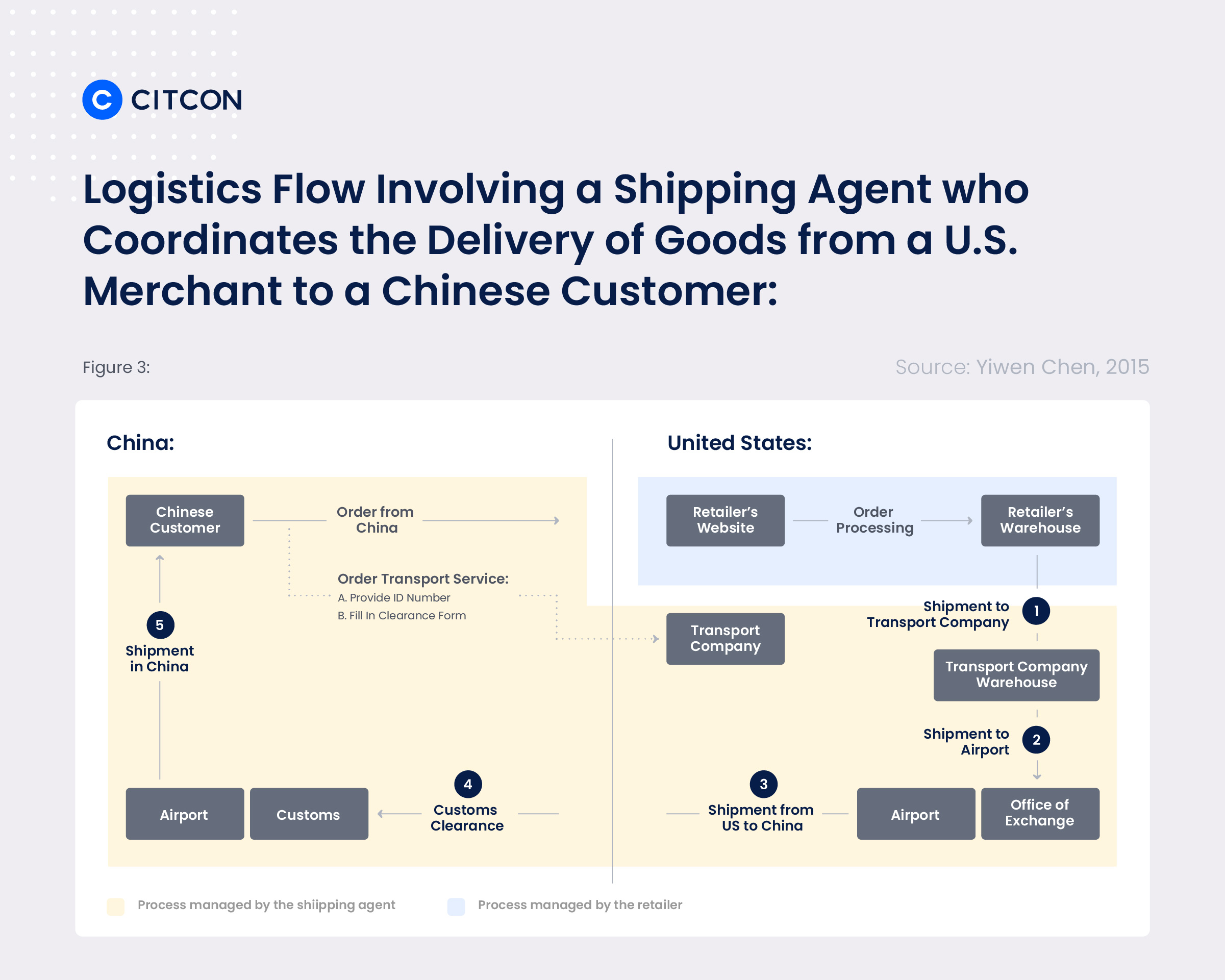 How Can Citcon's Comprehensive E-Commerce Solution Help?
These are exciting times for e-commerce in China, and the market continues to grow at a rapid pace. For merchants who are interested in establishing cross-border e-commerce in China to transform their business and fuel rapid growth, Citcon can help you get started. 
With headquarters in Silicon Valley, Citcon is an integrated mobile payment and marketing platform that connects global merchants with Chinese consumers. As the first authorized payment partner of Alipay and WeChat Pay in North America and China UnionPay, Citcon  brings mobile payment to the next level, enabling businesses to connect with customers beyond the payment experience. With our extensive experience and deep expertise in Chinese outbound travel market, mobile payment, cross-border e-commerce and cross-border marketing, Citcon is the one-stop solution for global businesses to reach millions of Chinese travelers and domestic consumers.
Payment Solution
Citcon enables Chinese consumers to pay online through Alipay, WeChat Pay, China Union Pay, and other mobile wallets. Consumers simply scan a QR code with a single click, eliminating the need for bank transfers. Citcon also translates the prices of goods into the users' native currency, making comparison shopping simple and easy to understand. Chinese customers enjoy a familiar checkout experience that doesn't require personal information and is up to five times faster than alternative forms of payment. Sellers enjoy a decrease in cart abandonment, significantly less chargebacks, increased security, and a 40% reduction in fees compared to credit cards. 
Marketing to Chinese Consumers
Citcon offers non-Chinese e-commerce companies an effective way to utilize winning online marketing strategies. Citcon's marketers will help drive traffic to your online store—whether it's creating a WeChat Mini Program or getting your brands connected with the right key opinion leaders (KOLs)—because Citcon knows that traditional advertising methods don't compare to the power of personal recommendations. 
Everything You Need to Deliver Products to Customers
Citcon offers a comprehensive turnkey solution for online shopping—from website checkout to inventory delivery. We have more than 20 warehouse and service points in the U.S., with logistics partners who specialize in cross-border shipping. Customs clearance solutions are also covered in the U.S. and China. 
Cloud Services with China Gateway to Grow Your Business
We know what it takes to be successful and secure in China. China Gateway is an easy one-stop solution for your company to access advanced cloud infrastructure and do business in China. Citcon partners with top Chinese cloud providers like Alicloud and Tencent Cloud, China-focused solutions that are trusted by over 50% of Chinese e-commerce users. Citcon's payment gateway is hosted in the U.S. as well as in China, providing fast network connectivity. For sellers, that means less abandoned shopping carts. Our cloud services are tailored to China and compliant with ICP filling and licensing support. 
What's Next?
Establishing cross-border e-commerce in China can transform your business and fuel rapid growth. Contact Citcon today to get started fast.