Shift4 Payments Partners with CITCON to Announce Availability of Alipay and WeChat Pay Acceptance for North American Merchants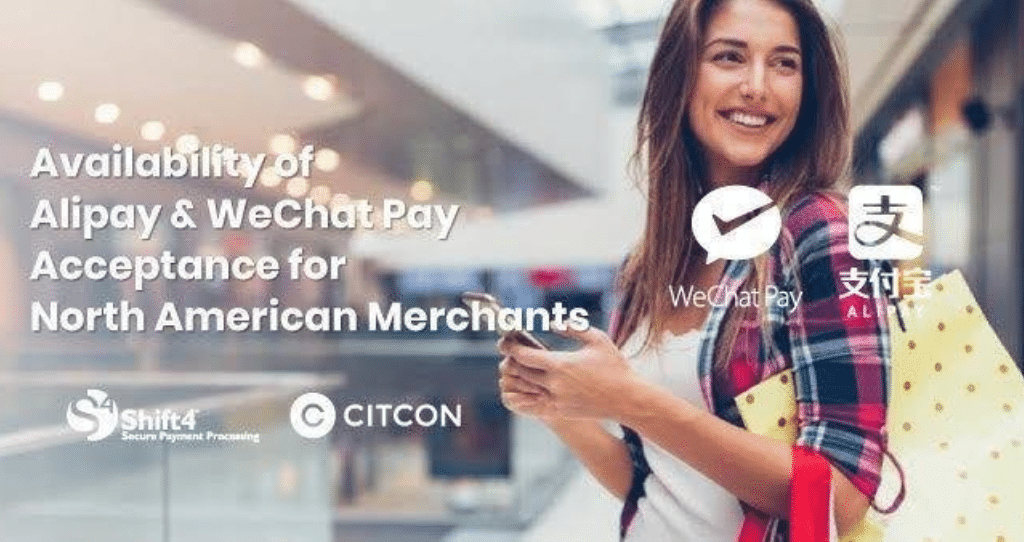 ALLENTOWN, Pa. and SANTA CLARA, Calif., April 17, 2018 — CITCON, the leading cross-border mobile payment company in North America, and Shift4 Payments, the leader in secure payment processing solutions, today announced the general availability of their integrated payment solution, which enables Shift4 customers to accept payments via the Alipay and WeChat Pay mobile platforms. Merchants in the U.S., Canada and the Caribbean can now take advantage of additional revenue streams from consumers visiting from China, who are currently the largest spenders and the fastest-growing traveler segment to North America.
Alipay, which is operated by Ant Financial Services Group, is the world's leading digital payment platform, providing in-store payment service in more than 40 countries across the world. WeChat Pay is a fully integrated payment solution within WeChat, one of the world's fastest growing social apps with one billion active users. Alipay and WeChat Pay are the most popular and convenient cross-border payment options for Chinese consumers to purchase goods and services in North America, a segment that currently accounts for $30 billion in annual spending in the U.S. Adding these payment acceptance options allows merchants in the U.S. to better service customers traveling overseas and tap into a larger revenue stream from Chinese consumers.
Shift4 and CITCON announced their partnership in October 2017 and have worked closely together to create the first integrated payment solution that supports Alipay and WeChat Pay in North America. Shift4 Payments, who established themselves as payment security pioneers, recently added a complete payment processing solution to their suite of offerings. This complete solution combines traditional payment processing technologies and merchant services, adding further value to businesses in a wide range of industries. CITCON's payment solutions provide Chinese consumers with a simple way to purchase goods and services overseas in Chinese Yuan and for North American merchants to settle the transactions in their local currency.
"Shift4 Payments is the perfect partner for us to bring this prominent technology to the U.S.," said Wei Jiang, COO and President of CITCON. "Not only will merchants be able to accept Alipay and WeChat Pay, opening up a whole new market that wasn't possible before, but they'll be able to do so with the highest standard of payment security that only Shift4 can provide."
"Merchants should have the ability to accept as many payment methods as possible," said Jared Isaacman, CEO of Shift4 Payments. "Through our partnership with CITCON, we are able to deliver additional value for our customers, opening up a previously untapped market of over a billion consumers who can now conveniently and securely make purchases using their preferred method of payment at our merchants' locations."
Businesses interested in adopting the technology may contact Shift4 Payments at 800.265.5795 or sales@shift4.com, or contact CITCON at 888.254.4887 or info@citcon.com.
About Shift4 Payments
Shift4 Payments is the leader in secure payment processing solutions, powering the top point-of-sale and software providers across numerous verticals, including Food & Beverage, Hospitality, Lodging, Gaming, Retail, and e-Commerce. This includes the company's Harbortouch, Restaurant Manager, POSitouch, and Future POS brands, as well as over 300 additional software integrations in virtually every industry. With eight offices across the U.S. and Europe, 7,000 sales partners, and three state-of-the-art data centers, the company securely processes over 1 billion transactions annually for nearly 200,000 businesses, representing over $100 billion in payments each year. For additional information, visit www.shift4.com.
About CITCON
Silicon Valley-based CITCON is the mobile payment solution leader for merchants to accept the fast growing mobile wallets at the global scale. In North America, CITCON is the first and largest authorized merchant acquirer for Alipay and WeChat Pay, two of the most popular mobile wallet providers in the world with over 1 billion active users and over $800 billion mobile payment volume. CITCON provides both in-store, and mobile / web / E-commerce payment solutions for thousands of merchants including renowned brands such as Caesars Entertainment Group, DFS, i-Shoppes, Pacific Gateway, China Unicom, YamiBuy among others, covering a wide variety of business sectors such as Retail, Hotel, Food & Beverage, Transportation, Entertainment Education and E-commerce. CITCON management team consists of payment and technology veterans from VISA, PayPal, eBay, Uber, JD, Western Union. CITCON is backed by top notch Silicon Valley venture capital firms and received strategic investments from two public-traded multi-billion-dollar technology companies in China. For more information, please visit citcon.com.
Media Contacts
Nate Hirshberg
AVP, Marketing
Shift4 Payments
888.276.2108 x1107
nhirshberg@shift4.com
Evelyn Yang
Head of Marketing & Communications
CITCON
888.254.4887
evelyn.yang@citcon.com