Paytm Partners with Citcon to Enable Mobile Payments In India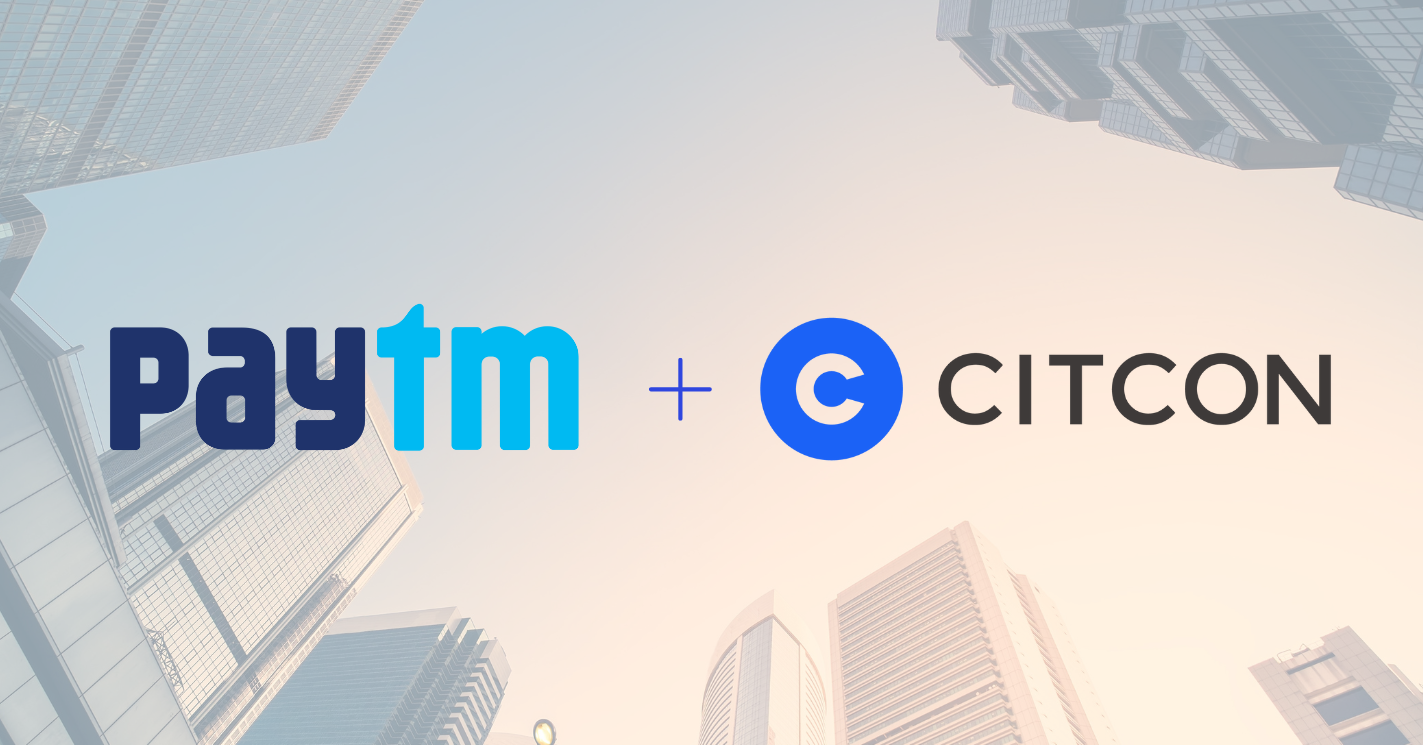 Paytm partners with Citcon —  enables international merchants like Kering Group, LVMH and Samsonite to accept mobile payments in India
Ensures a secure and seamless payment experience for Citcon's merchants operating out of India

Offers a robust platform for international merchants to accept and reconcile digital payments from Indian consumers

Enables users to pay using a wide range of payment modes like

Paytm UPI, Paytm Wallet, Paytm Postpaid, netbanking, debit cards and credit cards
SANTA CLARA— 11/15/2022, One97 Communications Limited, India's leading payments and financial services company and the pioneer of QR and mobile payments, today announced that its wholly-owned subsidiary Paytm Payment Services Limited (PPSL) has partnered with Citcon USA LLC, an all-in-one payment platform. With this partnership, Paytm will be integrated into Citcon's global payments network and will enable international brands to accept payments in India.
The integration of Paytm and Citcon brings overseas merchants into compliance with UPI standards, enabling them to accept and reconcile digital payments from Indian consumers.
Paytm Payment Gateway is the most preferred payment gateway for e-commerce offering a comprehensive range of payment options to users – Paytm UPI, Paytm Wallet, Paytm Postpaid, netbanking, debit cards and credit cards.   
Nakul Jain, CEO of Paytm Payments Services Limited Spokesperson said, "Our partnership with Citcon ensures that overseas merchants operating in India can use the payment app that consumers know and trust. We have been creating innovative payment solutions for our users that has made us synonymous with credibility and high success rates in online transactions. As pioneers of digital payments, our goal is to expand our reach and bring half a billion unserved and underserved Indians into the mainstream economy."
Chuck Huang, Founder and CEO, Citcon said, "Our partnership with Paytm provides our growing network of global merchants access to one of the most vibrant and important digital commerce markets in the world through a leading Super App. App-based payments are the preferred payment method for much of the world, especially among younger consumers who enjoy the flexibility and convenience of built-in features like BNPL. Plus the added security of app-based payments dramatically reduces chargebacks due to fraud as compared to payment cards."
Millions of consumers across India use the Paytm Super App to make purchases, pay bills, do recharges and send money. For the quarter ending in September 2022, Paytm reported average monthly transacting users (MTU) at 79.7 million, representing 39% year-over-year growth for its Super App. This rapid adoption reflects India's position as one of the fastest growing markets for digital payments usage overall. 
About Paytm
Paytm is India's payment Super App offering consumers and merchants the most comprehensive payment services. A pPioneer of the mobile QR payments revolution in India, Paytm's mission is to bring half a billion Indians into the mainstream economy through technology-led financial services. Paytm enables commerce for small merchants and distributes various financial services offerings to its consumers and merchants in partnership with financial institutions.
Paytm media contact:
About Citcon
Founded in 2015, Citcon's fintech platform enables seamless global commerce at scale by connecting the world's businesses with more than 150+ mobile wallets, including local and alternative payment methods. Citcon integrates with POS and ecommerce systems such as Toshiba, Oracle, Cegid, Shopify and SAP and is currently deployed at more than 30,000 merchant sites and locations, including major brands such as L'Oreal, Tumi, Texas Instruments, Revolve, Macy's, and Panda Express.  In October 2021, Citcon closed a $30MM Series C funding round. The company is backed by leading global investors Norwest Venture Partners, Cota Capital, Sierra Ventures, Sonae, and East-West Bank. Citcon has five regional offices in the US, Canada, Europe, and Asia to service its global clientele. 
Learn more at: