3 Online Payment Methods to Accept in China
Thursday, December 2, 2021

By Jamie Elgie
The payment landscape of China is unique and heavily dominated by mobile payment options. The top three mobile wallets being Alipay, WeChat Pay, and China UnionPay. 
China is incredibly far ahead of the rest of the world in this aspect, in large part, because of the timing and lack of credit card infrastructure in the country. Before the advent of mobile phones, China's economy was largely cash-based, and its banking infrastructure was underdeveloped. However, when affordable mobile phones became widely accessible, the country's large consumer base suddenly had access to cashless payment technology. At the same time as the popularity of these affordable mobile phone options was rising, digital payments were becoming increasingly more popular.
The accessibility of the mobile phones combined with new mobile payment offerings from trusted sites like Alibaba helped mobile payments gain a strong foothold in the Chinese economy. Now, Alibaba's Alipay and WeChat Pay have massive market buy-in. Their combined user base is expected to reach nearly 2.5 billion users by 2025. 
Part of the reason these payment options are so popular is that they're incredibly easy to use. People can create an account for free, hook the account up to their debit card or bank account, and immediately start spending online or in-store via mobile transactions. Now, people in China use mobile payments for nearly everything, from restaurant meals, electronics, taxi rides, and more. People also use the platform to send money to friends and family. Even merchants who operate small stands or sell flowers might have the option to accept Alipay or similar payment options. 
These payments are generally easy for merchants to implement, too. Alipay and other mobile wallets just require a QR code scan and a payment confirmation to complete the transaction, making the process frictionless. Merchants can either scan the user's QR code on their smartphone or merchants provide a QR code at checkout for customers to scan. The ease of use for all parties has helped make cashless payments dominant among Chinese consumers.
History of China's Mobile Payment Giants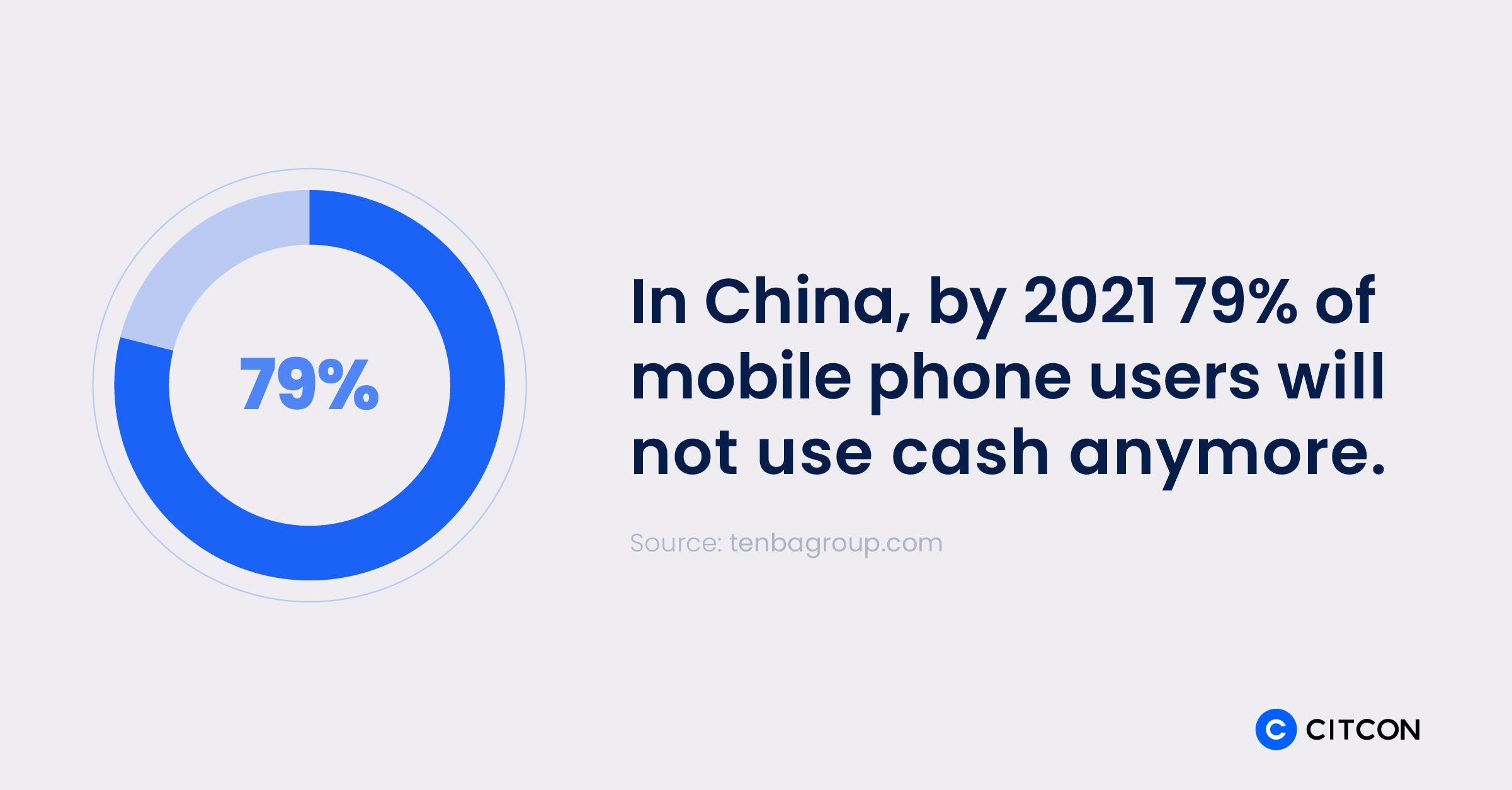 It may be difficult to grasp just how different China's nearly cashless society is from other countries. There are billions of mobile payment users in China. In fact, by 2021,  79% of mobile phone users will not use cash anymore – at all. This is massively different from most other countries, including the U.S. While digital payment options like PayPal and Venmo are popular, it's certainly not yet the norm in the States for consumers to pay with their phone for most purchases. In China, nearly everyone uses and accepts mobile payment options.
China has jumped ahead as an early adopter of mobile payment options for a variety of reasons, largely skipping the introduction of credit cards at all. It's possible that because most Chinese consumers went directly from cash to a cashless mobile payment option, they do not feel the same trepidation other consumers might about paying with an app. Other consumers are very attached to credit cards and debit cards which are cashless but not quite the same. 
Overall, if you want to sell into China, including attracting Chinese tourists or cross-border consumers, it is vital to accept the popular mobile wallets at your site or store. Without Alipay, WeChat Pay, or UnionPay at your checkout, you risk high cart abandonment rates, poor acceptance rates, and low traffic coming from Chinese consumers.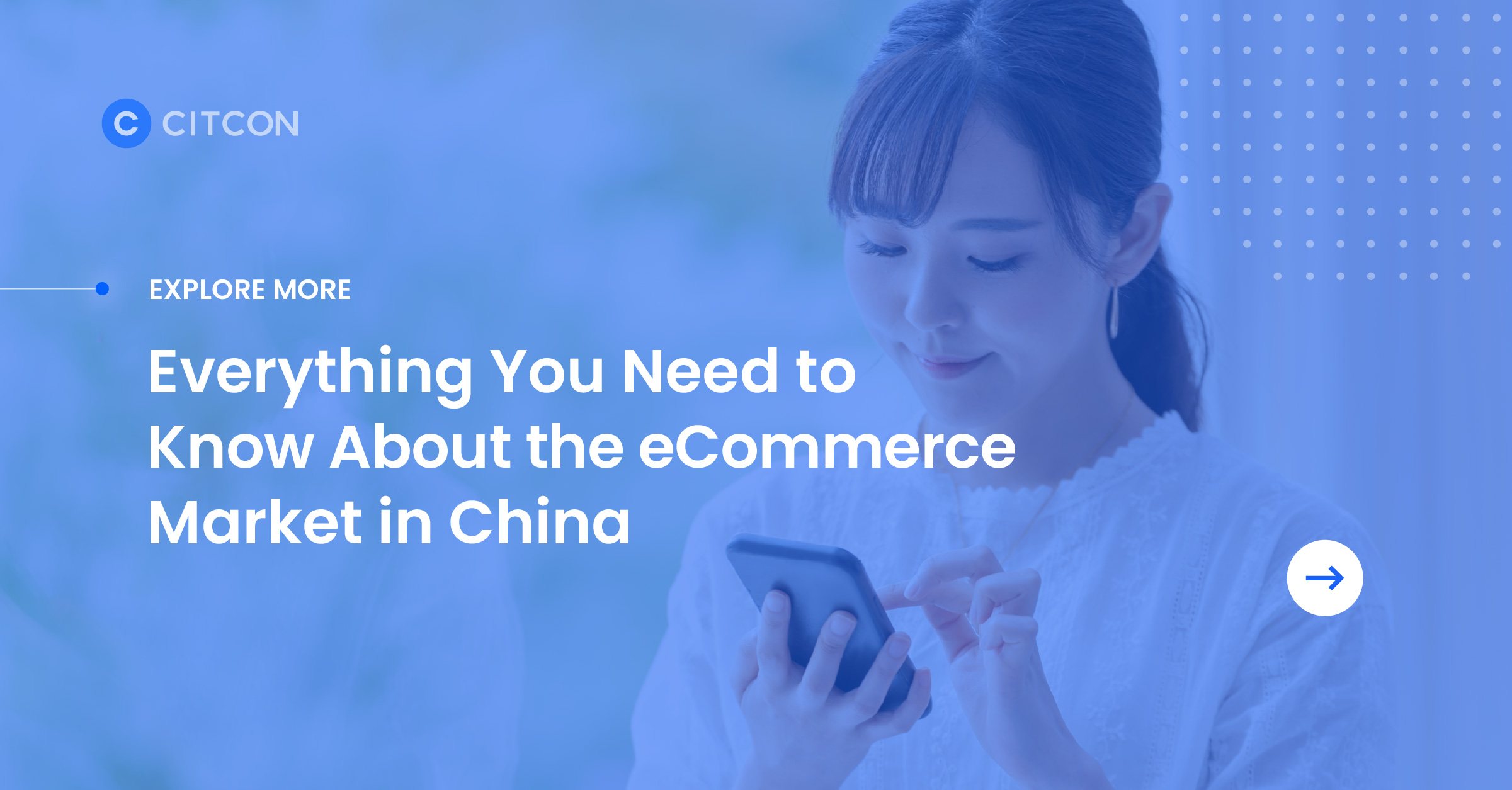 Related Read: Everything You Need to Know About the eCommerce Market in China
Top 3 Online Payment Methods in China
China has three major mobile payment giants, each with its own unique history. To truly understand the footholds these mobile payment giants have achieved, it is important to dive into the history a bit.
1. Alipay, from Alibaba: Alibaba is the parent company for Aliexpress, a hugely popular retailer in China. When Alibaba first launched, they used a customer to customer platform called Taobao. This system worked similarly to eBay, with individual sellers listing items for sale. However, unlike eBay there was no auction component. In 2003, Taobao users voiced their lack of confidence in the system, as buyers could not be guaranteed that their product would arrive as described, but had already made their payment. Thus, Alipay was designed to hold the buyer's payment in escrow, and release it to the seller once the product was received and the buyer was satisfied. Alipay rapidly grew beyond this initial purpose, and started providing services to other online platforms. Now the platform is the largest in China, with 54% of the market share and over a billion users. 
2. WeChat Pay: WeChat Pay is almost as popular as Alipay, but started more than 10 years after. WeChat Pay was added to the social media platform WeChat. WeChat was a texting platform that allowed users to send messages with each other. During the 2014 Lunar New Year celebration, WeChat used the Spring Festival tradition of exchanging hongbao, money in red envelopes, to encourage users to link their bank account or debit card with the WeChat app. Friends could then send virtual red packets to one another. This proved hugely popular, and offered a feature Alipay did not have at the time – the ability to send money directly to friends and family. (Alipay does now have this feature).
3. China UnionPay: UnionPay is a dominant banking institution in China. Almost everyone has a China UnionPay debit card. Despite this, UnionPay entered the mobile payment market quite late. However, their mobile app has grown quickly and now has over a million users. UnionPay has a collaborative model, servicing banks and consumers. Most debit cards in China can be hooked up to the app, and an additional 80 types of credit cards from more than 20 banks can now be used with the app. There are other options for users to check balance on debit cards from more than 300 banks, and use more than 100 bank credit cards without handling fees.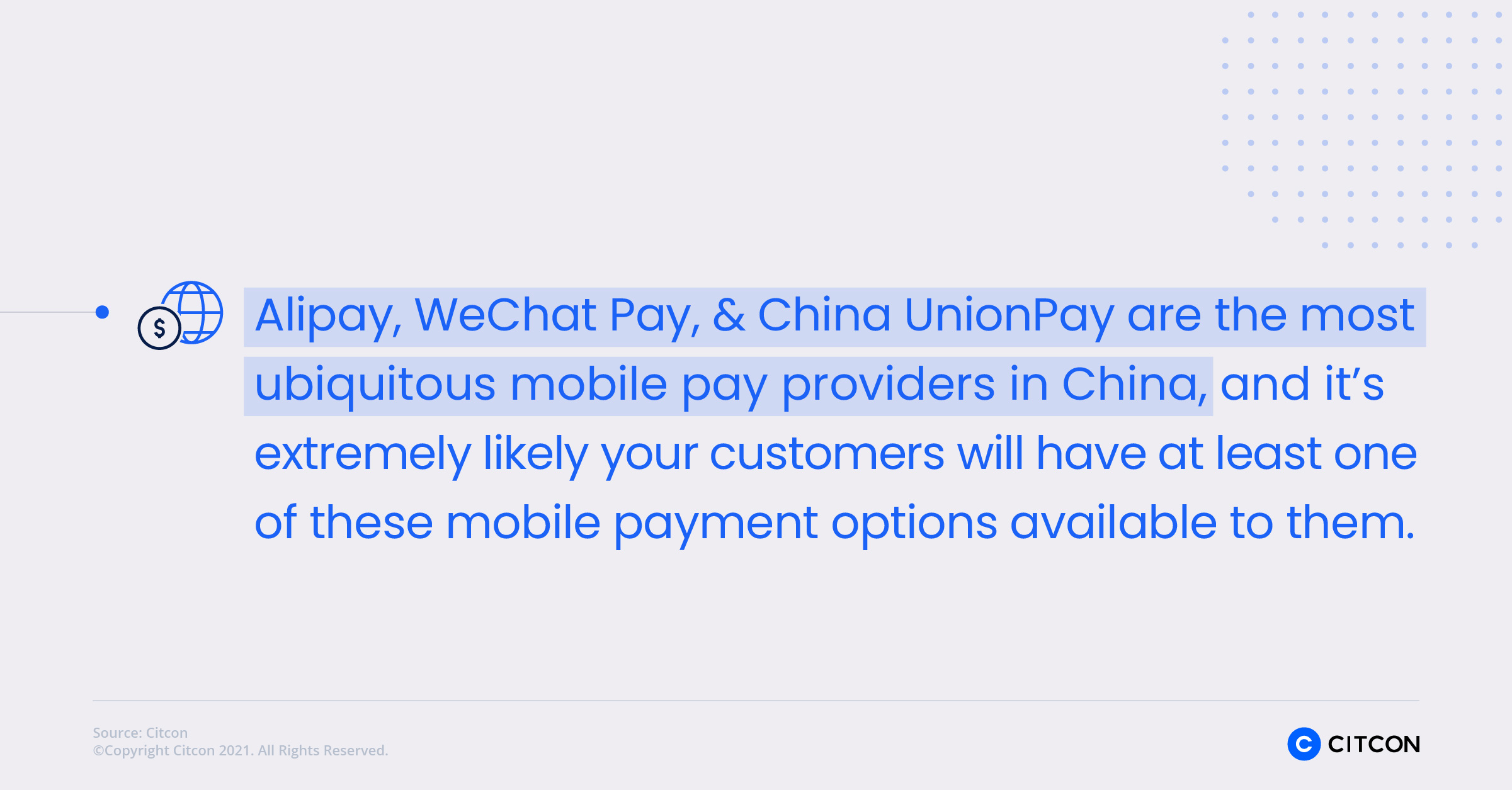 These three are the largest mobile pay providers in China, and definitely dominate the market. There are smaller competitors, but Alipay, WeChat Pay, and China UnionPay are the most ubiquitous, and it's extremely likely your Chinese customers will use at least one of these mobile payment options.
How Mobile Payments Work in China
Mobile payments are actually quite easy for merchants to accept. Alipay, WeChat Pay, and UnionPay all use QR codes to make transactions easy.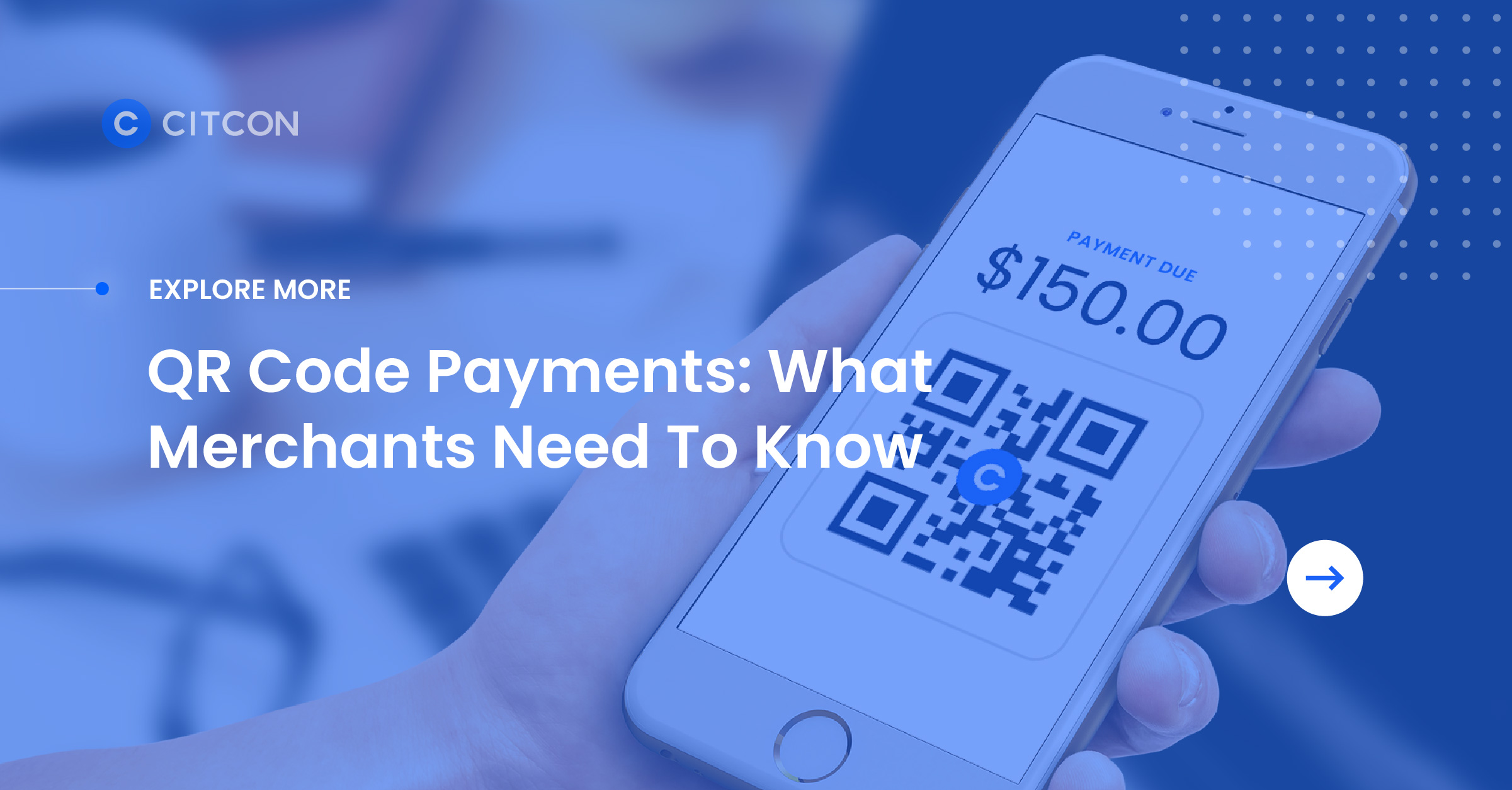 Related Read: QR Code Payments: What Merchants Need to Know
Through QR codes, merchants can accept payments in one of the following ways:
– Customer scans merchant's QR code: Once a merchant has an account, they will typically prominently display their QR code on signage near the cash register. The customer then scans the code and the app recognizes it. The customer puts the correct amount in and confirms payment. This method is frequently used by smaller businesses. 
To accept these mobile wallet options online, customers will choose a mobile wallet option at checkout. They will enter their pin, be presented with a QR code on their desktop to scan with their mobile device, or a similar process. 
– Merchant scans customer's QR code: In this instance, the customer has the QR code in their app and the merchant scans it to accept the payment. The merchant must enter the amount that will be deducted. This method is popular amongst larger businesses, especially because the QR scanner does not require a strong WiFi signal to function.
There are many advantages to accepting these global payment options, including: 
– Better customer experience: Providing Chinese customers with their preferred payment methods means a better checkout and shopping experience, improves cart abandonment, and even attracts customers to your site or store. 
– Convenience: This method of payment is convenient for your customers, and convenient for you. The systems are easy to implement, and customers are very used to purchasing items with them. 
– Safety: Data is protected within the apps, so customer data is kept secure.
– Fewer chargebacks: Mobile payment providers like Alipay have their own internal chargeback systems meaning your chargeback rate will not be impacted like it would with other forms of payment. A high chargeback rate could lead to difficult banking relationships. Some merchants may have to pay a premium for a high-risk processing account, while others may not be able to acquire a financial partner at all.
If you are interested in accepting global payment options but are intimidated by the integration work, Citcon can help. Citcon is a global payment gateway provider that can connect your business to a wide variety of payment options, including China's big three, through a single integration. Our payment platform is easy to implement and provides almost immediate access to the plethora of payment options Citcon offers. Click here to request a brief demo with our team to learn more about Citcon's payment platform.