Mobile payment introduced in Chinese consular services for U.S. East Coast
Wednesday, March 20, 2019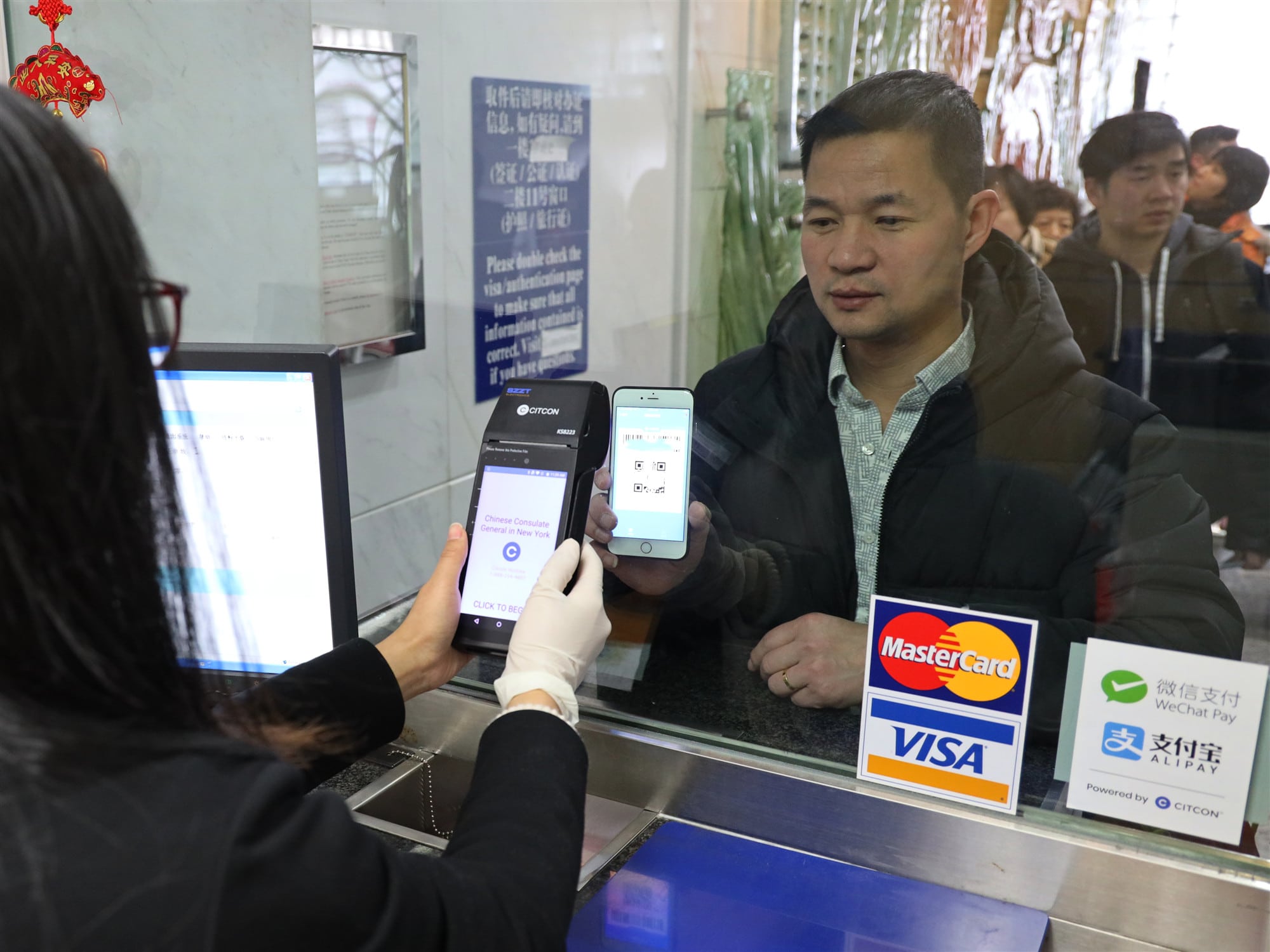 NEW YORK, March 6 (Xinhua) — The Chinese Consulate General in New York on Wednesday introduced mobile payments for its consular services charges, becoming the first Chinese diplomatic mission in the United States to adopt this new form of payment.
Besides the traditional cash and credit card payments, WeChat pay and Alipay are now available for clients to pay service fees for visa processing, passport renewal and notarization, which is expected to greatly shorten the transaction time.
The payment will be made in Chinese Yuan only, with the original U.S. dollar amount converted by the exchange rate of the transaction day adopted by WeChat pay and Alipay. There will be no other additional charges for the transactions.
According to Huang Ping, the Chinese consul-general in New York, there are over 1.2 million overseas Chinese in the 10 states on the U.S. East Coast that belong to his consular district, and most of their mobile phones are equipped with WeChat pay or Alipay thanks to the rapid growth and ever-increasing popularity of mobile payments back in China over the recent years.
"We should keep pace with the times, provide more convenience for these potential clients, and make our services better and more efficient," said Huang, adding that the new payment service also covers non-Chinese clients who use WeChat pay and Alipay.
Chen Zonglin, a Chinese student who came to the Consulate General to renew his passport on Wednesday, was among the first group of clients that tried the new service.
"I was surprised when I was told I can use mobile payments," said Chen after picking up his new passport. "I'm impressed. It's so convenient and up-to-date, and could surely help improve the overall efficiency of services here."
The Chinese Consulate General in New York in the past year has rolled out a slew of measures to improve its services, including an online passport renewal application, reduced renewal processing time, lower charges, and simplified application requirements, according to Consul-general Huang.
New York City has a high concentration of foreign diplomatic missions, most of which are still processing transactions by conventional payment means only.
The 10 U.S. states for which the Chinese consulate-general in New York provides consular services include Maine, Vermont, New Hampshire, Massachusetts, Connecticut, Pennsylvania, New Jersey, New York, Ohio, and Rhode Island.
Read more:
驻纽约总领事馆启动领事证件移动支付服务
If you have any question, give us a message. We will get back to you soon!