DFS Group Partners with CITCON to Accept WeChat Pay to Welcome Chinese Consumers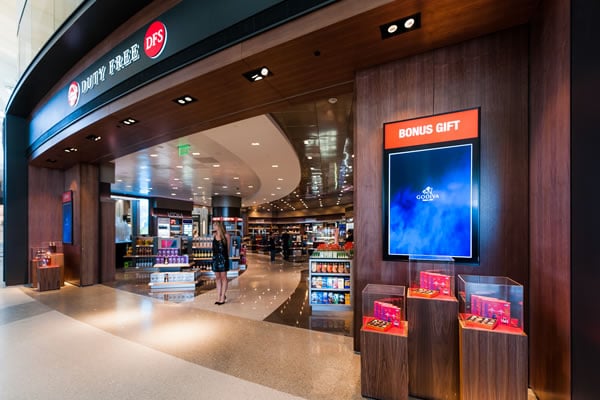 Las Vegas, Oct. 23, 2017 – CITCON, the leading cross-border mobile payment company, announced a partnership with DFS Group, the world's leading luxury travel retailer, to launch WeChat Pay at DFS, San Francisco International Airport and T Galleria by DFS, Hawaii.
As the world traveler's preferred destination for luxurious shopping, DFS is taking travel retail one step further by integrating the most popular and preferred choice of payment, WeChat Pay, used by one billion Chinese consumers, who will enjoy the same payment experience by just scanning a QR code to make a payment when traveling abroad as they do in China. The cross-border payment solutions allow Chinese consumers to purchase a variety of DFS' products via their WeChat mobile wallet with Chinese Yuan.
DFS offers a selection of exceptional products from over 700 of the most desired brands – including LVMH Group brands – as well as personalized high-end services, putting it in an excellent position to capture the tremendous momentum seen in this channel. DFS brings together world-class brands and personalized services in a modern and inviting shopping environment for the world traveler. They operate stores in 13 major airports around the world, providing the ultimate convenience for customers as they travel to and from their destinations, as well as offering downtown T Galleria stores in 18 iconic cities, serving as luxury shopping destinations unto themselves.
"Travel retail is a major growth engine driving the luxury retail sector today, and partnering with CITCON to accept WeChat Pay in multiple payment scenarios allows us to provide an integral and seamless payment experience that Chinese consumers are familiar and comfortable with," said Mike Osorio, Region President Americas, Pacific Islands, Japan at DFS Group, "We put our customers at the heart of our business, and these new innovations, along with our offer of exceptional products and unparalleled services, help us to provide our customers with a delightful shopping experience throughout their customer journey."
China has been the world's number one outbound tourism country for four consecutive years, accounting for over 13% of the total tourism revenue globally. United States has been one of the most popular destinations for Chinese travelers. In 2020, five million Chinese travelers are expected to spend $80 billion in the United States. Travel retail is worth about 15% of the broader personal luxury goods market, and the global value of travel retail itself is set to reach $85 billion by 2020. Chinese consumers will remain one of the biggest drivers of growth in the global luxury market in the foreseeable future.
"The tourism market is evolving. Consumers are moving rapidly from their first overseas trips and first luxury purchases to become extremely sophisticated travelers and discerning consumers." said Chuck Huang, Founder & CEO at CITCON, "Providing a good customer service with Chinese-tailored solutions is especially important and payment plays a key role in today's new commerce environment. CITCON shares the common goal with DFS to bring the innovation of mobile payment to exceed customers' expectations. In addition, the mobile payment solution provided by CITCON enable retailers such as DFS to develop a more interactive mobile marketing and commerce channel to engage with their customers."
"We are thrilled to partner with DFS Group to pilot launch WeChat Pay at two of the most popular U.S. destinations for Chinese travelers, in addition to the earlier launch of its WeChat Mini program which allows customers to easily pre-order and pay for their purchases using WeChat Pay and pick up at DFS stores. We look forward to the greater partnership with DFS to expand the WeChat Pay acceptance at more locations in the near future," said Wei Jiang, COO and President at CITCON.
Currently, DFS accepts WeChat Pay at DFS, San Francisco International Airport and T Galleria by DFS, Hawaii, and will roll out to other DFS locations including DFS, Los Angeles International Airport; DFS, John F. Kennedy International Airport and DFS, Hawaii Daniel K. Inouye International Airport in the coming months.
####
About CITCON
Silicon Valley-based CITCON is the mobile payment solution leader for the fast-growing international travel commerce and retail market. In North America, CITCON is the first and largest authorized merchant acquirer for WeChat Pay and Alipay, two of the most popular mobile wallet providers in the world with over 1 billion active consumers.  CITCON provides both in-store, and mobile / web / E-commerce payment solutions for thousands of merchants including renowned brands such as DFS, Pacific Gateway, China Unicom, YamiBuy among others, covering a variety of tourist related sectors, such as Retail, Hotel, Food & Beverage, Transportation, Entertainment, and E-commerce. CITCON was founded by Chuck Huang, a mobile payment veteran with over 10 years' experience in financial services and payment industries in both China and the US. CITCON management team consists of payment and technology veterans from VISA, PayPal, eBay, Uber, JD, Western Union. CITCON is backed by top-notch Silicon Valley venture capital firms and received strategic investments from two public-traded multi-billion-dollar technology companies in China. For more information, please visit citcon.com
About DFS
DFS Group is the world's leading luxury travel retailer. Established in Hong Kong in 1960, DFS Group continues to be a pioneer in global luxury travel retail, offering its customers a carefully curated selection of exceptional products from over 700 of the most desired brands through 420 boutiques on four continents. Its network consists of duty-free stores located in 13 major global airports and 18 downtown T Galleria locations, as well as affiliate and resort locations. The Group is privately held and majority owned by the world's largest luxury conglomerate Moët Hennessy Louis Vuitton (LVMH), alongside DFS co-founder and shareholder Robert Miller. DFS Group employs around 9,000 people focused on creating inspiring retail experiences for its customers. In 2016, over 157 million travelers visited DFS stores. DFS is headquartered in Hong Kong and has offices in Australia, Cambodia, China, France, Indonesia, Italy, Japan, Macau, New Zealand, Singapore, United Arab Emirates, United States of America and Vietnam. For more information, please visit http://www.dfsgroup.com/